So, following my previous blog post, Here , from my Wow Wednesday , experience at the big T-Mobile special announcement conference, my day didn't just end there.
As I had mentioned in that blog, I was given free concert tickets to a Bruno Mars concert which ended up being an event that I can add to those I will never forget. Ever since his first appearance melting the hearts of many women with his swooning vocals and lip biting smile on the B.O.B single, Nothing on You, he has been on nearly every baby making wish list.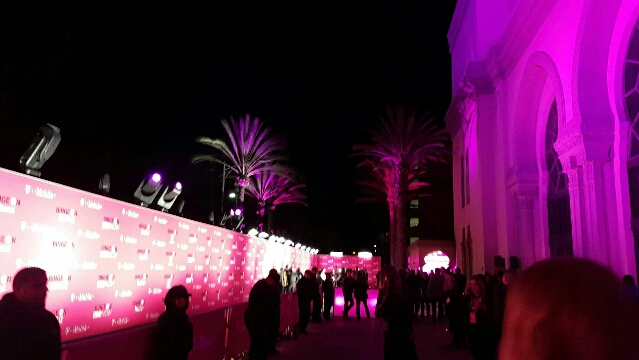 I've been to plenty of exclusive events from different phone carriers, and they've all gone big or gone home. Big performances for these types of events is the cherry on top, so it was really no brainer for me to go. I had invited my friend Lauren and urged two more, Natalie and Emerald, to attend the concert with me. What type of blogger would I be to selfishly experience this all on my own? After my day time event being treated like media royalty, I had only a couple of hours to get ready for my evening out and to meet up with my three friends. On our tickets, it stated that the doors would open at 7:30 and thinking that this was one of those types of events that would leave you feeling as if it were more intimate, I figured we'd get there at the time it stated.
I still had my free parking pass from earlier in the day, so I knew parking wouldn't be an issue around the USC college campus. Well, not exactly what I had expected. Emerald and Natalie were running behind schedule, so I figured we'd just wait for them in the car. As time flew by, Lauren and I made our way to the auditorium in order to meet them in the line. Just our luck, the line was nearly wrapped around the building and every second after that, around the damn city. Not only were there T-Mobile employees from every overturned rock that was attending, but also media from the announcement conference and city locals. So come to find out, this was a concert not so private.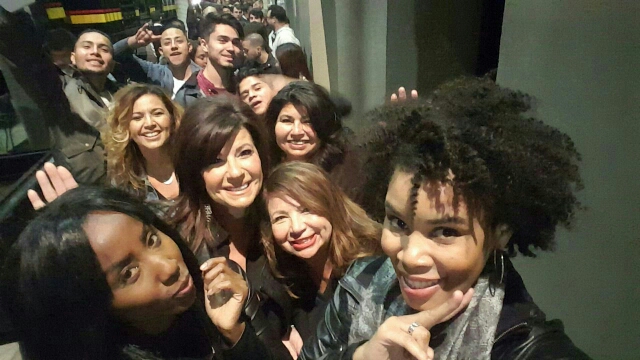 When it came to the amount of security to keep order within the line, that became a joke while somehow Lauren and I kept finding ourselves further apart from the people we were originally standing behind. Every T-Mobile personnel radio inned the next T-Mobile group to jump the line until a phone service mosh pit formed. Oh uh uh, these people thought they were being slick making casual conversations with one another gathering in the midst of a camp out.  Quickly, Lauren and I bogarted our way past those who shamelessly cut the line and even though we wanted to wait for the other two, the line started to pick up speed faster than we knew it.
Once inside, everyone was already turnt up as if they had just been given a raise and payed-time off vacation. This was the biggest work party I think I've ever seen which could've been confused as a college party. The bars were packed, but we were more concerned with finding our seats. Had we of known that this was more of an open event for people who could get these tickets, we would've been there much earlier. The entire front half of the auditorium was practically taken and I didn't dress up like I wasn't trying to get noticed. So, we made it our mission to find seats still in clear sight, but not exactly where we wanted. Somehow people in the pit area had won their tickets which annoyed the hell out of me. Especially with the men. The hell are you trying to have Bruno sing to you for?!? Shortly after, I received a call from Emerald and Natalie telling me that they were outside. Earlier, I had asked a T-Mobile staff woman if she could look out for them in order to get them inside since she had extra tickets in her hands, but apparently that flew over her head. I had to walk near the doors to hand the girls their tickets because that red headed numb skull thought for me to hand her my other two. Good thing I didn't because she was right up in that auditorium right with the rest of the party goers.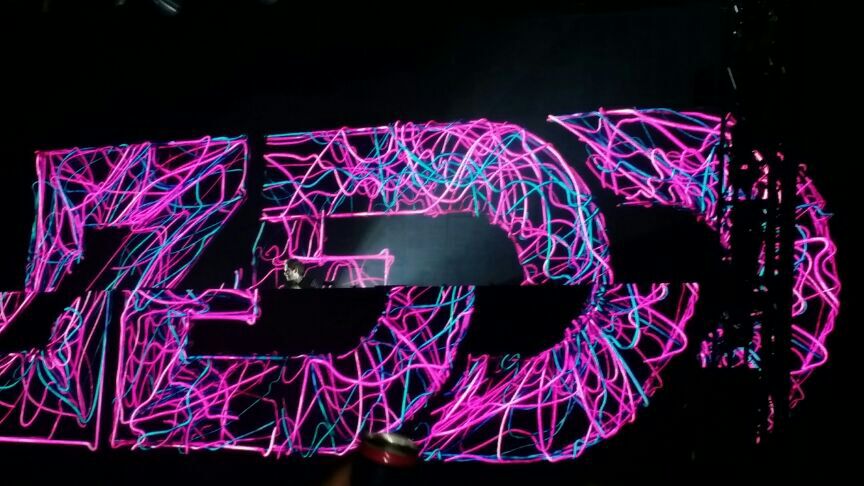 I twerked and shimmied down the aisles to our seat and that's when the concert began. Zedd, one of the worlds best Djs, set that building on fire. The visual effects from his show had you feeling as if you were on a futuristic ride with added smoke, flames and silver string confetti that blew over the masses of the crowd. I might have burned every calorie in my body as hard as I was going since I knew every track he played. Natalie and Emerald had their field day recording the amount of energy I could possibly have at a concert. Others might have thought I was on drugs, but anyone who has a feeling in their bone knows that when that beat drops, it's turn up time.
Turn up:
-Adjective
When you just can't maintain the movement in your body all due to the minute the music play.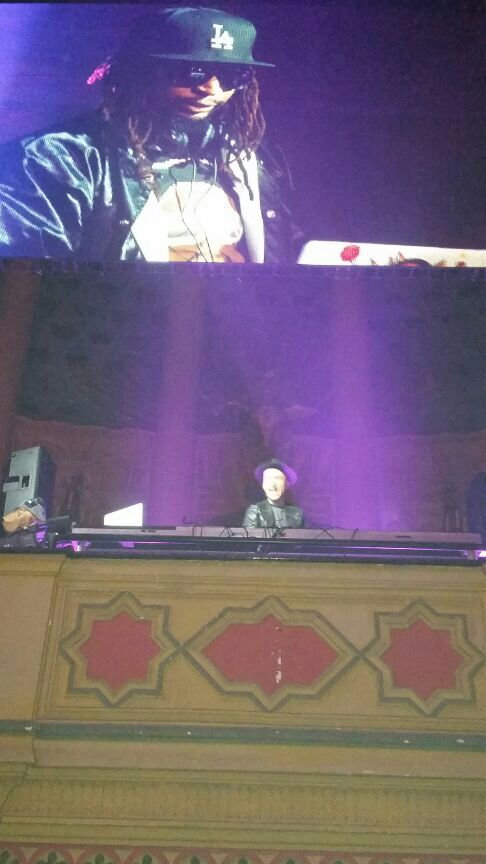 While he gave an amazing performance, he also overstayed his welcome. I was strictly there to have Bruno's kids and this was holding me up in Labor. After about an hour-long run, two more surprise guest made way. Lil John and Dj Vice. From each side of the venue, the two of them battled it out on tracks in order to see who had the best side of the crowds energy. It was already a proven fact that the right side before the shows even began were ready. Earlier, the left side of the auditorium were stuck in their seats with milk in hand, some with chocolate, while our side were double fisting on coke and rum. It's just a shame that Lil John chose the weaker side. I would've preferred him blasting all of his beats over our heads, but looking at it in the perspective of being in one room, I was still happy.
I noticed a familiar face up on the balcony while Lil John spinned and realized I knew the person. How the heck did he get up there. The girls and I all recognized him and his calm demeanor as he just watch the crowd from above, but the real shocker was when Lil John introduced him as his son. My jaw dropped to the floor. This entire time and he's never hint a word of it. Now that's the whole humble pie. At 17 years old, most celebrity kids are soaking up the incentives of being a celebrity kid, but from what I've seen, he's kept it real modest without any sense of urge to name drop. He undoubtedly gets my respect for that.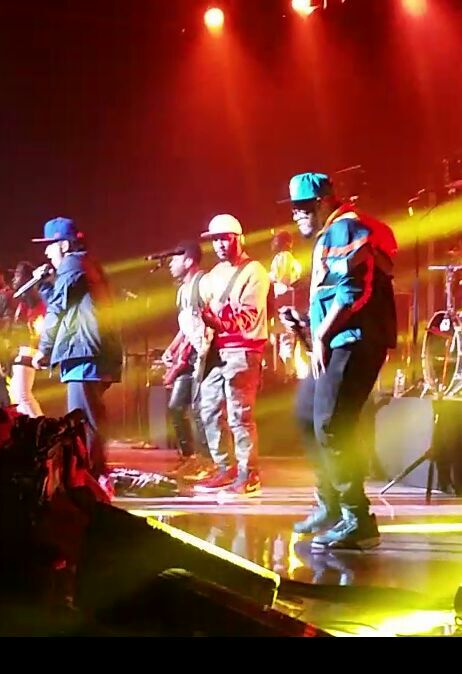 Once Lil John and Dj Vice ended their spin battle, it was time for the Man of the hour, day, night and overall existence, to get on the stage. Bruno Mars and his band played the hell out of the stage. He sang as if he were singing for every life in that room. From his dimples to his smile, I was melting into a pool of chocolate. The guy is little as it's been said, but he knows what he's doing which is why he's a man full of swag and confidence. He mixed up his show from playing his music from early 90's jams that half that crowd didn't even know about. See, he comes from the earlier Millennial years like myself and Lauren; and Emerald and Natalie just know that type of music, so he was playing R. Kelly, Genuine and Bam Bam by Sister Nancy.
You know how it's typically frowned upon for co-workers to become romantically involved, well apparently that rule of thumb didn't apply to the T-Mobile couple in front of us. In fact the majority of seat takers were T-Mobile staff which I assumed caused a sense of rivalry between the many stores of who sold the most upgrades. A fight broke out among several of the store representatives that got a little too close to our aisle. Apparently, even Bruno wanted to see all the action that was happening as he worked his way over to our side of the stage. It took me a moment of being distracted from my future child's father to realize he was right in front of me, and even longer to fumble my phone around in order to snap a perfect photo which I didn't get the chance of taking. Dang it!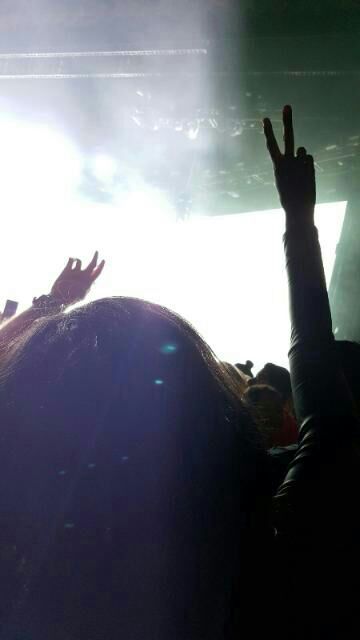 After the fight dispersed, we were back to grinding air and waving our hands like we really didn't care who was watching us. I for one didn't. In fact, I'm sure I gave the whole back audience a front seat show of their own with my twerking abilities. That's the good thing about going to a concert single. Because we were standing more towards the right side of the stage, I made the projector screen near the balcony my concert viewing. It's not that I couldn't see him, but it was just right above our heads. Tough shit for the audience in the actual nose bleed section of the balcony. Bruno and his band know how to perform where everything with them was on point and N'Sync.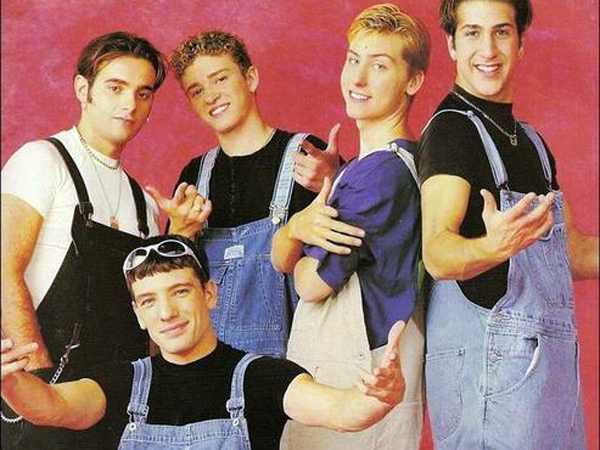 No, not them
Their style, rhythmic flow and energy is what ultimately made the show. Like a group of brothers or close friends rather than just being a band. Even though Bruno is clearly the golden star of the show, he never once out shined the rest of the men on that stage. After their performance he, as many do, said his fair well and disappeared into a cloud of smoke, but we knew damn well that he wasn't finished and we surely weren't going anywhere as people obviously started leaving their seats to walk towards the entrance. Natalie would be dammed if she didn't hear his popular single Uptown Funk. As we zoomed in staring directly behind the curtains, we each saw movement and within seconds Bruno and his men were back on that stage to give us more.
The crowd roared with excitement for an encore and I wanted Bruno to uptown funk me, so I took the gamble of rushing towards the pit area. Emerald and Natalie followed behind as  I rebelled towards the stage, but consciously thinking, I knew I couldn't break the rules and sure enough a gentleman gave us the seats in front of him right near the stage. Security was extremely cool with our spontaneous decision,  but pointed out a short stocky girl who was too timid to bump us out the way. Though there would've been another brawl if hands were involved, so instead I grabbed hers and brought her right in front of us. Poor girl was practically standing as high as our chest.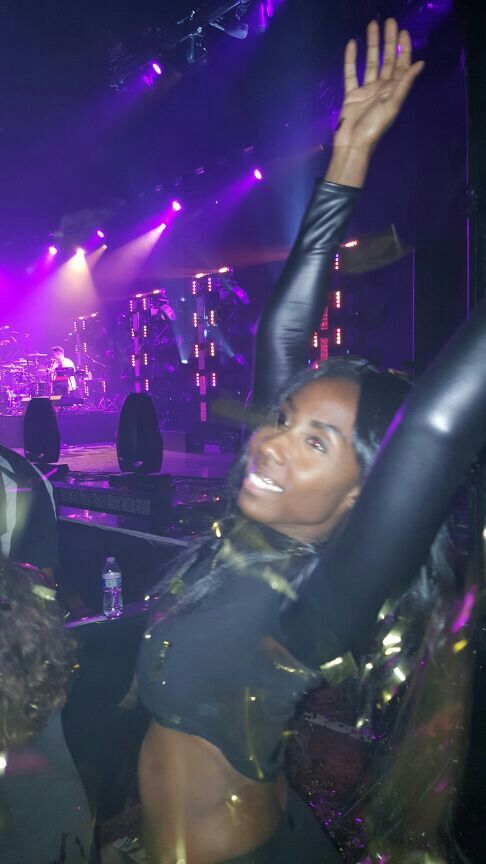 I tried getting Bruno's attention, but instead got a few of his band members. During his performance a bath full of gold confetti burst throughout the front part of the stage like diamonds. A lot got in my hair, some in my mouth and maybe a few near my eyes, but it was the ultimate glitter bath. With the amount of space we took, we had an absolute blast that will for sure go into our memory book.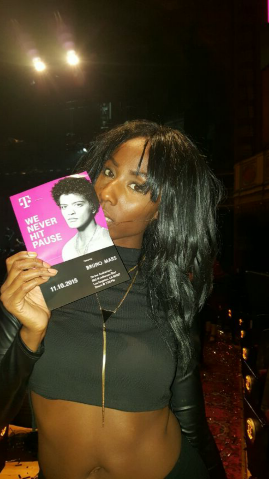 I always have a blast with my friends and still have that damn glitter in my hair to show for it. All I have to say is, T-Mobile, you definitely outdid yourselves! If all else fails where my father cuts me out of our phone contract, I'll definitely be switching over to T-Mobile. I can deal with change just as long as I get to hold on to my same number.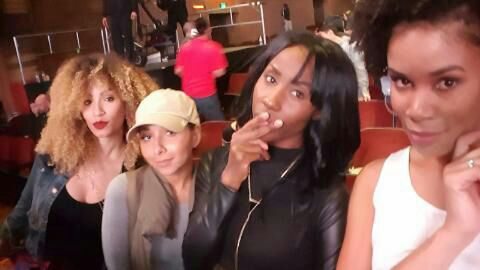 Left to Right, Natalie, Emerald, myself and Lauren
Xox