We all continue to honor our heroes who have risked their lives in order to save another in the line of duty; however, our heroes also come in fur, stand on four legs and wag their tails with excitement  to any chewable toy.
During Emmy's week, celebrities and industry people alike, were preparing for the awards season. Typically, we're so focused on who wore it best; the acceptance speeches; racial triumphs and of course the parties. But what about the awards for our furry friends that go under the radar?  Well that's why we have very special people: dog lovers, who have their own kind of awards in order to recognize and commend our little tail waggers for all that they do and contribute to society.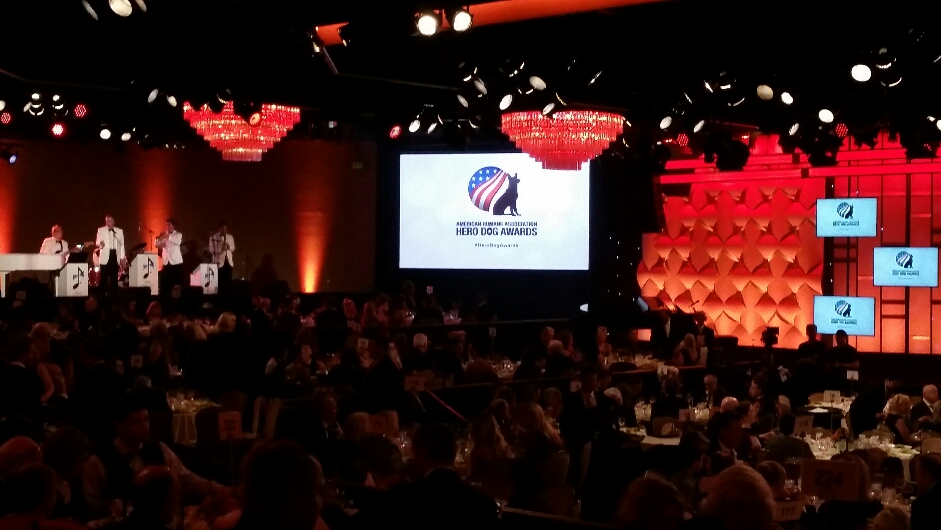 The fifth annual American Humane Association Hero Dog Awards.
My friend Heather mentioned that she had been invited to a dinner party Gala the night before the awards with tickets starting at $500 a seat. Holy hell, and she was going to work her magic on getting me one as well. I wasn't sure what to except being in a room full of that much money, but I knew it was a big deal and the 3 course dinner had me sold. Because it was a black tie event, I really couldn't think of what I had in my closet that would fit this type of occasion until I decided to wear something simple; but still meeting the dress requirements. It's not like I have a ball gown just sitting in my closet, so my long backless dress was perfect for the evening.
Once Heather and I arrived at the famous Beverly Hilton, I unwillingly pulled up to valet my car, I hate valet, and we walked inside. A red carpet full of paparazzi and charitable attendees gathered to have their photos taken while some stood alone as admirers and fans recognized their prolong dedication to events such as these. I knew this particular crowd of people were the reason for why we refer to our furry friends as fur babies. We coddle them; domesticate them past the point of them knowing their natural identities, and well, we're animal fanatics. I mean, even with myself, I've come to the conclusion that if I don't breed my own mini me's, I'll most likely become the mother of many puppies.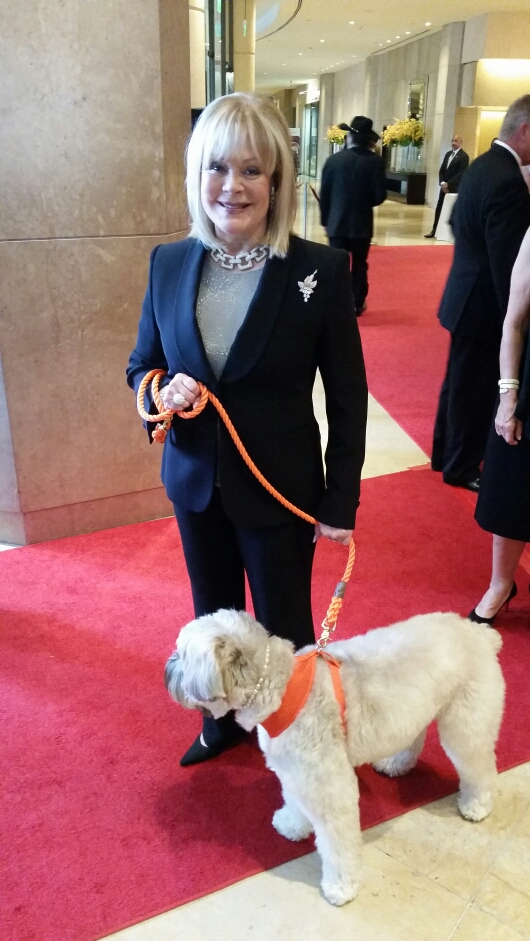 After seeing a gorgeous coat on a beautiful dog wearing pearls probably worth more than my car, I recognized its human mother being no other than Candy Spelling. Guest and admirers gathers around her to photograph her and her precious pup who was more concerned with sniffing under long elegant gowns and dresses. classy. I took the opportunity of getting a few good photos while she posed for the cameras, but after a few bad attempts,  I just went ahead and asked so I wouldn't look like a creeper. She was very gracious aside from the only impression I've ever had of her being the Mommy Dearest to Torri Spelling, but I got my first celebrity encounter and that was only the beginning of our night.
Right as we made our way inside, we were given a table number where we would be sitting amongst other guest. I've never been to the Beverly Hilton hotel which is famously known for throwing lavish parties; especially the famous Clive Davis parties for the Grammy's. Everyone was dressed in their best attire showing the amount of wealth they owned and had spent on the tables they purchased in order to be a part of a well reserved ceremony.  Different sponsors honoring our four legged heroes, were also in attendance  helping to raise money and awareness to keep the spirit alive. Some of these heroes were given the chance to walk around in order to interact with the many guest so they could understand the amount of respect given to them, but also to feel a sense of calmness and love surrounding them.
Each dog had a back story of their own, but I was so wrapped up in my puppy heaven that it slipped my mind to even ask. Some with disabilities that showed the amount of courage and triumph in dealing with difficulties throughout life which to many would bring tears, but for these furry ones, it only shows their bravery and why we continue to see them as a mans best friend.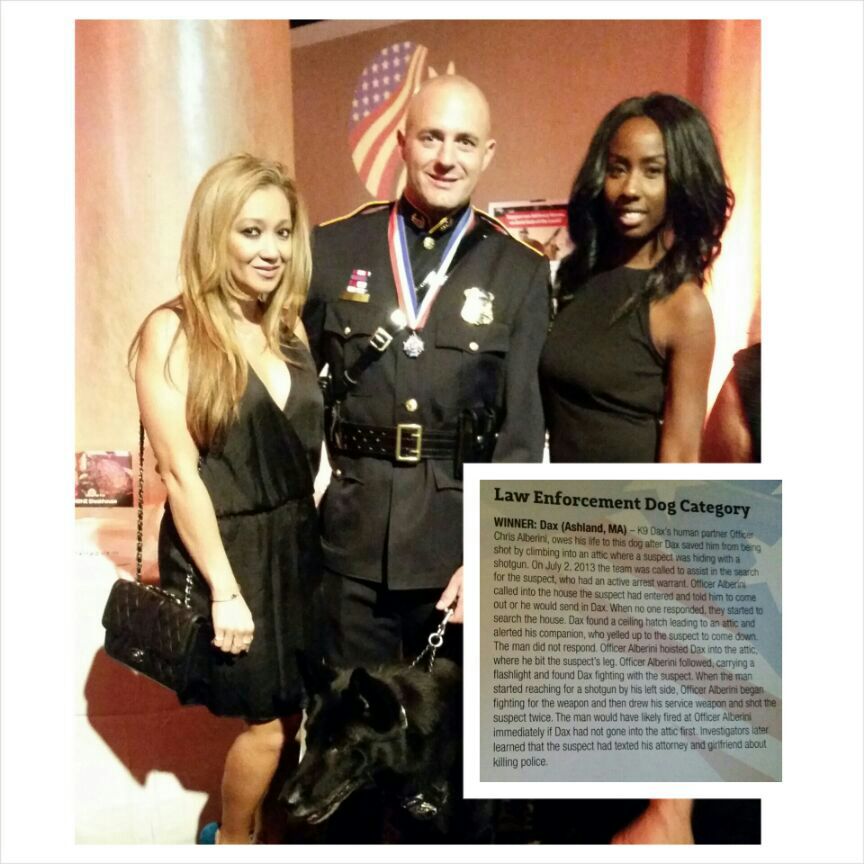 One dog owner in particular, officer Chris Alberini, was the resemblance of a dreamy prince with the exception of his missing hair; He was bald, but Heather and I were trying to keep our composure as we were practically drooling all over his uniform and medals. His dog, Dax, was adorable, but we were more interested in petting Chris. I don't normally go for the ones who wear a shielded badge, but he was just so handsome and nice that every time we saw him we just wanted another reason to get close to his manly charm. It also didn't help that he was tatted up on both arms.
Before we made our way to our table, we decided to grab a drink at one of the several open bars. We knew that we were going to sit down to a dinner, but I needed a little kick of champagne or wine. Unfortunately, the only bottles they had at the tables were dry Cabernet and Chardonnay that doesn't necessarily work with my taste buds too well. I needed something I could actually enjoy without feeling the need of hydrating myself with ice water after each drink.
What people don't truly understand about those with money, is that they know how to have a good time. Don't be fooled by their disposition, but they can take down a bottle of the most expensive glass of wine known to man kind and become the best party goer you've ever met. Others times they're a drunkin hot rich mess. Sure, once in a while you'll come across the Debby Downing snobs, but it's more likely you'll find the ones passed out.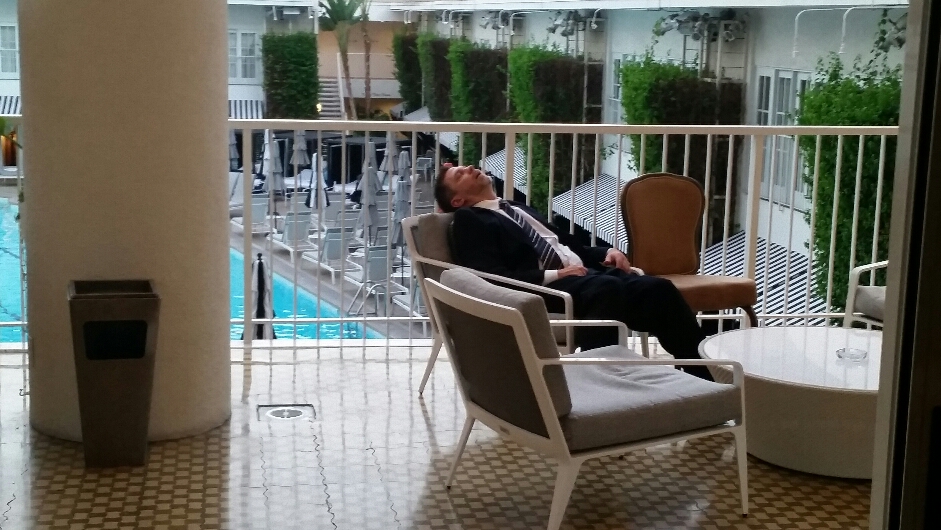 Like this fella right here. Gee buddy, are we boring you? Too much hobnobbing on a regular basis? The event hasn't even started and he was already over it all. Probably a busy day in the million dollar office or too much of a headache deciding his next vacation trip. Where shall we go? Paris or Milan. I would love to take on those problems.
I tried being inconspicuous taking the photo, but apparently everyone else wanted to know who he was and asking if I knew him, so what the hell, I took the photo anyway.
I ordered a margarita disguised as some fancy drink and we continued on into the ballroom. The room was completely filled with money. Even children were present who I'm sure attend these types of parties more than they've ever done a school project. Their seats alone and whatever their parents were donating cost at least a year for their future college expenses. We sat down and already a plate was ready and waiting to be devoured. I noticed there was a balled up napkin in the seat, but I ignored it until I looked behind me and saw my friend Alison. In complete shock and surprise, I greeted her and moved one seat over. Heather didn't look all that pleased by the sudden switch change, but because Alison had been sitting there first, I wasn't going to be rude and tell her to grab her plate and move over. Heather wanted a clear viewing of the show and moving down one seat would've made it a bit difficult to see, we moved anyway as it wasn't anything to really fuss about.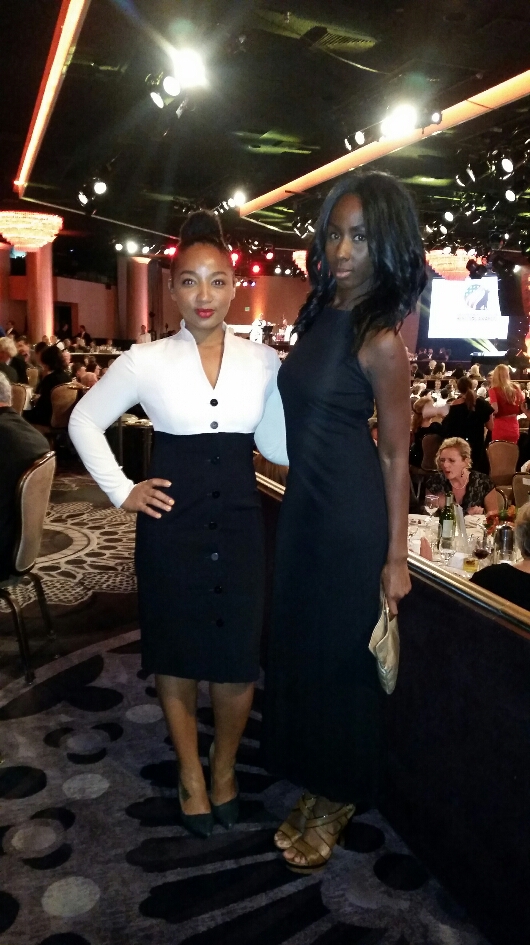 I haven't 't seen Alison lately, so not only was I surprised by her attendance,  but also wondering who she knew in this small town to give her a ticket. Alison is an inspiring journalist, so I figured she was using this as an outlet to report about as I found it for blogging. I tried to make small talk, but it was hard to break the cold ice. Once everyone at our table found a common ground for the love of animals, things lightened up.
I decided to put on a front as if I had just graduated from charm school. I didn't remember the proper usage of each silverware, but I tried; but after looking around, I saw a lot of craps not given as people dived into their plates. Sure there were a few rabbit eaters, but for the most part it was just a casual dinner with friends.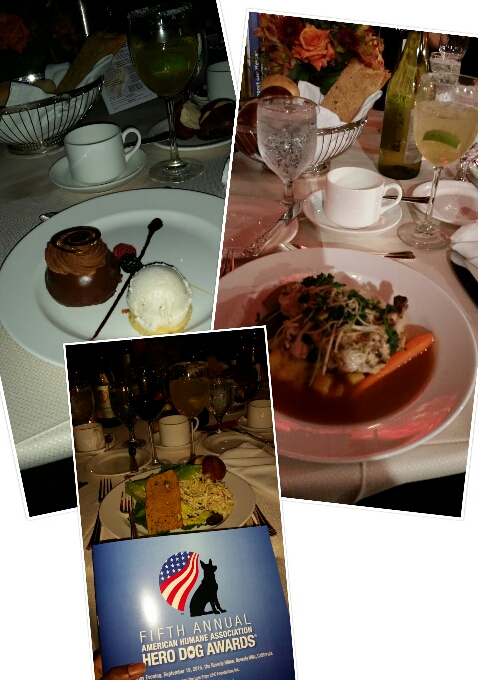 First course was some type of apple salad with grapes and bread chips. Easy to make at home if you have a slicer; but just as quick as you tried to eat what was left, the servers were taking our plates away for the main entree. Half a roasted herb chicken with unfamiliar looking potato cubes; broccollini; another vegetable; and gravy sauce. It was such a simple dish, but it was absolutely delicious. The penguin servers wouldn't allow us to pass the basket of bread seeing that they took their job very seriously.
It's okay buddy, I've got two hands that are still capable of using.
Lastly was the dessert; a rich and smooth molten cake with cream cheese filling and a ball of vanilla bean ice cream resting on a sponge cake. The decorative feel of the icing chocolate glaze and chocolate chip sculpture topped with a berry and caramel drizzle just paved the way for any persons sweet tooth craving. I tried to eat as much of it as I could, but it also didn't help when people were having conversations over each of my savory  bites.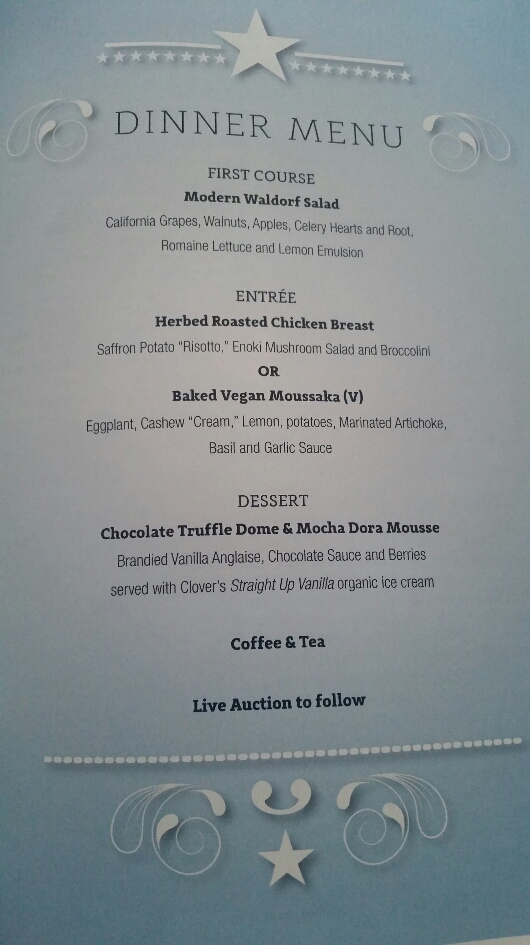 Okay, so the way I described it was a little more basic, but crap it made sense
I'm still unsure if the seats were the actual cost of the food or to help pay for the space being occupied by all those who had attended. Not like I'm complaining for my ticket, but I'm always curious to where the money goes. I'd assume if goes towards all the organizations.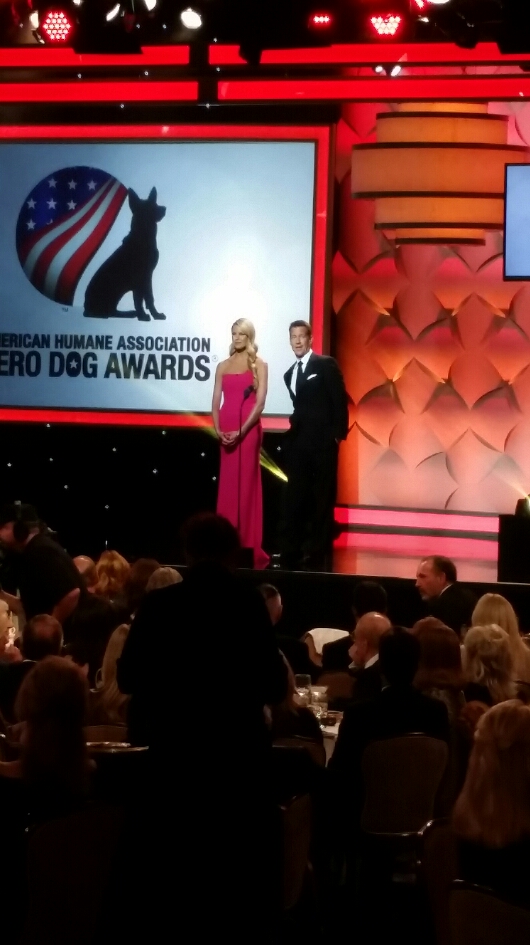 During our meals, our two main host, Actors, Beth Stern and James Denton, set the course of the evening with awards being handed out to our heroes and their human parents. Is it sad to say that up until the point I saw a rather large camera flying over my head and a teleprompter, I had just realized this was an actual awards show being taped for the Hallmark channel. Initially I thought this was just an über expensive dinner party, Gala, while celebrities fraternized with everyone in the room. This was just like any other awards show with surprise guest appearances such as Modern Family actor, Eric Stone street, and his fury friend.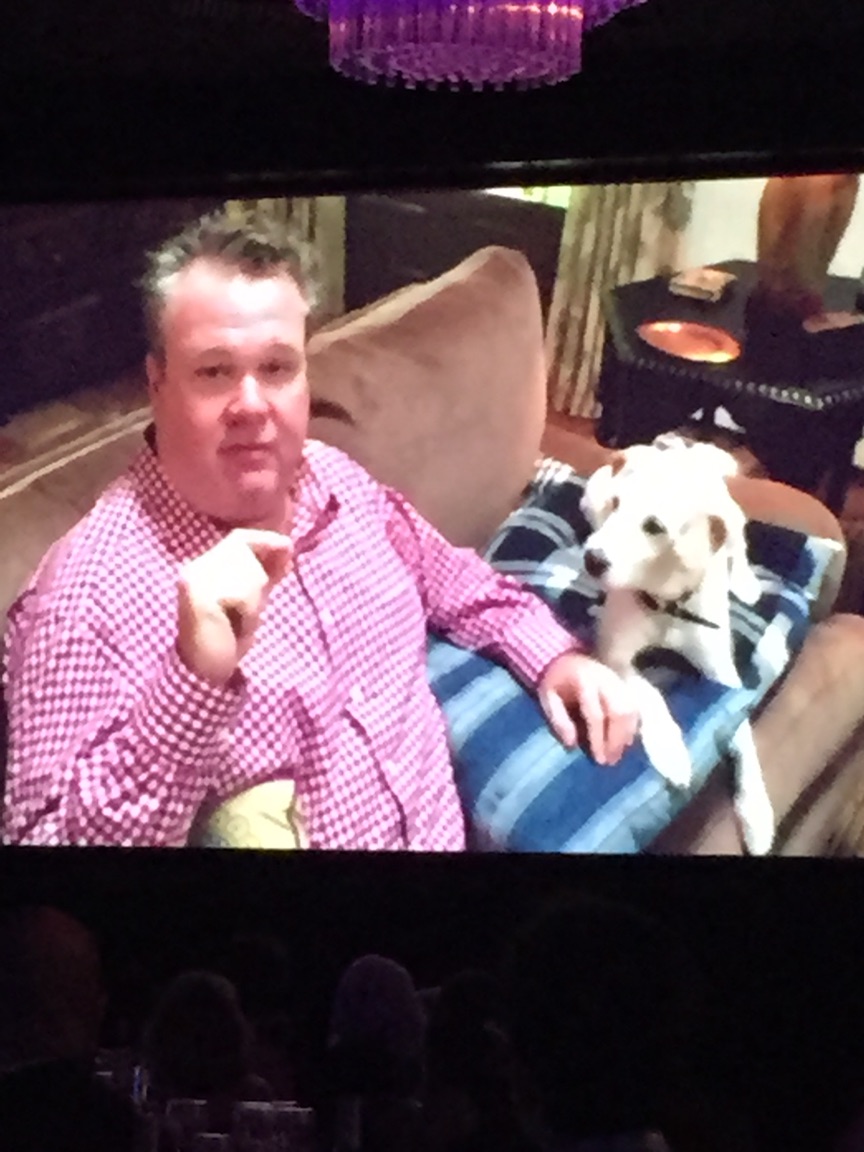 The start of the awards ceremony began with an auction that was being held for a suited up gentlemen and his companion. Initially, the goal was to raise 50k for the military working dogs. Not even seconds after the start of the bidding, they raised three times over the expect amount. Heather, Alison and I were so besides ourselves that I was a heartache away from wagging my own tail for a bid. Each dinner guest was given the chance of giving a charitable donation regardless of what you could afford. There was no way I could write a check close to the amount other guest were probably offering, but I gave what little I could and slipped it in the donation slip.
Multiple awards were being handed out with performances by Will & Anthony Nunziata, Alex Donner Orchestra and Five for Fighting, who at first, I couldn't tell if it was the actual Grammy nominated singer/songwriter, whose song has played on nearly every popular radio station. I thought he sounded awfully familiar doing a perfect karaoke performance and then I realized it was him singing 100 years. Such a beautiful song.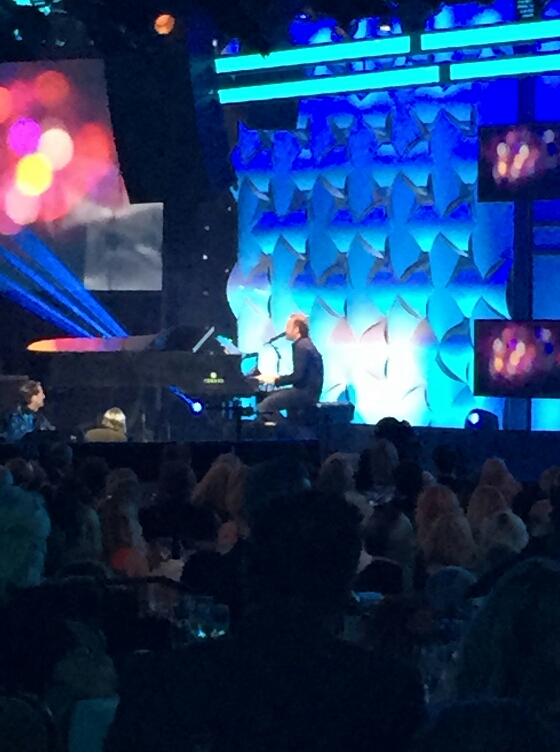 Each dogs story was heartwarming  and a tearful reminder of just how special they are to us. I've always been an animal lover and it just hurts my soul when I can't be a super hero to save them all. While many of the stories brought me to tears, others were also uplifting giving me a sense of hope and a reason to do more. Many heroes of these heroes were also recognized for their devotion and just like any awards show comes the voters. Many who don't have the privilege of attending and some who do.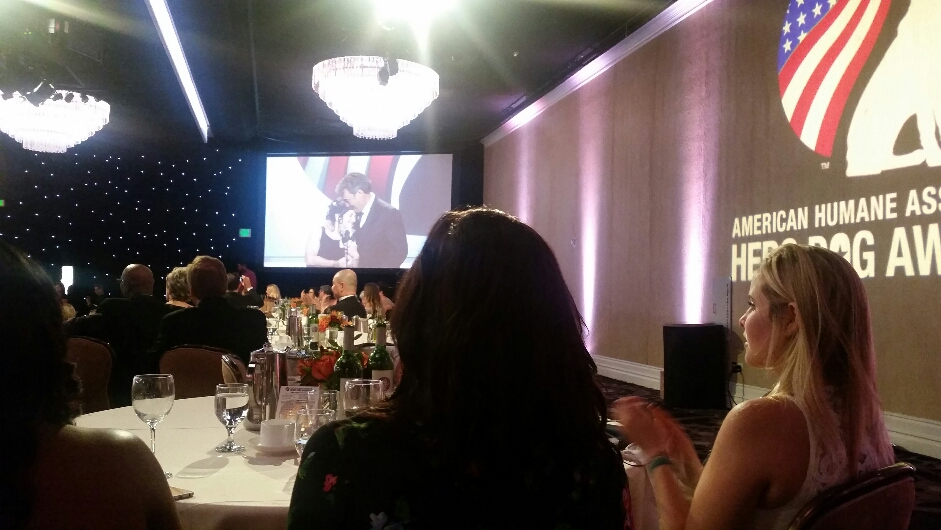 Like these drunkin broads. This three amigo group were doing the absolute most once the Hero Dog, Harley, was announced. I knew they had a little too much to drink, but my gosh they were obnoxious. I could barely hear the many celebrity announcers. What did I tell you? While I'm sitting here trying to not embarrass my friends, no craps were given at that table.
I felt good about the evening and furthermore felt inspired to follow through with my life's ambition of starting an animal rehabilitation sanctuary. It's hard work, but it's worth it.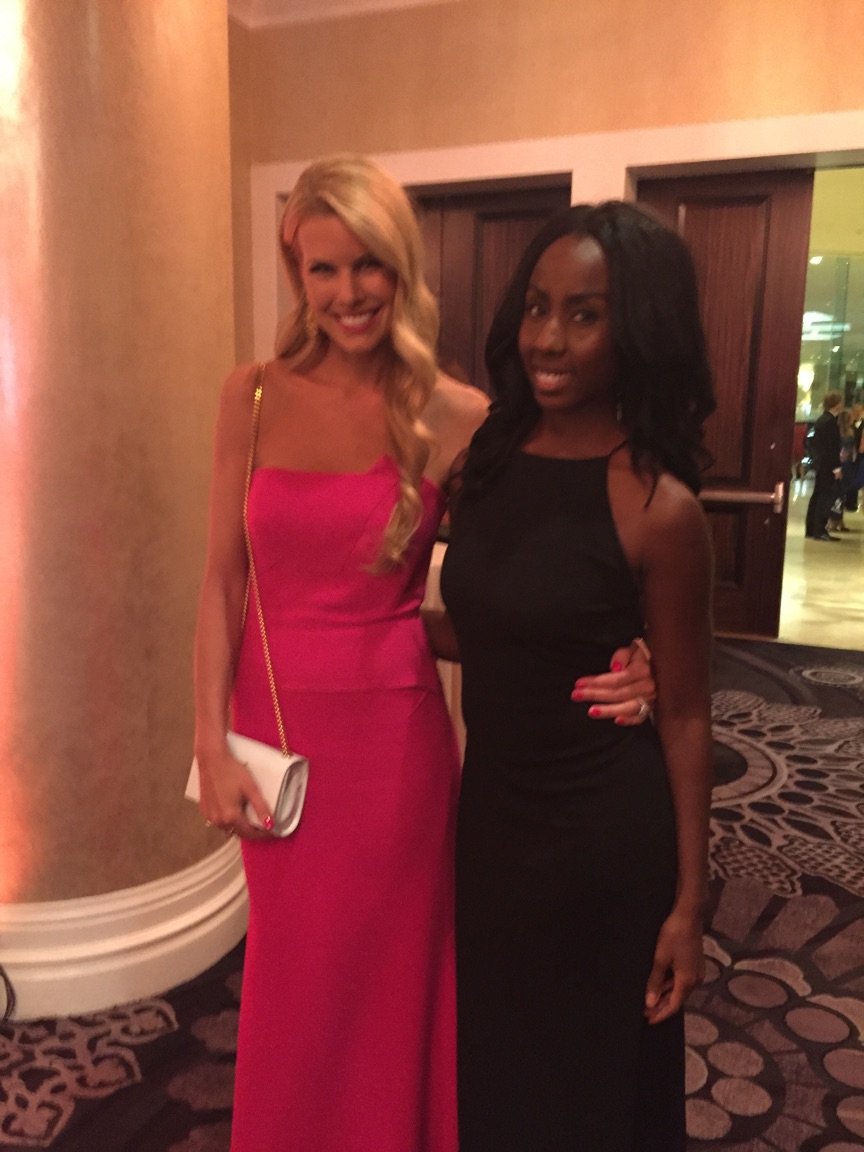 Check out my Wow Wednesday to find out more about our hero dogs and all the organizations you can join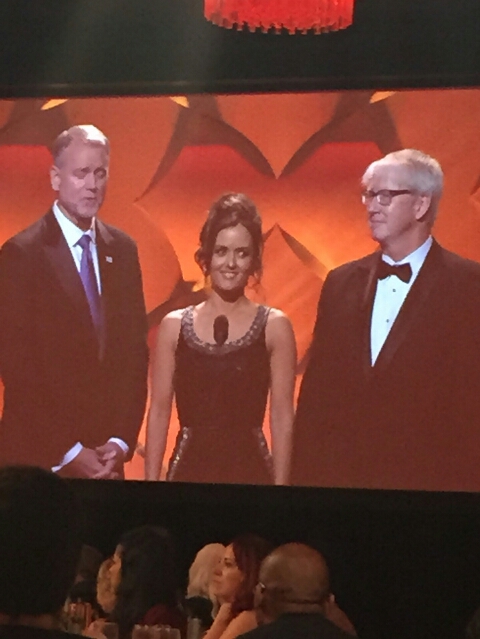 Look it's Wendy!