The 70's era was thee disco raving, orgy craving, skin tight jeans wearing, big hair spraying years that many of us wish we had experienced. Then again many of us have.
For those of us who have yet to really reflect on that part of the past, we watched 70's era movies like a few of my favorites growing up; My Girl, Dazed and Confused, Boogie Nights and who could forget Saturday Night Fever. They all gave us a sense of memory lane with the music soundtracks and timeless looks. So it's fair to say that movies filmed in the present to depict a beloved era in the past is something worth seeing.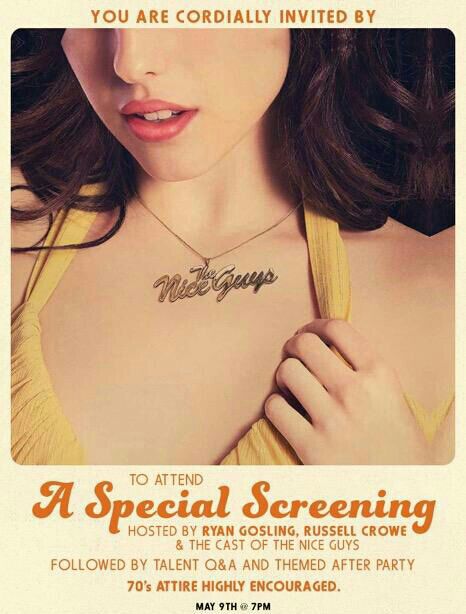 The Nice Guys, which hits theaters next week starring Ryan Gosling and Russell Crowe, was an unexpected twist in a movie screening that I was surprisingly unprepared for. After receiving an invite  in my email, I was a bit reluctant to rsvp being that I'm not a fan of comedy and had no initial desire in seeing this movie. While most girls drool over the idea of Ryan Gosling without a shirt on, I was curious when he changed up his acting chops in becoming a comedic act. It was his sadistic character in the movie Murder by Numbers that caught my attention after all. After a moment of contemplating, I figured I'd rsvp and wait for a confirmation. Come time to the day of the event, I had put the idea on the back burner, but an inkling told me that it was going to be worthwhile and I wouldn't want to miss out. About two hours till the event, I received noticed and quickly made a phone call to a friend inviting her as my guest.
The screening was being held at The Ace Hotel which I've frequented for lunch a few times. I had no idea that they had a movie theater inside the hotel or that there was even a theater attached to the building itself.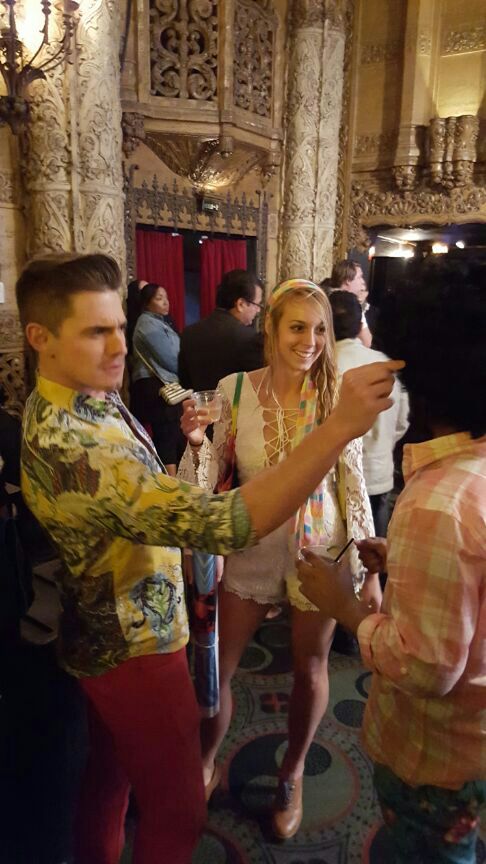 The invited asked for attendees to dress in 70's attire for the theme of the  movie, but that is one choice of style I don't necessarily claim in my closet. Having to go thrift shopping for that look would've cost me more than an actual ticket and popcorn, I just threw on what I had in my closet and did my hair with a flip curl. Close enough.
My friend and independent stylist/blogger Sonam , flew in from Canada and wanted to take a tour around the Los Angeles city, but LA is such a big place with so much scenery; and considering my lifestyle, I felt this event would show the inside scoop from what not many people can be a part of. Now as I first stated, I only thought this was going to be a movie screening where we go watch a movie and go home. I asked Sonam to meet me in the line which was practically wrapped around the building. The movie was to start at 7 p.m and thinking nothing of it, I arrived at 6:45.
Poor choice in judgment.
Sonam finally arrived and we stood in line with other awaiting guest hoping that there wouldn't be an issue with the doors. After moving inch by inch and with more guest walking in the line behind us, a woman announced to everyone that the event was at its full capacity and that anyone past a certain point would be unable to attend. My heart completely sunk even though I calmly held my composure. Those that were turned away desperately tried to reason with the organizers of the event, but were only given tie dye tote bags and movie posters as an apology. Here I had to uphold to my image by showing my friend the Hollywood lifestyle that I'm accustomed to and yet I dropped the ball; but I sucked up my courage and respectfully pulled the woman aside explaining that I needed to be inside. This is my work. After a couple of tries explaining to her my purpose of attendance she obliged by checking with the organizers.
While waiting for approval, I had noticed an acquaintance, Tiffany the president of Bradshaw&Co, standing right besides me who had shown up late. Right as the woman approved Sonam and I after she realized I was a blogger the guard opened up the red rope, and Tiffany quickly followed behind. I was asked if she was with us and without thought I said yes. I couldn't leave her outside as I would resent anyone doing that to me.
We didn't even get a chance to exhale as we quickly grabbed a box of popcorn and went inside the theater.
While I won't go into specific details of the movie considering it isn't even out yet, I'm still left a bit confused. The Nice Guys is a dark comedy that catches you off guard quite a few times. Certain moments from the movie seemed to be unnecessary to the plot and conclusion where in fact the conclusion completely took me for a spin. Ryan Gosling is not one for comedy. When he's obviously funny, he's funny, but once he tries too hard, I just sat there waiting for time to pass by. It's definitely a movie I'd have to watch a second time around finding morbidly entertaining, but not for the acting. I found myself more entertained by the two women sitting one row up from us who kept taking mini brakes to grab glasses of wine. By their third round, I could smell it drifting up my nostrils.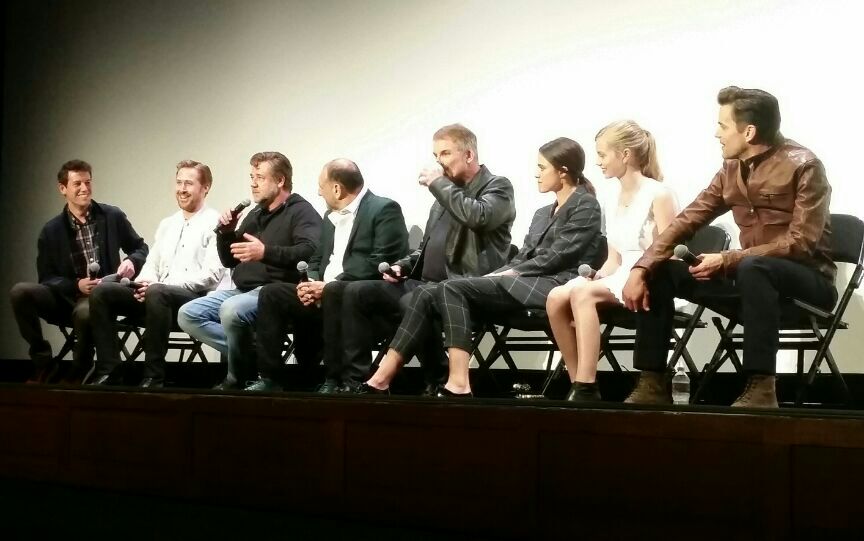 Like most Hollywood films, it's easy to pinpoint the locations of specific scenes being shot, but towards the end, which seemed to drag on, I was waiting for everyone to get up and leave knowing that the crowd wasn't your average industry people. The moment the credits started rolling, I made my way to the front where a friendly gentleman was kind enough to allow me to sit in the empty seat next to him. Each actor stepped out onstage for a Q&A as well as the films producer Joel Silver and director Shane Black to discuss the making of the film. I was more amazed by Australian actress Angourie Rice who plays Ryan Goslings daughter, where she had a perfect American accent which is how she landed the role. At one point, the audience was asked if anyone were actors or had a desire to work in the industry. That was my prime chance to raise my hand, but noticing that only myself and a couple other hands were hesitantly raised I just sat there and smiled.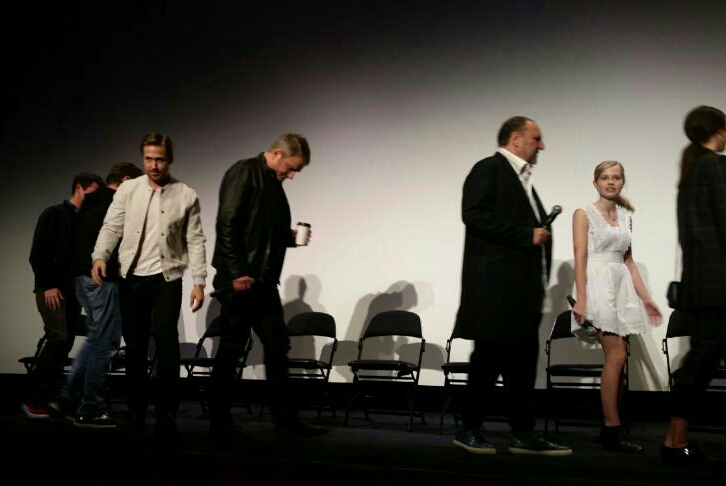 After the Q&A while each actor started making there way off the stage, guest who then turned into fans, yelled for Ryan's attention calling him over towards the edge of the stage to take selfies and that's when the frenzy began. Both Matt Bomer and Ryan Gosling walked over to the excited guest taking selfie after selfie. The rest of the films cast had already walked away leaving these two to fend for themselves.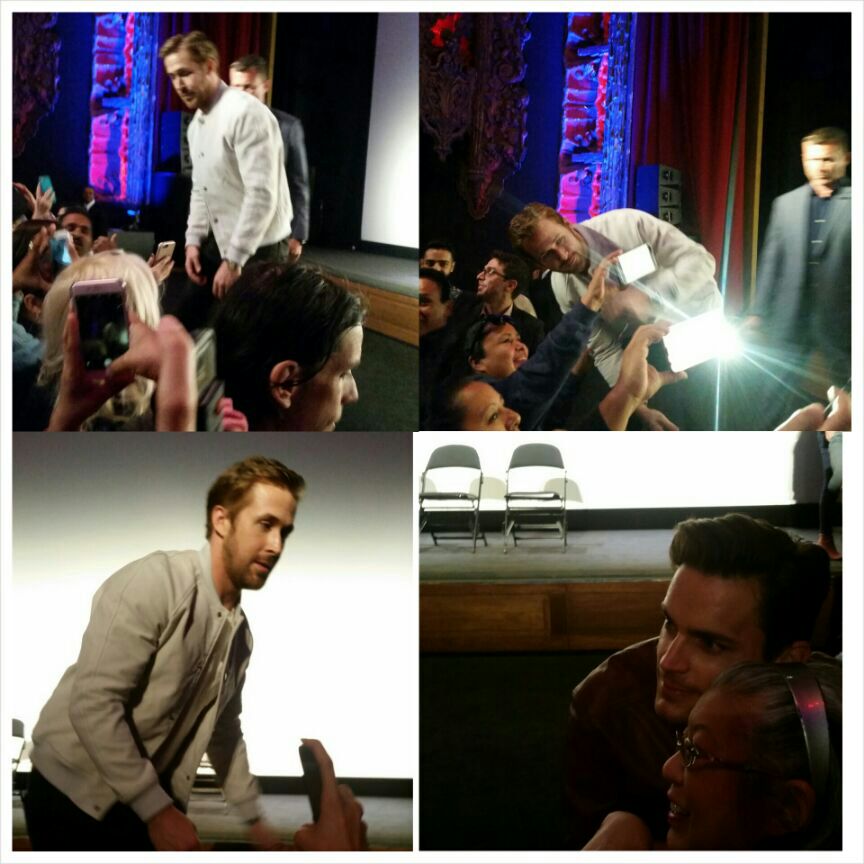 After awhile it became a little ridiculous as now fans were making pathetic attempts in taking selfies of themselves in the midst of other fans selfies. Then started the pushing and shoving where by that time I called it a quits. Being that close to these two was good enough, but I would've felt stupid posting a forced photo of myself with a celebrity.
Its just too close for comfort. Boundaries people!
I started walking towards the exit moments after the actors walked away and that's when the real party began. Sonam and Tiffany were already in the lobby area of the party, so I texted Sonam to meet me in the sea of people by the photo booth that couldn't be missed. Shortly after I spotted Sonam and Tiffany who had already had her hands full with four cups of white wine. Well if that wasn't a "thank you for looking out", then I don't know what was. I took a gulp of my wine and went straight to business.
Now that I was able to see the entire room, that's when I remembered the flyer stating there being an after party. I just didn't know that it was literally within the same space as the movie being shown. Trays of food were being passed around with some interesting options. One small bite I had to spit out into a napkin and the bacon wrapped dates I didn't even bother to try; but the devils eggs were on point, possibly even better than my mothers. Sorry mommy.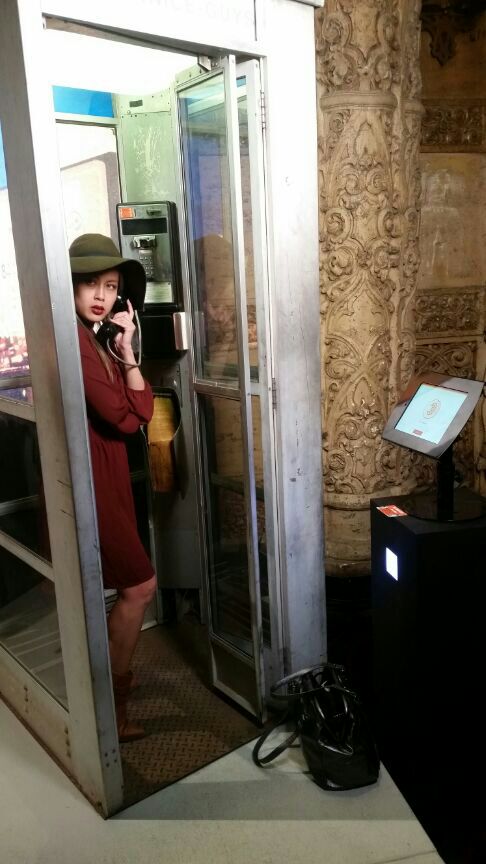 I had wanted to do the photo booths first, but I've never seen so many options all in one party. We started off with the phone booth. Typically with photo booths at events, you take the photos and send yourself an email or  text messages, but here we had to use a card that guest were given upon entrance. I clearly wasn't given a card considering I was personally escorted in. Regardless, we just used our phones to take the photos which came out just fine.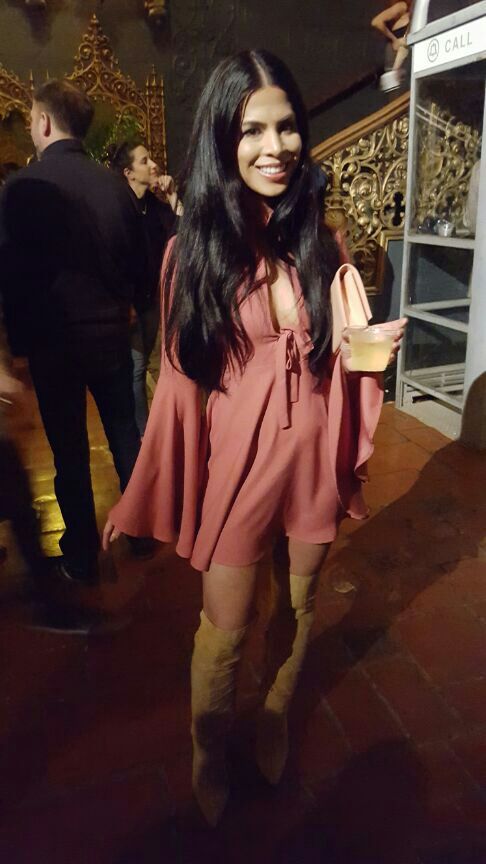 A lot if not the majority of guest were all dressed in 70's theme attire. Some went all out while others kept it simple.
It didn't take long to start feeling a little disconnected to the party when I was finally told by the staff members how to go about getting a card. At the front desk, I was given a mini version of what looked like a plastic business card for The Nice Guys hotline. After registering  my information, I could use it at any one of the five photo areas. This tech savvy way of getting all your photos is probably the smartest way of working the photo booths.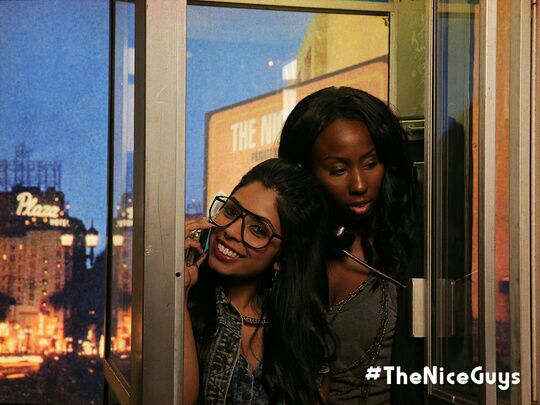 Sonam and I made our way back to the photo booth where we had our professional photos by placing my card on the machine that would load and transfer the images to my email.
The next photo area was in a living room setting with the whole scenery of furniture including a lava lamp. We had no idea of what we were doing because the camera was actually recording us, so we just moved around with our drink in hand which ironically worked with the actual Photo Footage that was sent to my email.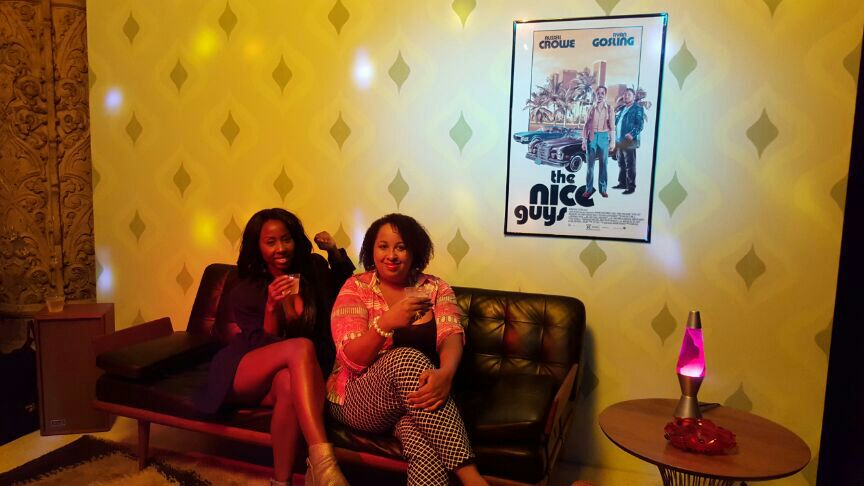 We met up with Tiffany again who had been talking to other guest. In the middle of talking about our backgrounds in the industry, Tiffany spotted a familiar face that I had also seen earlier. @BrockOHurn , one godly tree of a man I would love to climb and spend my summer nights gazing up at the moon. Tiffany had first described him as the man bun model from instagram with a large following which I could care two cents about, but the minute she mentioned him being 6'8 with blue eyes and long hair, my body raced to go find him.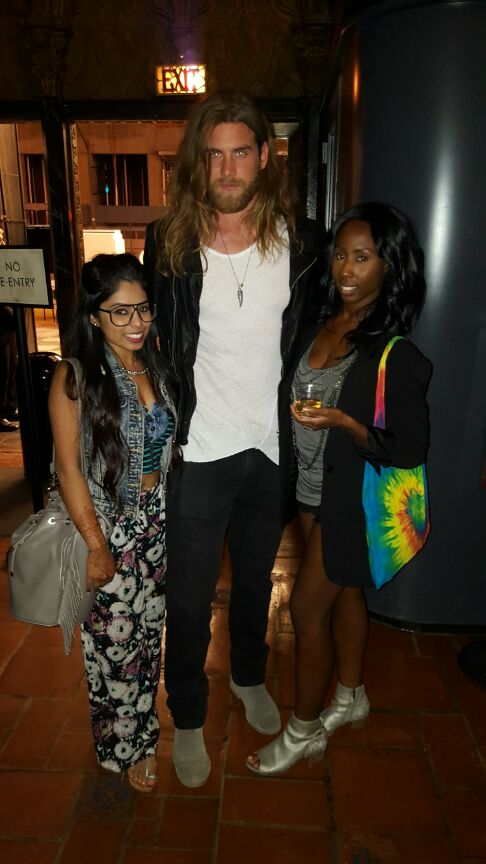 Like always, I never really know what's going to fall out of my mouth other than a drooling tongue when I find myself face to face with a gorgeous guy, but this time around I just went in for the kill. This guy looked like he came straight out of your romance novels.
move over Fabio
Once I made eye contact with him, I started fumbling over my words asking any dumb question that came into mind. I've found that if I try to hold  normal conversations with guys, I don't get too far, but me asking the cliché industry questions of "what do you do" didn't help out either and only left crickets of common interest even though we're both from the same city of Orange County. Shortly after Tiffany and a mutual acquaintance popped up, things got awkward to say the least. While he was the whip cream in my hot cocoa somehow it had a sour taste of fml; so I just grabbed Sonam and we went right back to taking photos.
I'll have to plan that out better next time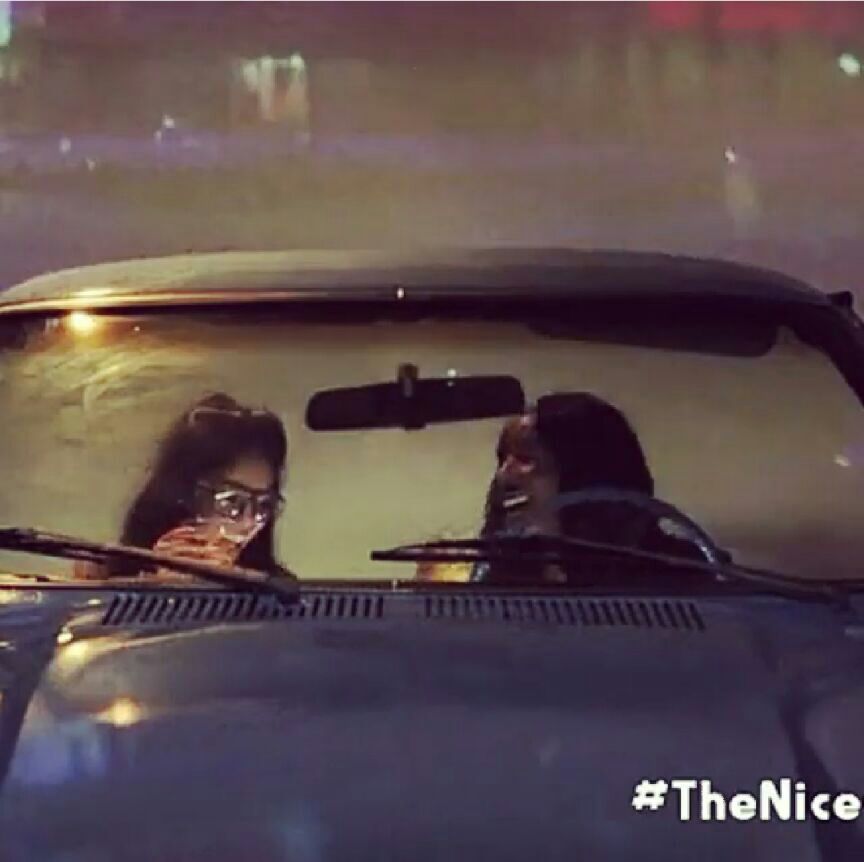 Don't drive like we do and drive responsibly without a drink in hand.
Sonam and I still had other photos to take such as the car scene where we sat in a prop car model with a back drop of us recklessly driving in the city.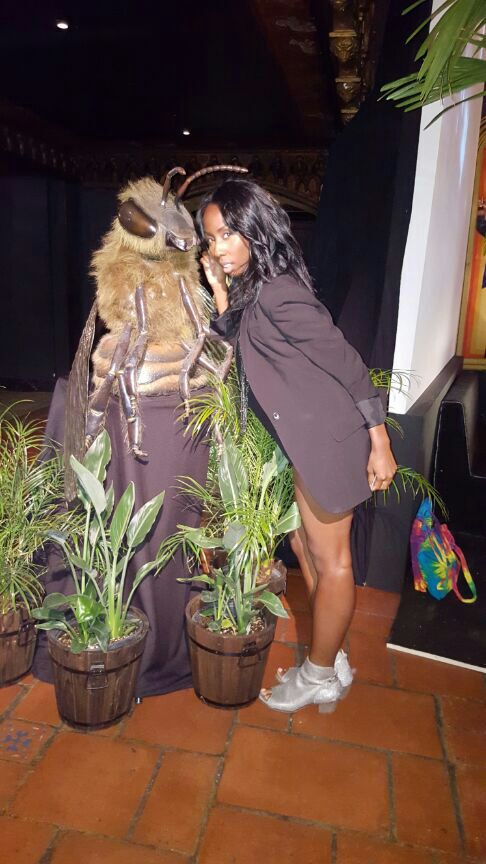 Each photo area was similar to the scenes of the actual film such as the giant bumble bee which was a pointless character, but for some reason recognized as the talking bee in the movie.
I wanted to grab one more photo, but I remembered being told earlier that the upstairs level was holding the VIP area. I wanted to make my way up the stairs but I didn't want to be stopped dead in my tracks. Instead, I was stopped for holding the tie dye bag I had been given while standing outside. Apparently, the same bags and posters they had handed out to those who weren't able to get in, were only meant for guest who were able to attend. After noting the woman's careless error, I walked upstairs to take photos with the card board print outs. Somehow, these photos and a few others didn't transfer to my email. And I'm still waiting for them.
I saw a few faces that I turned a cold shoulder to and then there were some who recognized me for my ambitious image. Clearly I must be doing something right among your basic party crasher whose only purpose are by grabbing free drinks, taking creepy selfies and falling short of having social character.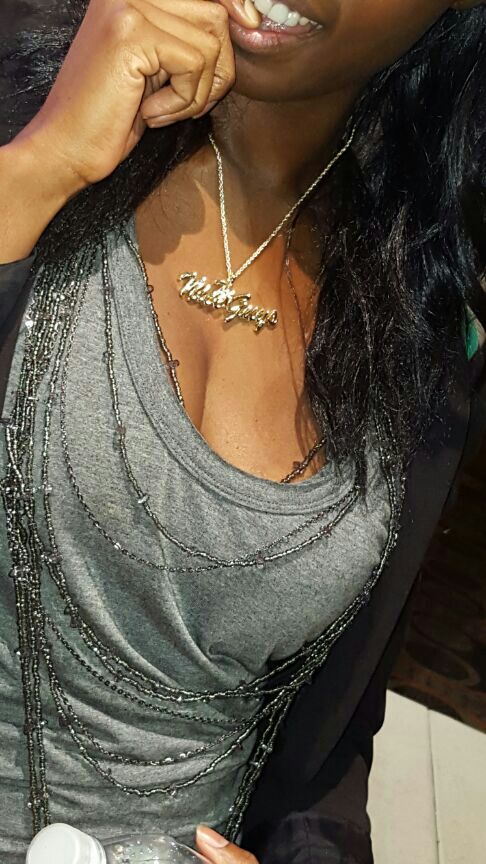 Since the wine was getting to our heads and Sonam and I were starting to slow down, we were ready to roll out. I noticed an older gentleman who asked me to take a photo of him earlier wearing a plated gold necklace that said The Nice Guys. Once he told me that I could grab one for myself in the same place I got my card for the photos, I quickly went to ask for a necklace for myself, Sonam and Tiffany. After having our last bit of conversations, we said our goodbyes and started making our way towards the door with gift bags in tow.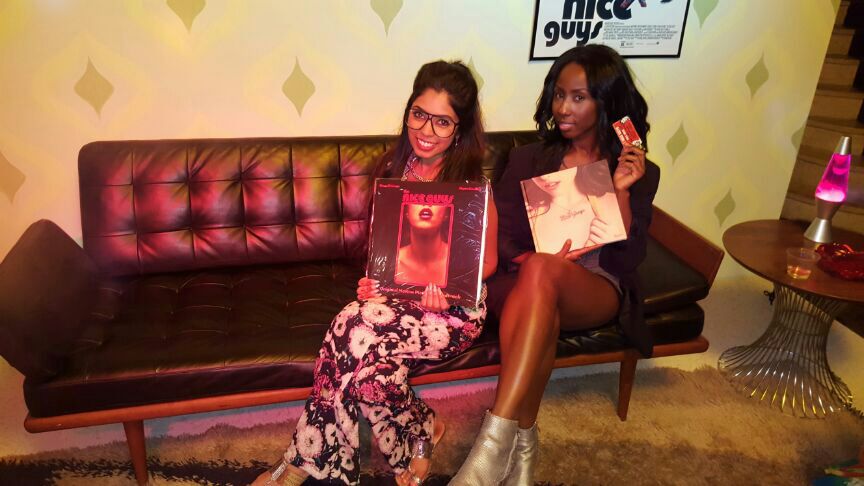 The gift bags were gifted with a collector's edition pink pearl gram vinyl record and added priceless goodies based off the movie; as well as a coffee table book of the movie with the screenplay and drawing boards.
We totally lucked out on this event hands down; and to be quite frank, it wasn't because of the actual invite I received, it was the amazing woman who escorted us in. Unfortunately as a socialite blogger, I don't always get things handed to me and sometimes my hustle is a clear reminder that after so many transitions within the industry, I still have to work harder than ever and that's by being vulnerable and coming out of my shell all while keeping my integrity in tact.
Even though the movie didn't exactly win me over first try, the event sure did without a doubt which obligates me to see the movie again. I'll be a Nice Girl for that.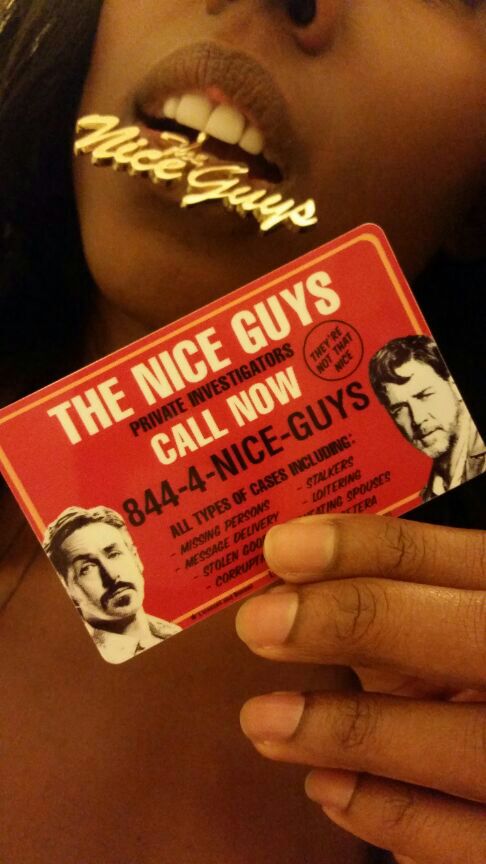 Xox