Tequila Tuesdays tend to be a little difficult for me in finding legitimate places to write about while have just as much enthusiasm. Sure, Hollywood has its crazy nights with like-minded people, but with that being said, big deal that's just the norm in this town.
It's not everyday you'll find me at a bar. Heck, you'll rarely even find me drinking at the table in a club or even a lounge other than cranberry juice and lime. Vodka taste like rubbing alcohol in comparison to the smell, anything with red bull smells like vomit and too much of any mixed drinks is gag worthy. Though in time, some things tend to change and I mature in my preferences. And while my preferences changes in the alcohol that I consume, so do my choices in atmospheres.
Leave that to the more prominent promoters here in this city that know how to keep things at the top of the game.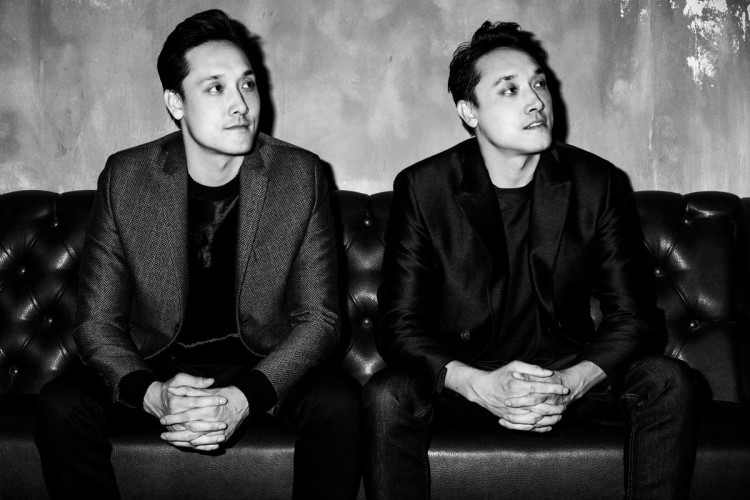 The Houston Brothers have done it again. Bringing you yet another "Too cool for school" Hot spot in all its glory with a long list of successfully well established venues and bars. Places such as The Piano Bar, Dirty Laundry and No vacancy just to name a few, have brought out some of the best in this city all while keeping a "secret society" essence. These two handsome brothers, over the years, have collaborated with some of the best promoters in Hollywood that know how to keep that old school flare when reality tv personalities weren't even a thing of the future in social atmospheres. Leave it to them to stray away from the typical club mentality of  rookies and new generations of juvenile idiots.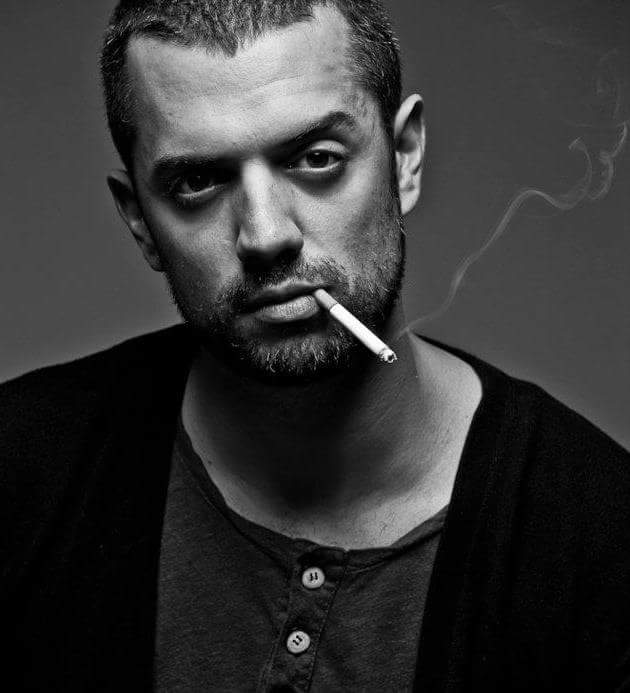 Chris Paul, no not the basketball player, but one of the most down to earth and coolest guys in this bubble, has a new night with the Houston Brothers every Tuesday at the BreakRoom86.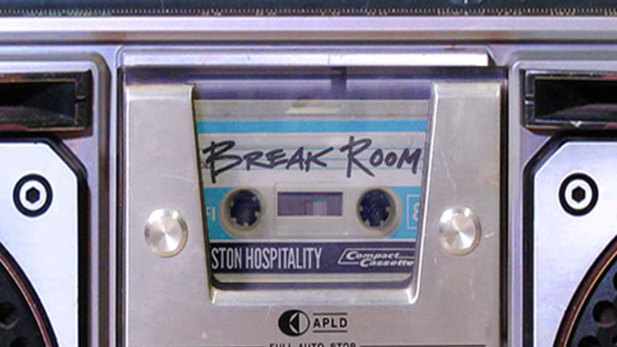 As Chris brings out some of his hippest groups of friends ranging from actors to Hollywood Socialites, moguls and Entrepreneurs alongside the Houston Brothers loyal followers, you can only imagine what they have in store for our entertainment. Over the years, I've come to admire Chris's cool and calm demeanor where he engages with every guest within his surroundings. Unlike some promoters who lack the consistency overshadowed by their mere number counts, Chris makes it official that he has a supportive and loyal following as well when attending all his nights and events.
Check out "Whats this Dunk BGCP3".
So it makes sense that he added this new spot to his long list of credits from all the promoting that hes done.
After moving to Koreatown, there has been a huge change in my nightly outings. I haven't taken the time to venture out in this part of the city, so once I heard of this new hidden hot spot promoted by one of best, I had to check it out.
BreakRoom86 is the cherry to my ice cream Sunday, and as many times as I've said that I wished the nightlife could be just as it was before, I got to walk down memory lane again 80's style.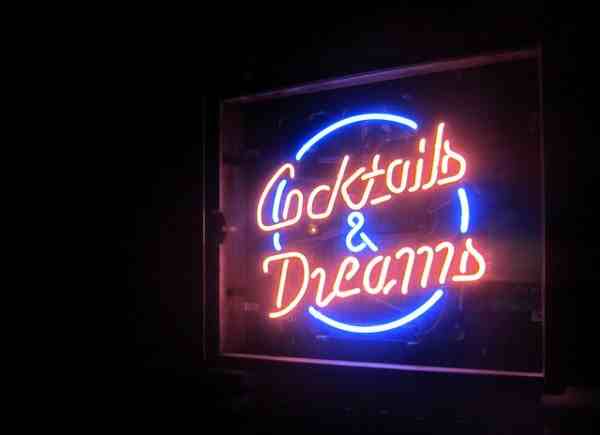 It's not exactly your typical speakeasy, but it has its similarities with a hidden passage way, a modern 80's setup bar lounge and a real chill vibe. When walking up, you're met by a guy and a rope in a lot of what appears to be a smoking break area for the kitchen staff behind the the Line Hotel. You'd think I'd feel a little uneasy by the stare down from the long hair European guy in a heavy black jacket that looked like he could karate chuck your ass, but his Jason Momoa vibe kind of alerted my sex drive.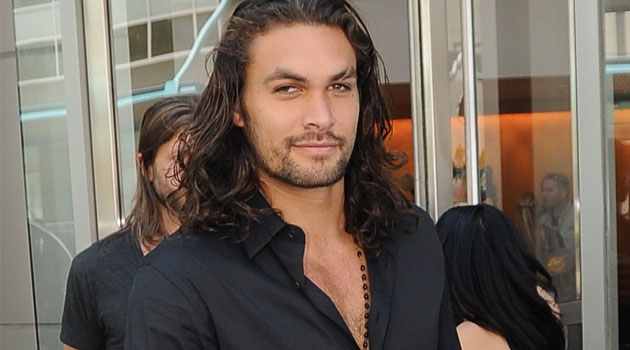 He is dangerously perfect
His deep stare quickly made me coward, but I didn't disregard the compliment he gave me and my best friends attire. We were asked to wait for the hostess, a rocked out female with natural big hair who led the way through the back entrance of the building. From what I thought was light conversation, we were given the standard rules of no camera flashing inside and asked if we wanted any snacks from the vending machine. Well I'll be.
Once inside, the music was blaring upbeat 80's tunes where at some point groups start jamming out to the music,
Although I wish they would've played some Teena Marie "Square Biz",
Walls are decorated with vintage mixed cassette tapes and flat screened tvs playing classic 80's scenes from some of your favorite movies. The Breakroom86 is the size of a narrow underground space with reserved seating in two leveled areas. Speaking of entertainment, Breakroom86 has quite a bit of that from a mini video arcade set up towards the exit for 50 cent per game where some of the old school gamers could play.
Of course Efrem and I made our way to the bar first. I didn't realize that he had already gotten his drink and was waiting on me to decide on mine.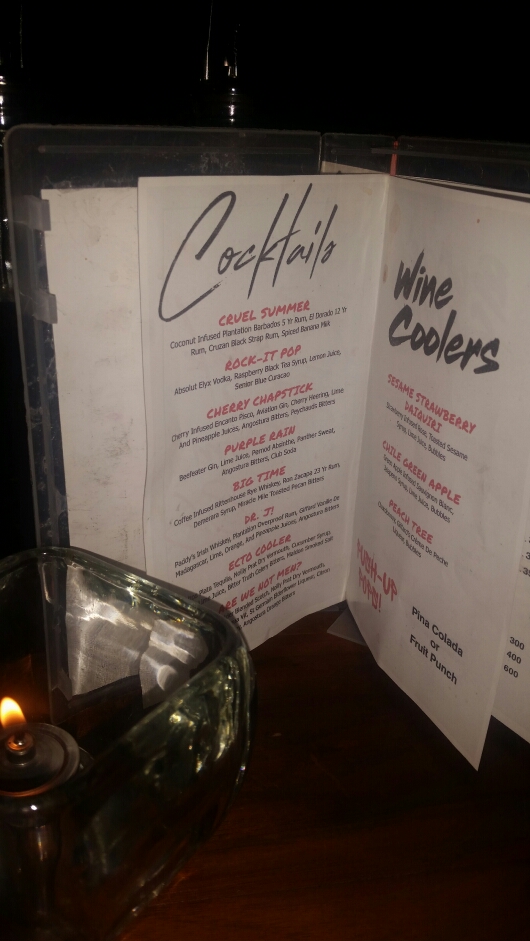 I barely even had a chance to read through the menu options and comprehend what type of ingredients I was even reading. Since they were all out of the easiest drinks I could think of, wine coolers, I went with one of my favorites,  the Moscow Mule. Holy crap this is sour. That drink became the definition of my cheekbones as hard as I was sucking them in from all that lime juice. Excuse me, but do you think you can dilute this with a lot more sugar please?
Since Chris wasn't in the building yet, Efrem made himself comfortable disregarding the group who had been sitting on the other side of a reserved  table. He doesn't take to kindly to people telling him where he can come and go. As he sat there being the most stylish individual you could find in the room, everyone acknowledged him as if he was his very own project runway.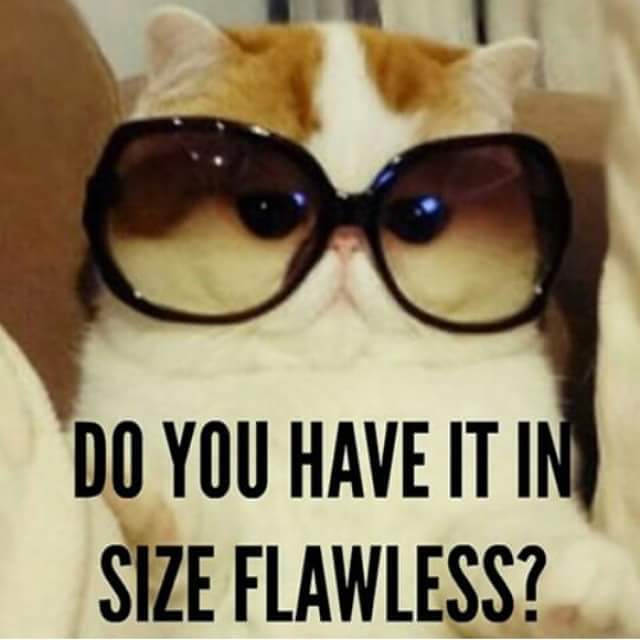 Somewhere along the lines, my existence was acknowledged too. Of course you had the few jackasses who made back handed remarks to what they assumed would be a flattering compliment by describing Efrems looks as the 80's movie starring Eddie Murphy "Coming to America "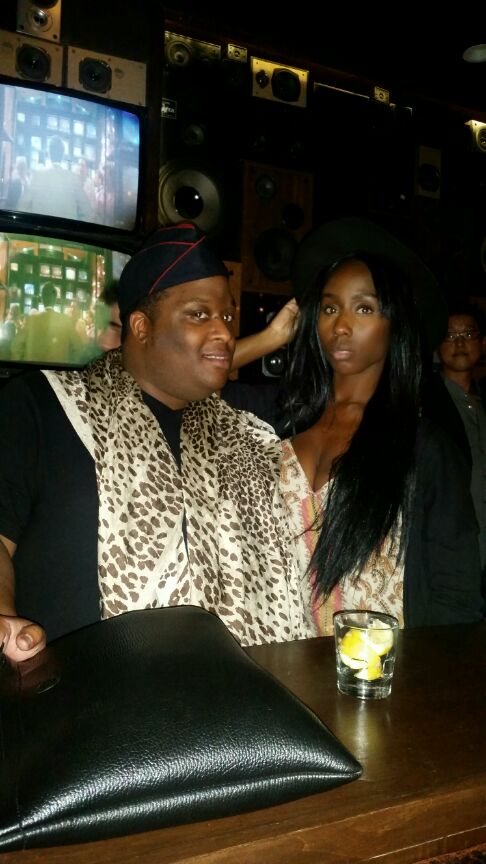 boy bye!
The part that killed me is that the comment had to come from one of thee most awkwardly and creepiest guy who felt that his sly smirk would attract my attention. Clearly my look of confusion and head turn didn't keep him from abruptly making himself comfortable.  Uh… you're a little too close for comfort. Please make your way somewhere else. When he caught wind that I wasn't budging nor showing any solid signs of interest the second time around, he got up to annoy someone else.
While looking around I saw a girl messing with the top part of the wall that said "Quiet ". I was curious as to what she was doing until I noticed that it was yet another secret entrance to another room in the building. Oh I have got to look into this. I saw that it was a brightly lighted roomed with blue neon colors. When the girl walked past who I didn't even realize was a waitress, I asked her what the secret room was. A karaoke room. Now that is dope! She also pointed out the phone booth near by which led to a separate room to enjoy with others.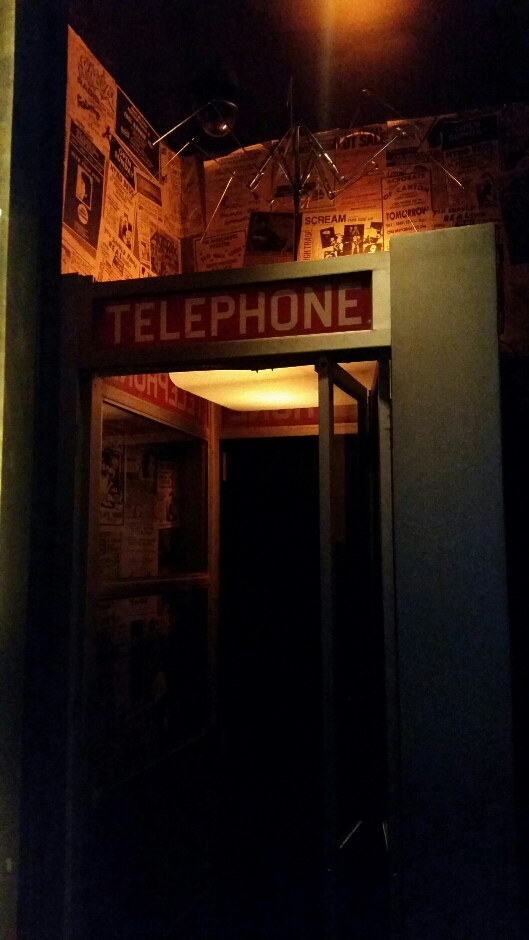 Yeah. This for sure is my new favorite place to be. We had already made ourselves comfortable that we didn't want to leave our seats. So we waited. Behind us were some flat screen tvs going through scenes of movies. I only caught the raunchy sex scenes that were playing, though I didn't mind. Before I could selfie myself in the neon lights, a group beat me to the punch each trying to angle the best ways in getting the right photo. Once they were done I quickly sneaked in a selfie of myself. I was having trouble myself and no matter how inconspicuous I was trying to be without a flash, this just was not working out as well as I had wanted. Each take I tried waiting for the tv screens to light up so I could at least get a glimpse of myself.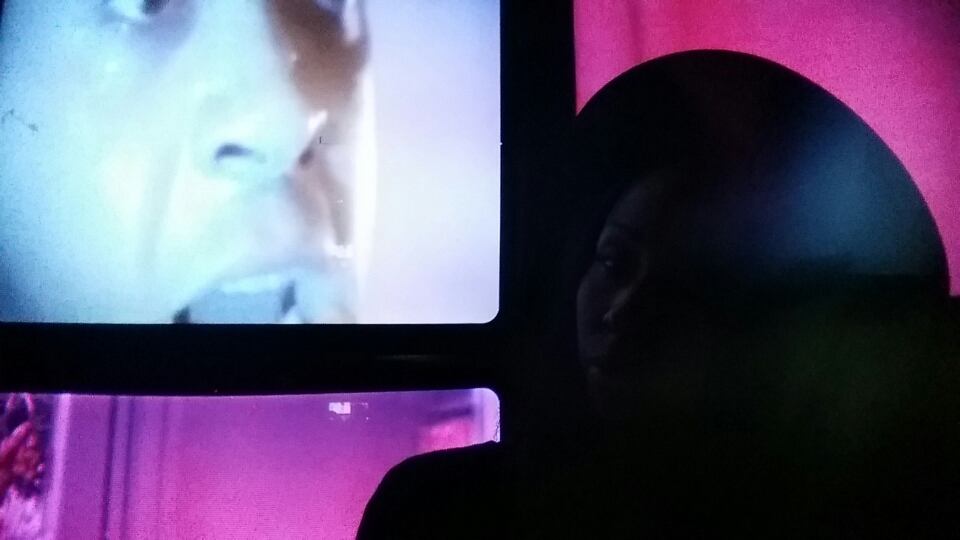 Really?!? Oh come on, at least let those that are as dark as a shadow use a flash.
You couldn't even see me. I had to sneak that other photo of myself and Efrem when the bouncer wasn't looking. No disrespect, but I need flashes in my life.
I gave up after a few tries and just used this for art purposes. As soon as I sat back down, another waitress had asked if the entire table could move being that the person who they had the table reserved  for had arrived. I had a hunch it was for Chris and his crew of people. We complied and moved towards the stage. I was going to make a bathroom trip until I saw a gang of people walking in. Chris was in the middle who I quickly ran to and then following behind him was his friend and actor Shiloh Fernandez. I continued onto my trip to the ladies room and then made my way back to the table to introduce Efrem.
Efrem didn't see it necessary to make ourselves comfortable at Chris's table and I didn't blame him. I didn't want to intrude amongst his friends although I was sure Chris wouldn't have minded. So we stood a little behind his booth where the plasma tvs were. Not sure if I was a pink elephant in the room, but I caught a few stares for whatever reason. That's when I decided I had needed another drink. As much as I enjoy being the center of attention, I tend to fall back into being an introvert and truly hate unspoken words as if I'm suppose to read thoughts and minds. So I needed something to loosen me up a bit. Something about Efrems drink looked pretty damn good. A Gin Gimlet.
Oh boy. The guy from earlier was back again, but this time I distracted myself enough where he could get the third hint a lot faster. It didn't help that while I was trying to dodge him throughout the night, he had made his way into the karaoke room where I never actually got the chance to test it out. Maybe another night.
I was more relieved when Shiloh made his way over to where we were standing just to make small talk. I'll admit I was a bit taken aback and smitten at the same time, but I couldn't help but to try and have a casual conversation without fumbling over my words.
Check out my recent Man Crush Monday
Towards the end of the night, as it grew closer to closing time, the bar area turned into a stage where it went down into the floor to show two performances of break dancers and a Michael Jackson impersonator.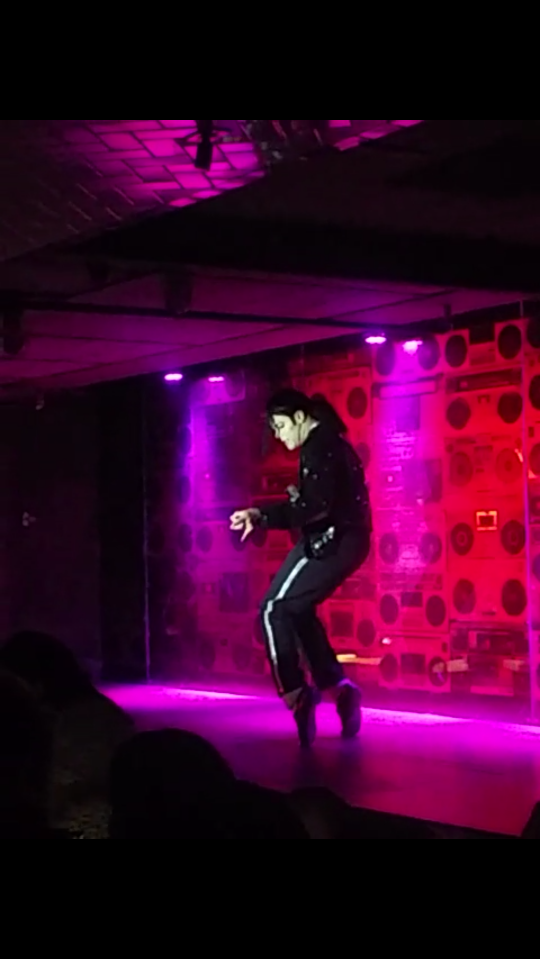 The performances were definitely great, but that prosthetic mask or face that the impersonator had on was just a little eerie. For all I know it was an entire makeup line for how much was on his face. One girl quickly reminded me that overtime Michael's face was pretty horrifying at times if not more. The crowd was really chill and aside from the cocktail servers walking around in 80's getup, this was second nature for the hipsters and modern 80's fashonistas. Other than the fact that there is a strict guest list, Chris definitely made sure that I would be taken care of to get in.
I can only appreciate and respect when a place such as this is treated more than just your flimsy nightclub or hookup spot. To see people that I use to socialize with from previous clubs dating back from when I first made my rounds at bars and lounges like Le Duex, Park, Social , Goa, One Sunset, Crown Bar ect, it actually  becomes a breath of fresh air. There are only a handful of respectable promoters that have carried the torch for years and although some have laid low, I still hold a candle over their heads. To see a few of them all under one building is awesome. Lets just hope that is stays this way and doesn't become infested with the Hollywood types that have since plagued our streets. Each night is packed with something new with different performances different conversations, but overall it's that old group of people that made me love this city no matter the smoke and mirrors. Till then this will become my sanctuary.
Xox