When I consider an alcoholic beverage, I think of how I would relate it to my overall personality and who I'm in the mood to being. Am I the Socialite who centers herself in the spotlight, or am I the wallflower that'll observe from a distance. Am I the frivolous social butterfly or am I the devious vixen. Either way, I've associated my drinks of choice by way of how I'm feeling, but I've finally found that one particular drink that signifies everything about me.
Whiskey
I am a whiskey girl at heart, and while I do switch it up from time to time, Whiskey has always held that forever key. Whether it be neat, on the rocks or even an Old Fashion, there is nothing like the settling feeling that I get away from all other options of liquor. It beat out every other competitor from all past drunken affairs since the moment I could down a full bottle bigger than my head at the age of 19, and I actually do enjoy the taste and aroma that shoots down my throat. I'm ambitious, spontaneous and a sapiosexual, so it fits how I choose to identify myself with each glass. Somehow, Whiskey has always been defined as being a masculine drink made for the man with the upper hand, but I have a masculine female personality who likes to be in charge with a glass in her hand proving that it is just as equally a Woman's drink beyond what is so cliche to be perceived.
Lately, I've been receiving a lot of invites to events based off the Whiskey brand. So it's ironic that I have a Tequila Tuesday chapter in my categories when I just use the term to express my nights out at bars.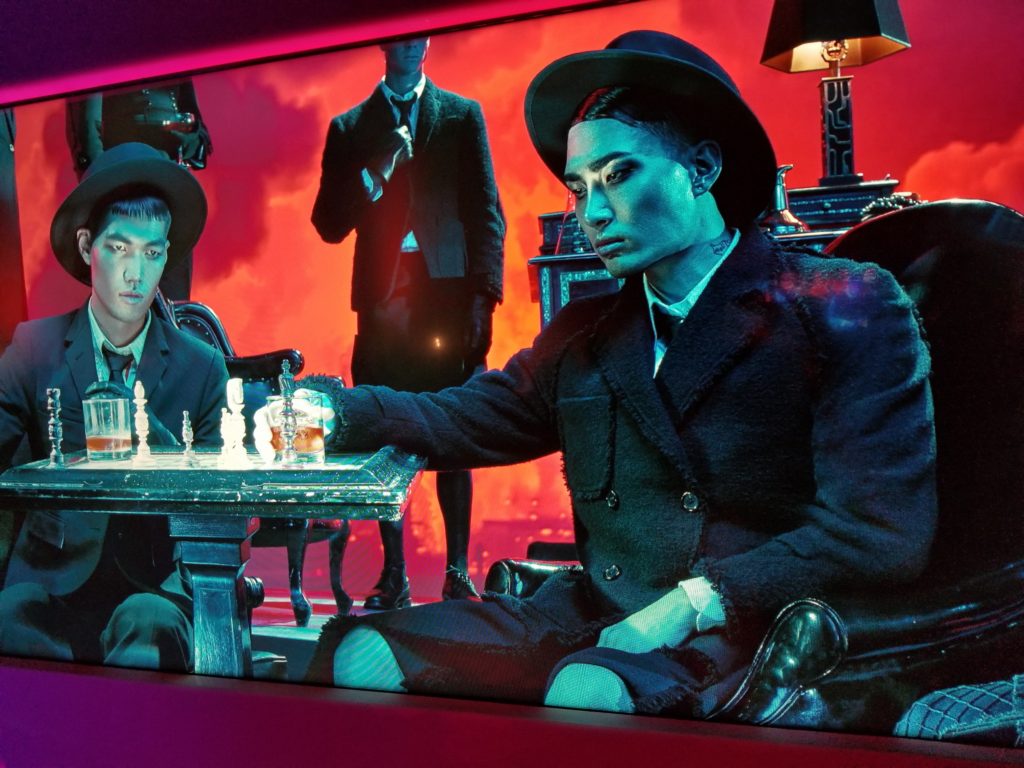 I received an exclusive invite for a night out at the Macallan tasting event, where I would have the opportunity to mix and mingle with other whiskey drinkers like myself. Raise the Macallan offered the unique experience in trying a single malt Scotch whiskey first hand where an RSVP was time sensitive. Within seconds after putting myself on the list, slots filled up fast where after a day of receiving my email, the guest list had already reached its full capacity. So I made sure to schedule my specific date into my calendar and wait for a full night of exploring. Unfortunately, two of my friends were unable to join me and I soon found myself teetering if I wanted to attend by myself. Balancing out my Ambivert traits played a huge part in me just letting go and deciding to take myself outside of my comfort shell. I chose a Friday night which was perfect knowing that I could spend the evening relaxed without worrying about any other work obligations for the following day. I didn't really know what to expect, but the event started roughly at 9 p.m. and would last for about an hour and a half.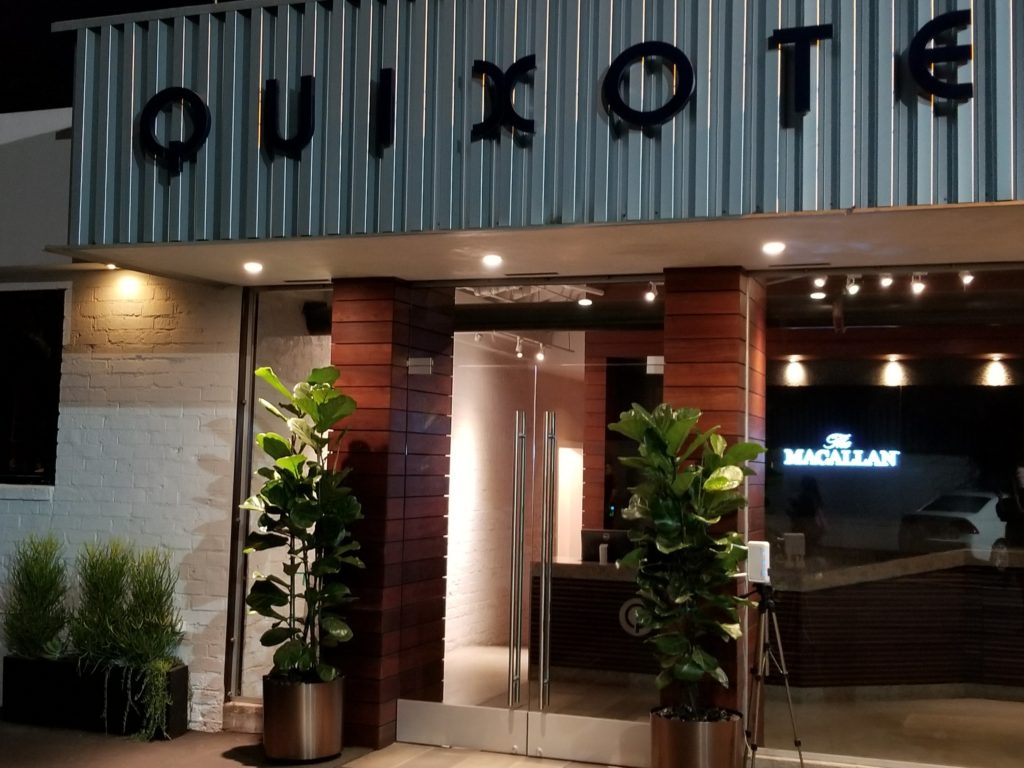 Each guest were given a personal confirmation code that we had to make sure to have upon attendance. When I noticed that arriving early was strictly suggested, I made sure to show up no later than the actual time I had reserved for myself. The event was being held at Quixote Studios and by the time I had arrived, people were already showing up in order to get first dibs in line. Parking was surprisingly easy, and by the time I walked up, there were only three other women standing at the building where a long velvet rope mapped out the line for other arriving guest. Guest from the earlier tastings were being let out through the back of the venue in the midst of guest who were arriving, and it wasn't long until a line had formed practically wrapping around the building. After we were asked to have our I.D's out as well as our personalized confirmation code, two separate lines were formed. A woman was handing out golden wristbands from what appeared to be for VIP's aside from the rest of everyone attending. This clearly piqued my interest as I was unaware that there was a priority option. Without coming across as an annoyance, I asked how different the experience would be from those who didn't receive a wristband, but it ended up not being a major difference other than that they had the chance of going in first.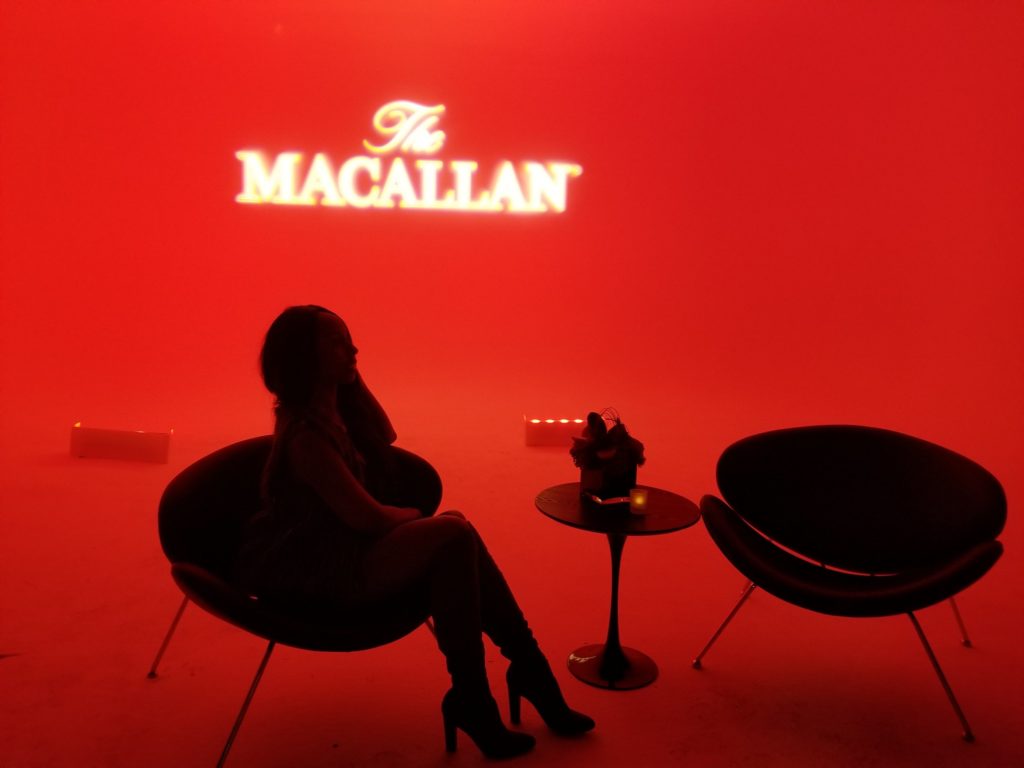 I was already in the front of the line in comparison to those that were still showing up. Once they let the first group of people in, I was next. The immediate entrance of the venue was set up as a photo opt, highlighting a sexy red hue with two seats for couple shots. The backdrop and after effect added a silhouette appearance making it even more intriguing for what this brand represents from all others.
In the second room, where the first social experience took place, people found many other photo opportunities with the displays of the brands ads in cornered parts of the venue as well as captured on the walls of the room. Macallan whiskey products sat on shelves behind glass cases where it gave a description of each bottle; a 3D 360 virtual presentation attracted many guest as they had the chance to explore the making of Macallan whiskey through virtual reality; an open bar that gave guest three tasters from aged Macallan whiskey bottles; and then there was the main photo attraction that offered a slow motion video effect with a sultry background to go with their ad. Most importantly, there was food of sliders, chicken skewers and other enjoyable edibles.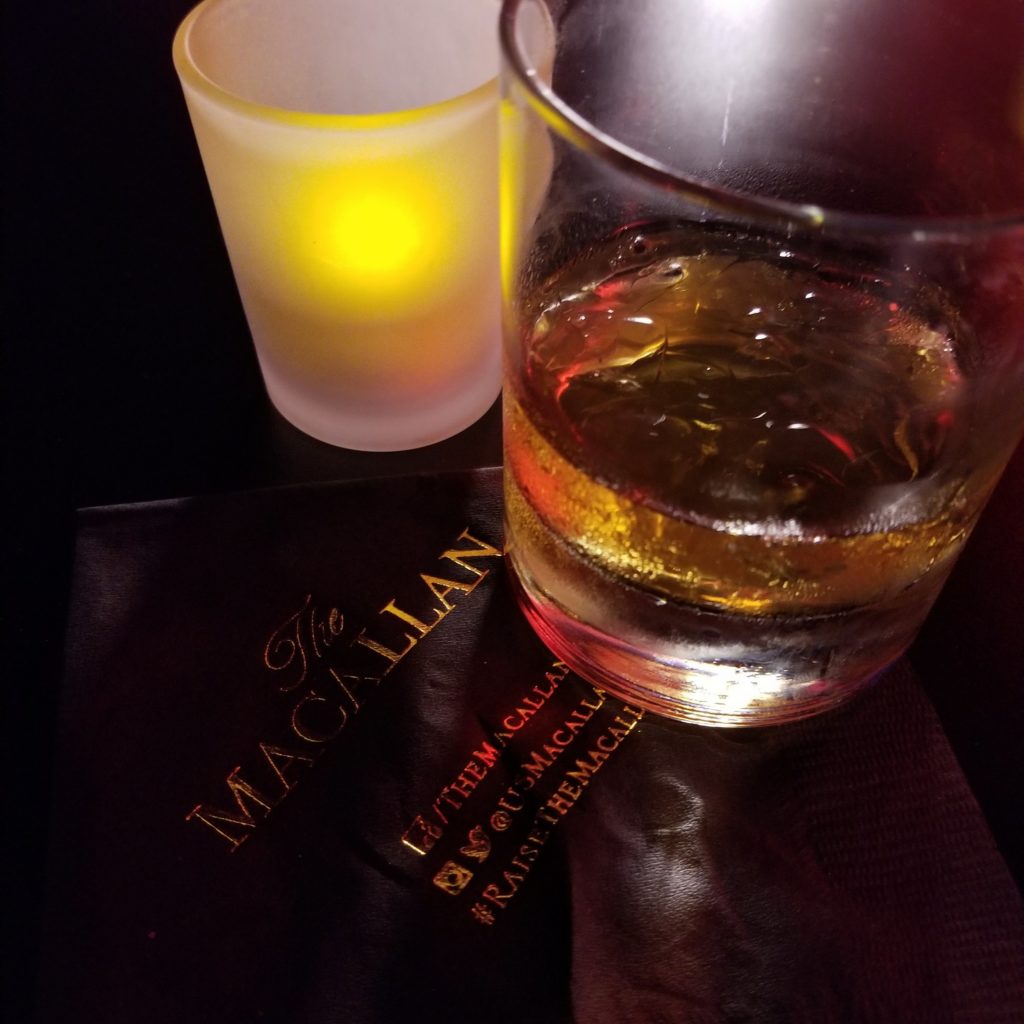 The first group of guest had already been testing out the virtual reality and I wasn't sure how fast the line would move as the venue had started filling up quickly. We were handed drink cards at the door in order to receive a free drink, so I walked over to the line for the bar. Waiters were carrying trays of rocks glasses with shots of scotch neat. Before I asked for one, I noticed that for each person that asked for a sample had to give up their card which was placed in a glass that sat in the middle of the tray. I quickly held on to my card and continued to wait in the line to see what other options they had. From the three choices that were displayed, I decided to get a sherry oak on the rocks that was suggested by the bartender. Strong but smooth. Smokey but rich. There was so much going on with my senses that I first found it hard to catch my breath from the strong aroma in my mouth. I had just found the antidote to my next cold.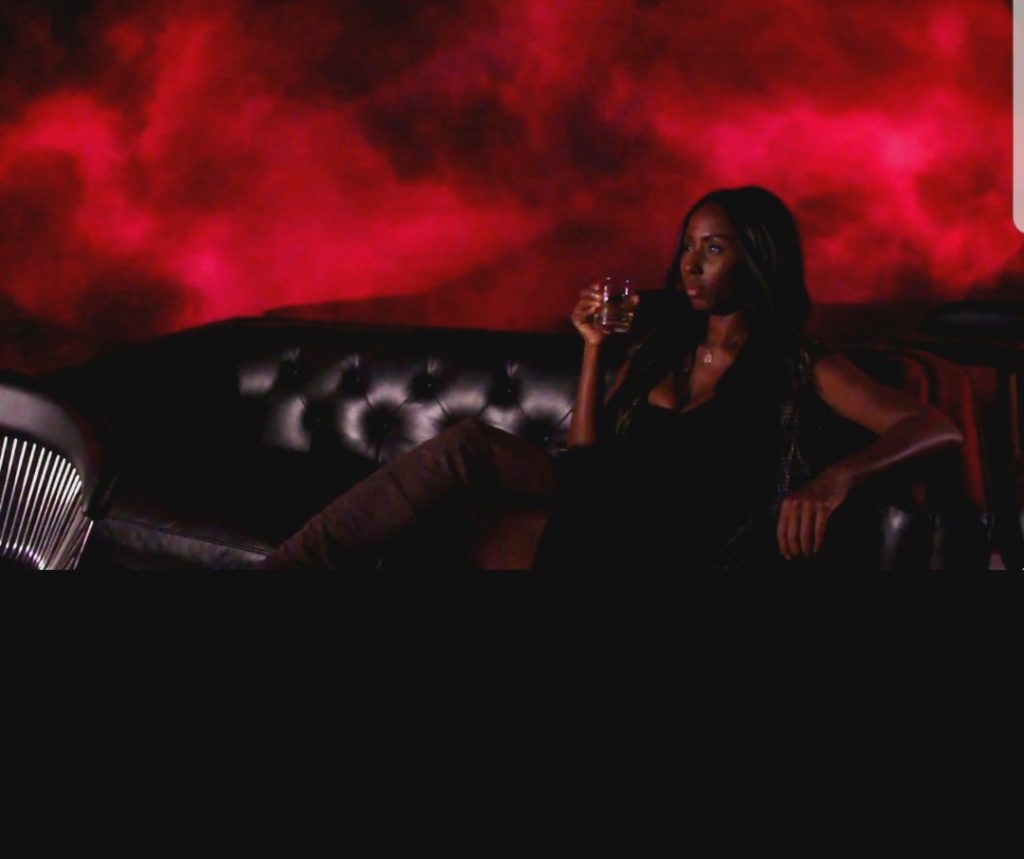 I made my way over to the photo area that had a backdrop of fire red and smoke. This was interesting because it actually looked as if the smoke was moving within the frame of the shot. A camera man had a table set up with a camera that moved in a still motion while we had to sit still in a frozen position. I felt like a vampire for some reason, maybe because of the color red with the tone of black, but something about the shot was so seductive and alluring. It was a little odd having to sit like a mannequin while people watched, but the video came out stunningly cool.
I wasn't sure how much time we had until we were to be escorted into the next room, but I really wanted to get a chance to experience the virtual reality. As I walked over, I noticed that there were a few seats available, but I was told that due to the cutoff time where they would be opening up the other room, I would be unable to sit down as there was a group that managed to get the last seats. I understood and decided to watch at a bar table near by. The woman had noticed that I was by myself and then decided that it would be harmless in allowing me to join the remaining group of people. I sat down and waited as people returned their items for the woman to check in order for us to use, but I was also informed that once it would be announced to head into the other room, that she would just tap me on the shoulder.
The video showed the process of how the barrels were specifically made and the process of making the whiskey within the barrels. The effect of the video felt as if I were among all the workers and their tractors. It was extremely impressive. Sure I probably looked odd as I observed every inch of the screen while starring at the enormous tree that hovered over my virtual head in the middle of the woods. Then there was the grass plains of the country side that stretched longer than a football field. I literally felt as if I was actually there, and if it would have been an even similar experience like that of California Soaring Adventure at Disneyland, It would've been hard for me to want to take my headset off. Over the audio, I could vaguely hear an announcement being made, but I was so intrigued by what I was watching that I didn't make much of an effort to listen. Shortly after, I slightly jumped out of my seat as the woman gently tapped me on the shoulder to inform me that I needed to make my way into the next room. I took my headset off as we both laughed at the fact that I was so easily startled and I realized that the room was nearly empty. She must have let me enjoyed the video longer than I was suppose to, which I graciously thanked her for, but it was definitely worth the watch.
I still had my rocks glass in my hand, but apparently I wouldn't need it for the other experience we were all going to gain for the remainder of the evening. A short line of people were still being led into the main venue by groups and with me being the only person in a group of me, myself, and I, I actually had the better opportunity of picking a place to sit.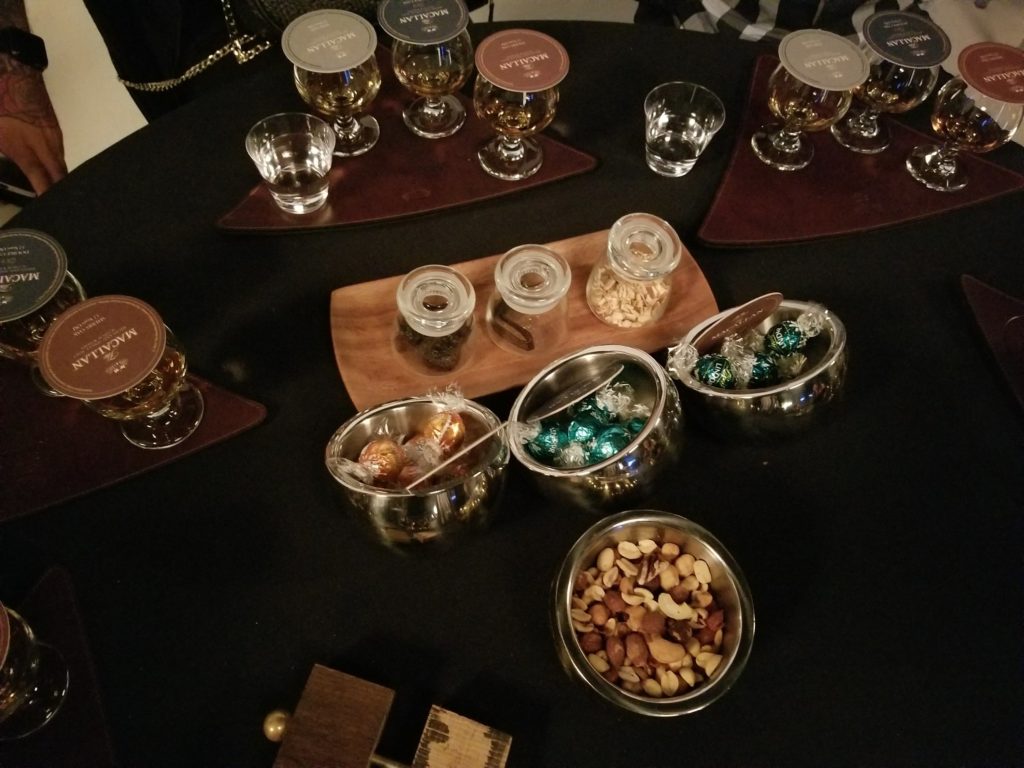 When I walked into the venue, it looked like a gala. Near the stage, were couches and glass coffee tables with a presentation of nuts, dried fruits and chocolates placed in elegant table decor. Surrounding the front area were tables set up in the same way with groups of friends and guest. I was able to find a seat among a small group of friends that had already made themselves comfortable with the snacks and ice water. Three snifter glasses with samples of Scotch sat at the table with coasters each one dividing the different types of whiskey we would be trying. I was thoroughly impressed by the set up as I've never experienced a tasting such as this. No wonder this event filled up so quickly. Similar to one of my many whiskey events like Jack Daniels, this one raised the bar quite a bit.
After a short preview on a large screen, an energetic man with the thickest Scottish accent hyped up the crowd. Macallan national brand ambassador, Kieron Elliott, gave us an exclusive walk through of our tasting experience by first showing us the ways to properly smell the scents of flavors in each glass, viewing the thickness and color of the appearance, and then we were told to "bite" each sip. I've never heard of that term for liquor, but ironically, it made sense in order to increase the taste of each flavor. After each sip, we were then told to pair the samples of scotch with the chocolates that were on our tables. Each chocolate; coconut, orange cream and a rich Ganache, expanded the levels of taste that paired with our drinks and it was delicious. While the men guzzled down their drinks faster than we could move onto the next sample, the women had a little harder time trying to swallow. Each taste was so strong that we got a bit of a whiplash, and one even singed the canal to my nostrils, but I ended up really appreciating each drop furthermore. This showed that whiskey in itself is something different for each individual person regardless of the make. While some could down a glass savoring every last drop, others needed to take their time. It wasn't a competition but an ultimate test for what appeals to your senses.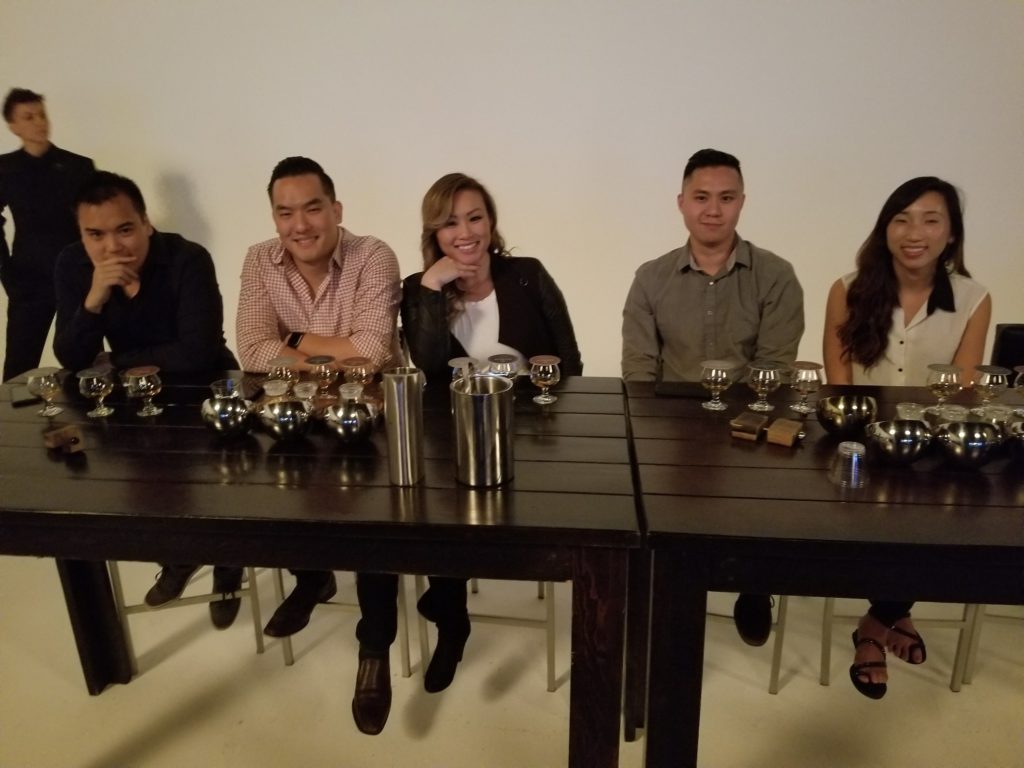 It wasn't long until our table started to mellow down by laughing and carrying on with jokes although we were suppose to have been listening to our host. We tried to be polite, but it's not every time you find a group of people in a setting such as this that aren't as persnickety as the next. While this was a classy room, we all individually had our own reasons as to why we wanted to be here. Some came as couples to what seemed like an interesting date night. Others looked like they had arrived in order to socialize and mingle amongst others finding the common interest in the whiskey brand. Some wanted to gain insight and knowledge of how whiskey is thoroughly made, explained by the actual people who could explain it best, and then there were some of us who just wanted to get out and indulge in a unique setting.
While each sample had its own special difference in appeal, I found myself leaning more towards the Double Cask. Something about it was just a little bit easier to go down without having to place an ice cube to dilute it or gobbling a chocolate in order to ease up on the aftertaste. After, we were given one of their most sought after Scotch that were passed around on trays. By this time, my palate was good. A few lucky guest were given the opportunity to go back stage for those who had posted on their social media throughout the entire evening. I guess my fingers weren't moving fast enough as several lucky men had the pleasure to get even further access to the evening. Guest were given the chance to purchase a bottle or two to add to their collection of Whiskey favorites at the exit doors where many did in fact line up to grab a special bottle.
This was a great time that I truly did enjoy, although by myself. I was at a table with very easy going personalities and great laughter, and as we ended the night with our last drinks for the night, we raised our glasses making a special toast that represented the Scottish salute to continue our love for Whiskey and with that we raised our Macallan glasses and said Slaint!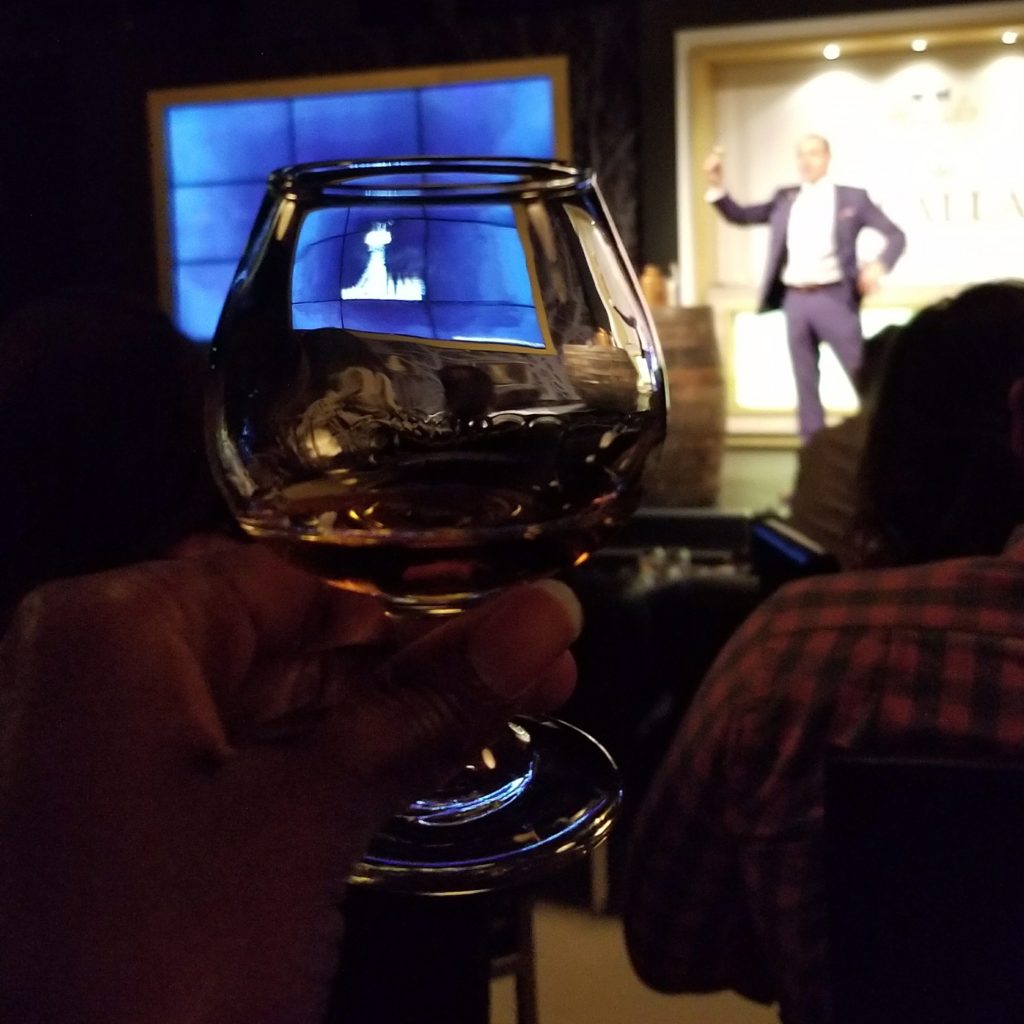 xox