It's been quite the year and with this year has come many changes, both good and bad, topped off with even more good. During the holiday season, I as well as my bestie, were invited to a number of holiday parties and events. As much of an event whore as I can be, Someone who has good taste in actual  events and can depict the false nature of some, I decided  to go along with the flow this year. Since it's winding down to the countdown until the new year begins, I figured why not just cram everything into one trash bag. Mistakes of course would obviously make a better story so lets begin!
An acquaintance of mine that I've known for a number of years, desperately as the text message appeared to show invited me to a show case for his client who was on The Voice, as a contestant.
I'm not a fan of the reality show fad that seems to take away from the constant grind and hustle of artist that do everything the traditional way in order to get their come up. My "acquaint" is known for managing several artist, mostly known for Nickelodeon hit shows or past "where are they now?!" artist, granted their success. Because I prefer not to pry into peoples lives, I always just figured he was the fun all around nice guy that had more friends than he could keep track of. Mainly industry friends and they too were drawn to his lively spirit.
Typically  I'd get random text messages from him whenever convenient to his summertime parties or birthday celebrations. Never the day to day "Hey how are you?". So when I received the text that wasn't in a mass message format, I figured he was genuinely reaching out. At first the text read in terms that my support was strongly needed and that he would be happy to see me. I tend to wear my heart on my sleeve, so I  couldn't pass up a beg of notion. Quickly I called my friend Lauren to get her out the house. Clearly I haven't been much in the blogging mood this month so maybe this would kick things back into gear. The event was being held at The Hotel Cafe ,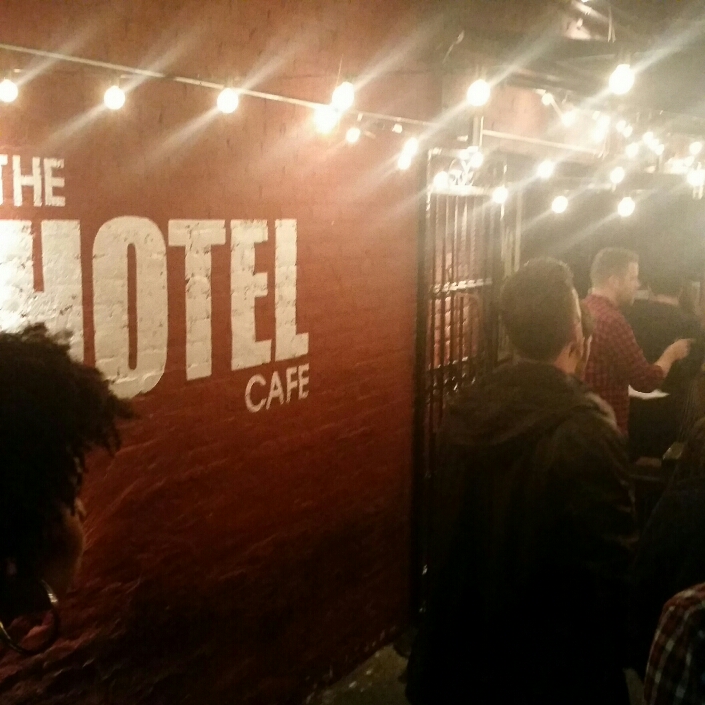 and I've  probably passed this place up numerous times, but there it was sitting right on Hollywood and Cahuenga. Scrambling to find parking in this ridiculous area for those of us who prefer the independence of our own cars over Uber, I had assumed we were going to be late. Once we walked up, there was already a line forming. I bumped into my sexy friend Danny, who I also hadn't seen in a while. Once the line started moving closer, my acquaintance came outside. My face started to glow, as he has that type of energy and I waved to say hi. His reaction wasn't much other than a "hey wassup" and then my eyes started to twitch. He made his rounds through the line of those he seemed to have welcomed with a tighter grasp of bear hug, and well me? I just got the simple wave.
Originally, when my attendance was asked for I didn't get the memo that there would be a cover charge, so once  I had told Lauren beforehand, I didn't want to inconvenience her pockets by having her pay for an unknown event. When the door guy asked for our names, I had presumed it to be on the list. So I thought. After a while my patience ran thin and I urged my acquaintances assistance, when in return I was given a shrug and I don't know what to tell you…. side eye and done!
When my frustrations became as clear as water, he obligated to pay as if it were such a burden. Please do me no favors, because my favors have officially ran out
I held my breath and walked in after Lauren realized she wasn't able to sneak right in without forking over her money, which luckily she didn't  have to. The hell is the cover for? They had open water with a plastic cup, but nothing worth the charge.
I seemed to have forgotten the protocols for invites, at least to what I'm  accustomed to. Well, I made my way to the front, tapped my toe a few times to the sounds of a much younger sounding John Mayer while his three fans who knew every lyric to his songs excitedly sang along…clearly. ..and the guy who couldn't keep still to my left. I took notes and left. Moving on!
My good friend, I haven't  seen since my birthday, invited me out to an ugly sweater party at The Hudson.

Which has also been some time since I've  last been there. Lets see, my last memories were that I went for a birthday party that ended up being an after party on Doheny Rd, on an extremely narrow street and then an after, after party at Zac Efrons house in the hills with a few of his celebrity friends and Hollywood kids, until  7 am. Note he has since moved from that house years ago so don't bother asking where it is as this isn't "star tours". Moving on!
It's been years since I've  declined many Hollywood ugly sweater parties, well years before Josh Henderson was on the show Dallas. Why do I bring him up? Well because we fell in the same social circle and I always  found him wearing  a hideous  sweater. Around the time of his semi more hipper Justin Bieber  hair swoop sucking on a lollipop days. My, he has since matured. Anywho being that I could consider this my first actual ugly sweater party I figured I'd go all out.
Goodwill tends to have dingy clothing that's been worn more times than a spider has made its web, and I would probably  find a sweater just like the one Nana would try to knit. With our luck not one Goodwill store had an ugly sweater…. okay, I'm lying, but they looked as if they were infested with every four legged critter imaginable so we track down a Goodwill Boutique. These Goodwills are known to having the more quality hand me downs but at a steeper price. Not even in minutes, I snagged possibly the cutest ugly sweater. Dark Maroon in color with Christmas ornaments glued on. I was pretty much a walking kitty with all the bells that jingled with my every movement. Lauren decided to pass on the price of $20 for a sweater we'd only wear for a couple of dollars.
I asked the young cashier who looked fresh out of high school why something at the Goodwill would be more costly, as which his smart ass reply was "well why are you buying it". Smart Ass!, but touche.
We aggressively worked our way down Santa Monica Blvd, with more traffic than a Christmas parade, in order to get to the party in time for the food and drinks. Hey I'm not not ashamed. Parking was relatively easy to find up the street and just a hop, skip and a jump in walking distance. Once we made our way inside, the place seemed pretty empty as I was the only person as a walking Christmas ornament.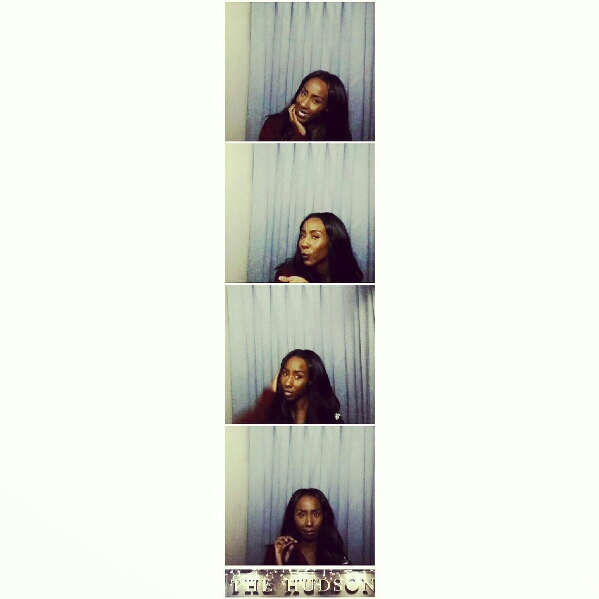 The event was noted at 8 pm, so we figured that would be enough time to socialize up until our next event which started at 9:30. A guy approached us when we told him we were with Brad Hoss party. We handed him our canned food in exchange for a drink.
The bar started to fill up as we were told by some flimsy blonde that certain tables were reserved. Who asked you?!? I sat myself in Brads designated section for his guest. Another blonde had approached us and offered to wait on us until the rest of Brads guest arrived. Typical Hollywood. As time passed, there was no sign of Brad. I was becoming restless being that we needed to make our way out the door, but at least not before I was able to see Brad and definitely not until I had several trays of hors d'oeuvres. Our server was a tremendous doll, as she continually filled our glasses of just water. A server who poses no judgment as we waited with just our one free drink. I chose not to have a lousy draft beer or alcoholic cocktail. The wine choice were slim to none so I stuck with the water.
Finally! Trays of food arrived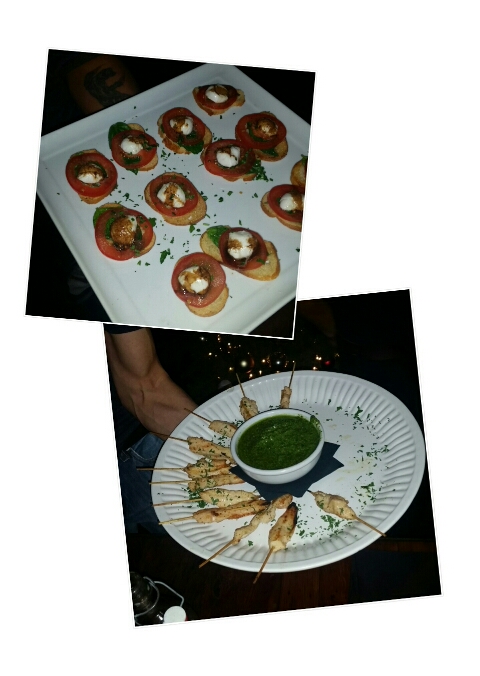 This is absolutely one of my favorite parts of events, is when there's food. Of course I make sure to show some ounce of etiquette. Time continued to pass, and at this time I texted Brass to see when he was in route. Not for another hour. Really…. since when does the host show up fashionably late. Now I'm running late to my third event that I promised my friend Sam I'd attend. So I grabbed a few more of those amazing chicken kabobs and head for the door. Before we made our way down the stairs I made eye contact with a pretty savvy looking guy. Dressed to the tea as if he just came off the plane with the rest of the Gossip Girl cast (I'm being sarcastic ).
It's only natural to think that he somehow knew me, but I've only seen his face on a regular show I frequently watch. I cracked a few jokes and in between my ill manners of still grabbing food off of any tray that came near me, he asked for my number. Sure why not. So I handed Lauren my half eaten chicken on a stick and gave him my card. Big mistake, as I thought he was absolutely harmless with his gay man swag only to my surprise he was waiting to pounce a few days later. Ugh.
I checked out the invite for Sams event trying to make due with the time we wasted sitting around, and I quickly changed back into my original look. Oh gawd again he chose to hold his literal event at this janky spot called The Atticon Hollywood Blvd. The last time I wrote about this place was during a party he had hosted and I was hoping to never have to make another entrance again.
Sam was promoting his recognition for a fashion magazine so I sucked it up and attended. Definitely not my scene of people or crowd, but again I was there in support. Not much to say other than he made his grand entrance, took many photos and video and got on stage to present his single…I think…in fact I'm not even sure if it's even out. You know when you attend something and what actually is, is far from what you had set in your mind? Yeah well…
To be continued…