When it comes to technology and cell phones, I'm the last person to understand all the hype between a newer and thinner phone with updated apps all to make our lives less complicated.
I've never understood the whole idea of people standing and waiting for hours at a time for something that looks just like the last thing they owned.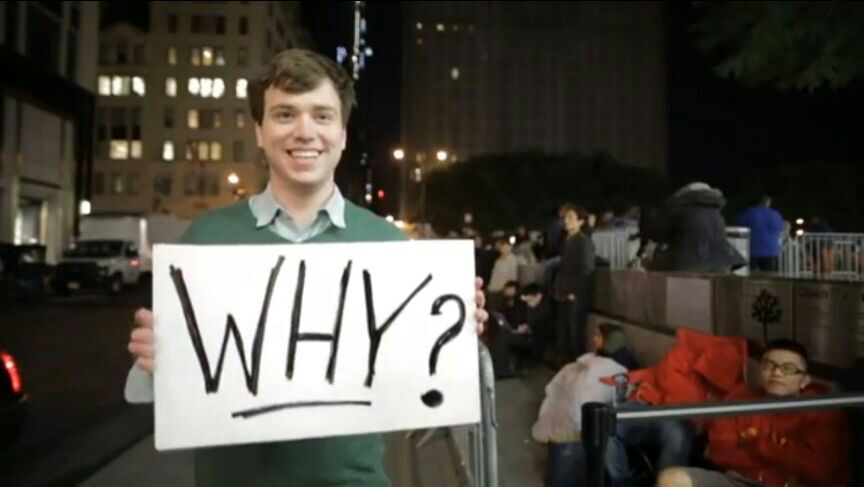 Only to spend an x amount of dollars in order to fork over more money for an extra button or added on incentive. Not in this life, I'll just stick with what I have. But with the millennials speeding up the process of all things new and innovative, it becomes our new way of life with technology.
I received an email from an acquaintance in PR asking if I wanted to be a part of a special announcement conference for T-Mobile that also worked alongside the company. As a coincidence, I had just received concert tickets through T-Mobiles marketing reps days prior with a special performance by the panty dropping singer, Bruno Mars. Completely taken by surprise by the email, I put my name down as Media and Press to take part in such a huge topic that would stream and take over social media. The conference would be held at the same exact location as the concert that I would be attending towards the evening, but I was interested at how they'd have it set up in the midst of a college campus at USC.
I received a second email confirming my rsvp and further details of the event the following morning. Luckily, parking wasn't going to be an issue as they had mapped out a parking garage with complimentary parking for all guest. Ha! The last time I followed a map was when I did a treasure hunt as a child, so basing anything off of that for someone who's severely directionally challenged, that didn't help any more than my stupid gps that drove me into the hood bordering South Central. 30 mins of lost patience and much needed assistance, I finally found my way to the parking garage.
As soon as I walked up with my hair still in tact from racing down the street,  I was greeted by a gentleman who had confused me with other honored guest attending the same event. At first I just smiled, shook hands and went with the flow, but I soon realized I still needed to check in with a badge, and was kindly redirected to the right spot. Being that this was my first official blogger conference, I felt like I stuck out like a sore thumb among other media and press personnel. These people were serious with their glasses and cameras ready to do work, and here I was as if I were attending your next fashion show.  Breaking the ice wasn't all that difficult, so I just became comfortable by being myself sticking to my title as the social butterfly.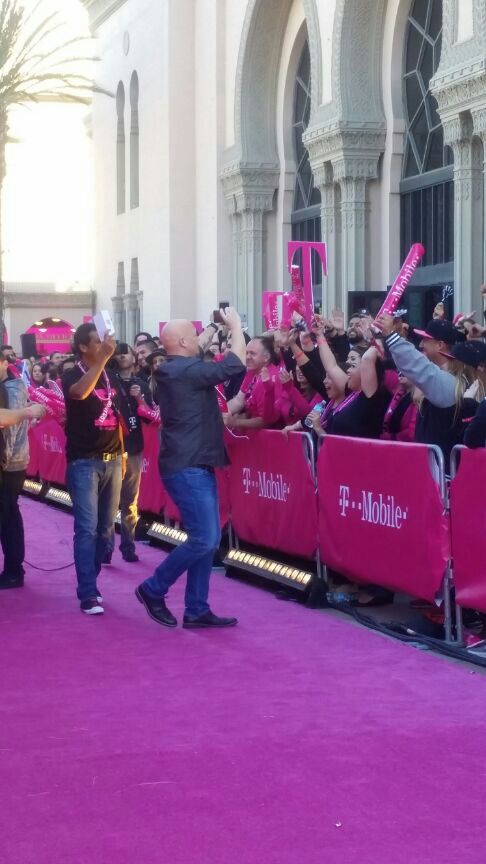 The event was suppose to begin at 11 am while doors opened at 10 am, but I found it odd that there were crowds of people behind a T-Mobile barricade separating from a pink carpet and wide banner as if celebrities were to make a special appearance. The crowd was thrilled to be there pumping themselves up while a camera crew and videographers filmed every live action moment.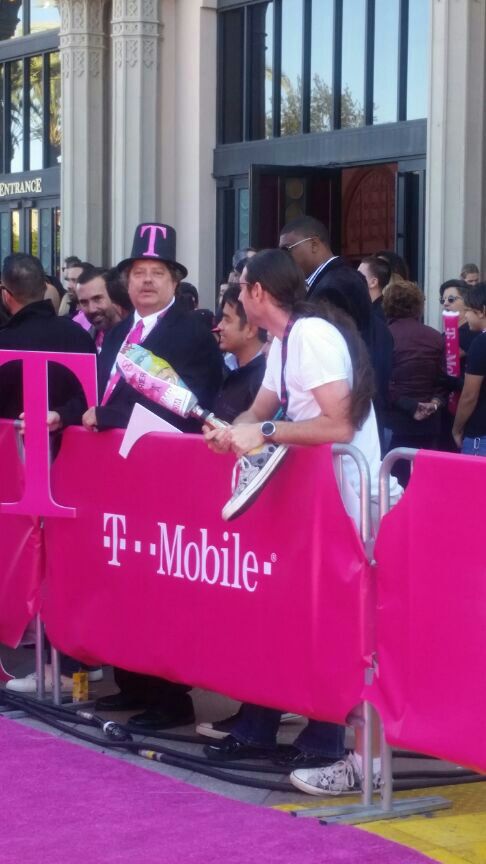 I guess when all else fails grab a leg to have signed and autographed.
Not sure if I was missing something, but I was excited by their excitement until all media and press started forming into a line directed by the T-Mobile staff. We were the "Celebrity guest" and that pink carpet was for us!
Oh this was not a surprise I was ready for and thank gosh I chose to look decent. Normally, I enjoy being the center of attention, but at this very moment I just wanted to hide behind my bangs. This was our moment and once it became my individual turn, all, and I do mean all eyes, camera lenses and video recording devices were on me. My smile became so big that I put the joker to shame smiling from ear to ear. I had to play the part by walking a carpet that was meant for me. Even if it was slightly exaggerated to express a certain amount of appreciation for the ones who were spreading the word of T-Mobile's big surprise. As a natural nervous reaction, I could feel my eyes tearing up, but I quickly wiped them away as if to brush my bangs out of my face and posed for every shutter of a camera.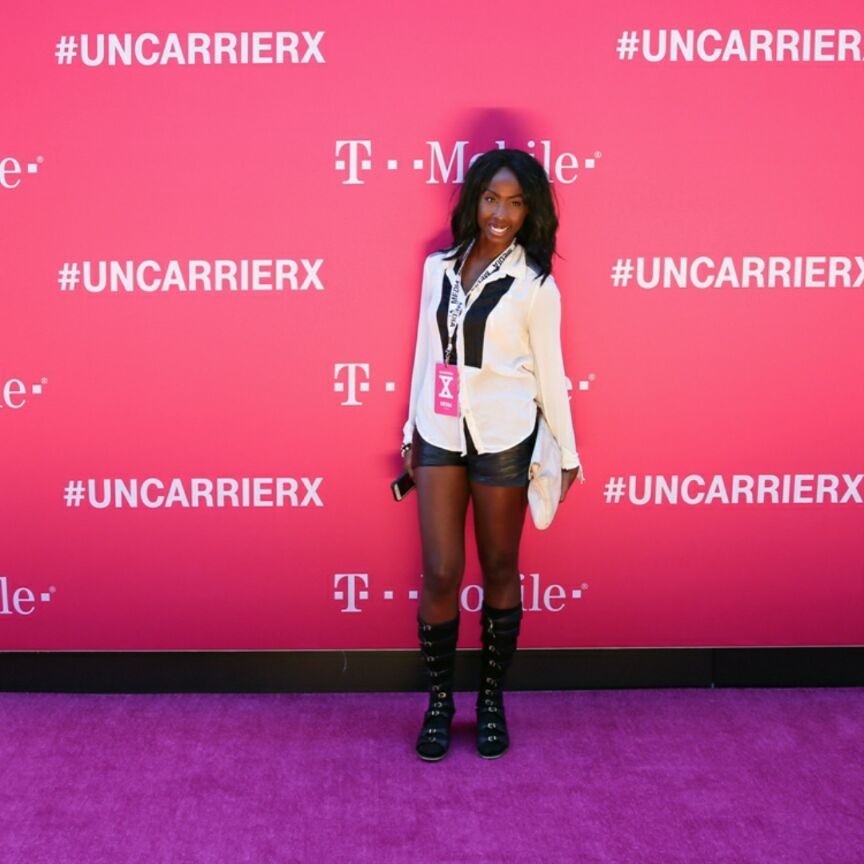 Once that was done, whew, I made my way into the building where tables were treated with light refreshments and food. Our holding area wasn't anything from what you would consider. Spacious with enough food and drinks for the not so morning types. While we waited for the doors to officially open allowing us inside, the top dogs of T-Mobile, CEO and president, John Legere, alongside other prominent leaders of T-Mobile, Mike Sievert and Dave Carey, made their way inside to greet us.
And then the show was ready to begin.
Just like they did outside, they had a barricade inside the hallways that we would have to walk through in order to get inside the double doors. This time, I breezed by incognito behind the next guy that was in front of me. The Shine auditorium was of a decent size. Not at all what I would expect for a conference announcement, but this wasn't just any conference announcement especially by how they treated us like media royalty.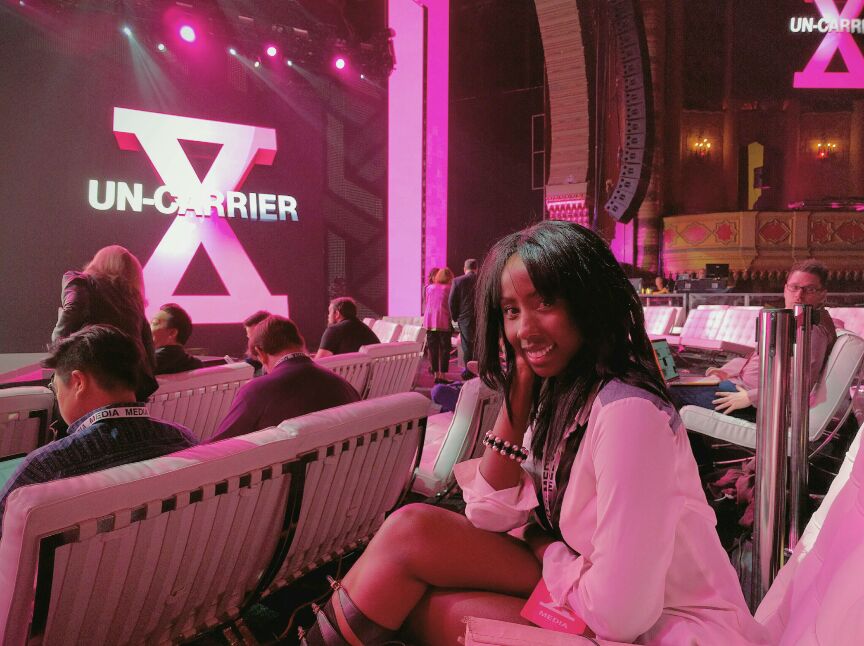 A white center stage was circled by white cushioned couches specifically for us and other special attendees designed solely for our comfort, which lured us right to our seating spots.
The theme was, hot pink, white and black. Pink outlets at our leisure, were placed at every given couch with specified cards detailed for our use of their Wi-Fi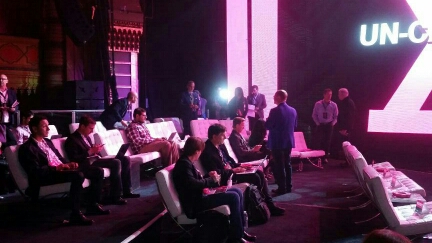 At the drop of a hat, everyone whipped out their laptops in a synchronize motion ready to go, yet here I sat with a cracked busted phone trying to blend in. I soon realized that I would gain carpal tunnel trying to keep up with the speed of technology trying to text on my phone, so I just hit the record button.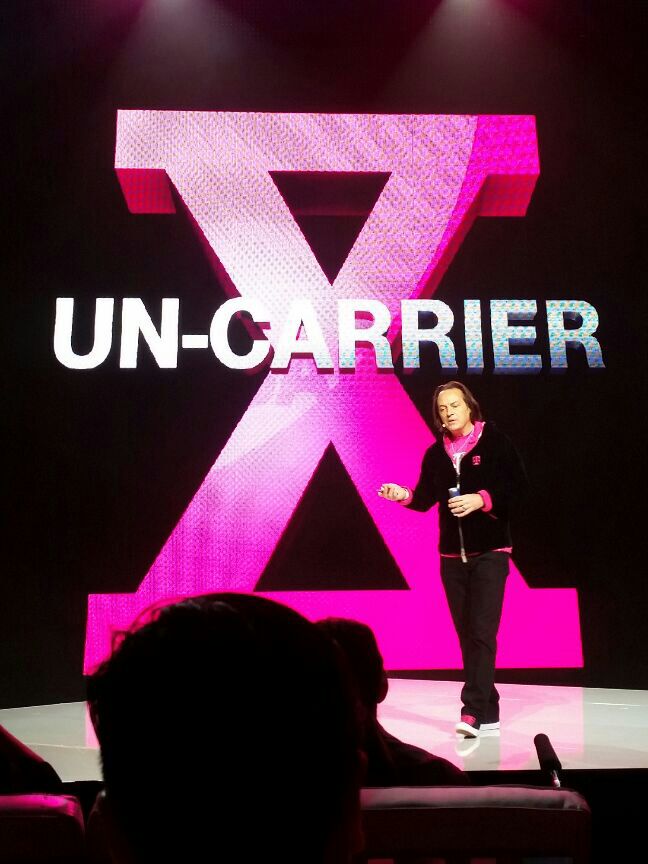 Music was playing and the drum role began as the crowd came inside to stand up on the balcony while an army stood behind us. John Legere made his way onto the stage and the entire auditorium roared with excitement. He was the Steve Jobs of their company, but this guy cursed like a sailor, enjoyed wearing pink and had more energy than a raver. A digital preview of a high tech  T-Mobile roller-coaster played behind him as he spoke about the new ideas setting forth for the companies brand all while showing his sense of knowledge  for the new day and age and keeping up with the daily trends.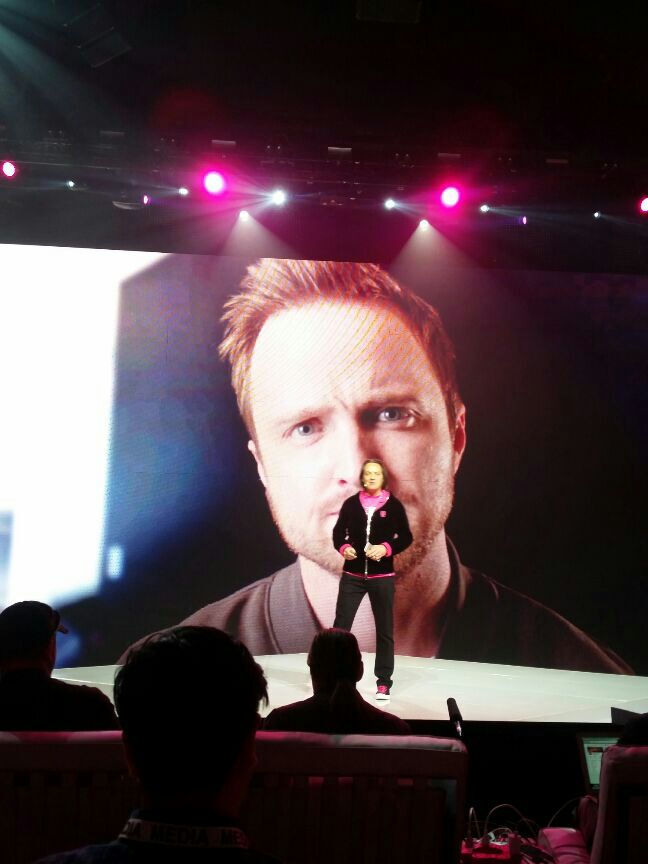 We've all seen the edgy fun T-Mobile commercials that even I wouldn't mind being casted for. Funny how in between his speech, he played an in coming call from actor, Aaron Paul, who will serve us with his brilliant acting chops on their new scripted commercials. I was completely amazed at all the enthusiasm these people had for a phone company in today's technology and even more so at how quickly these people had already uploaded every picture taken and word spoken.
So this is where the website builders are! You know how hard it is to find smart people in the city of aspiring actors and entertainers?!
Trying to find anyone who knows a thing or many about computers and websites is like finding a needle in a haystack; and you're not finding that damn needle in this city. While they finger pounded away at their keyboard as if on a typing marathon, I just sat there and recorded; and good thing that I did because my brain was frying from all the information this guy was feeding to us. It didn't take long for me to realize that I was in a room full of technology enthusiast.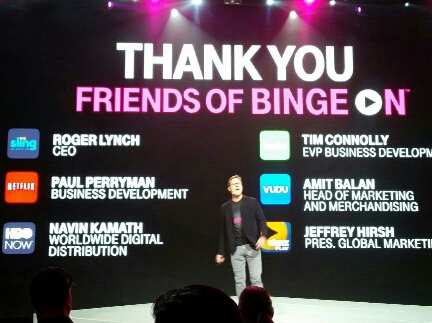 These are the people who scramble my brain with words and lingos I didn't even know existed only to have it translated by my friend who speaks both languages of technology and help! I tried to mentally grasp everything that was being said, but I was a loss cause at that point until a couple of things managed to rewire in my brain. Free, Data and watch. Well that seems easy to process. T-Mobile has formed a partnership with the most watched tv channels in order to allow their customers to watch everything free without having to discourage them of their data. UnCarrierX. And can everyone say, Hallelujah!
The plan was to form around the idea of the millennials taking over the way of technology. Now, even though I'm technically a millennial, I still remember the days of beepers where even then mine was the top of the line. But, now being able to watch every movie and or show without my fathers hands around my neck, he pays for my phone, this wasn't a bad investment to make on T-Mobile's behalf. All that Gb, X2, C-3po, RD-D2… oh wait that's Star Wars, I couldn't understand a thing these guys were saying, but I definitely understood that last part of the full hour. Should I feel embarrassed by a 14 year old journalist who was flown from across the states to possibly be the next president of his own phone company?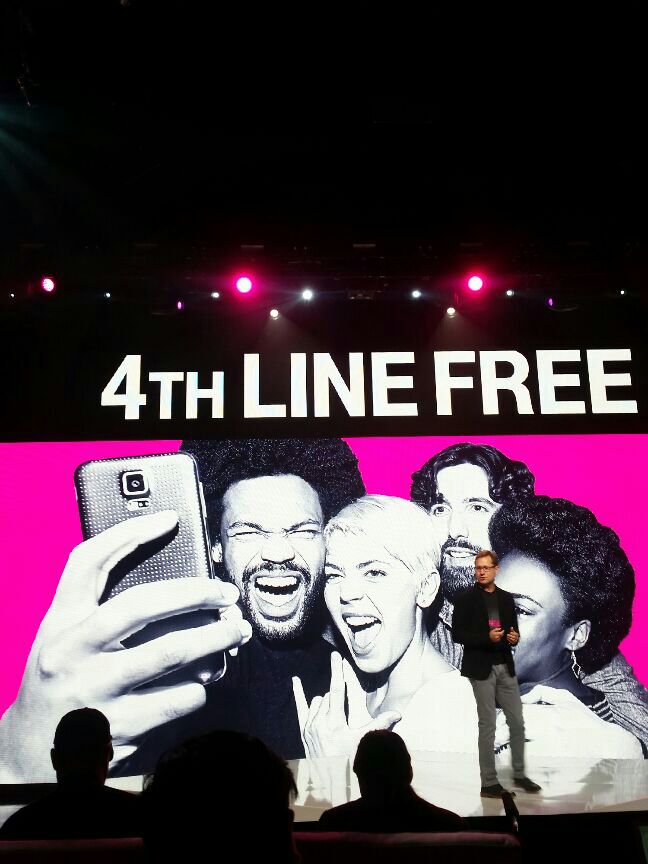 Shortly after, Executive VP and Chief of Marketing, Mike Sievert, jumped on the stage to further explain the future of T-Mobile for their big day on Sunday, November 15th.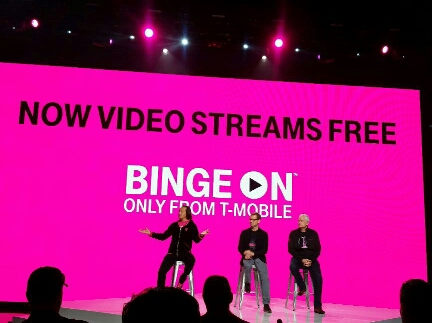 I couldn't function with the Q&A for the T-Mobile yacht club, as special guest and investors were introduced among other filthy rich tech gurus. I wasn't fluent enough in the tech talk that they were speaking, so I just watched like a foreigner with a passport around my neck.
At the end of the conference announcement, media and press could either decide on following all the big poker players into a room for more one on one questions or we could either leave. I chose door number 2 as I followed my new friend Chris after he had mentioned the smelling of food; and in the words of Froot loops, we followed our noses.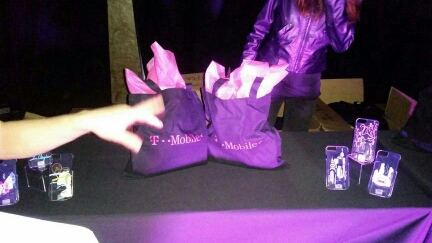 A hallway of gift bags were exclusively lined up and waiting for us to pick from with several Iphone 6 Plus and 6s Plus phone cases. But I have a Galaxy. Eh, Who am I to say no and not find someone who would take it as a re-gifted Christmas present. One item that I could definitely find good use for in my gift bag was the ultimate phonesuit-journey all in one charger. Score!  Another hallway lead us to the exact location I was destined to be. Somewhat similar to the Samsung Galaxy building near The Grove, a room decked out with a visual look book for the Fall/Winter line of technology.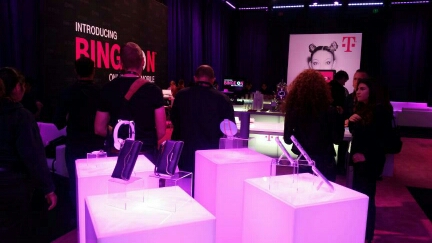 All in glass cases for us to observe, when then I was quickly greeted by personal staff of T-Mobile to send myself the photos from the pink carpet I walked earlier. I forget that you have to be ready and quick for the shutter of those types of cameras. While I loved three of my photos, the other two could be tossed in the fire. I had the typical option of either sending them through my email, text or social media, but good thing I resent them to myself through text because I never got the ones through my email.
A buffet of food waited for us smack dab in the middle with nothing but the best for media royalty. While everyone else was accustomed to this odd way of showing thanks to the media, I was taking it all in. No literally, I had at least five helpings. Lets go down the menu shall we?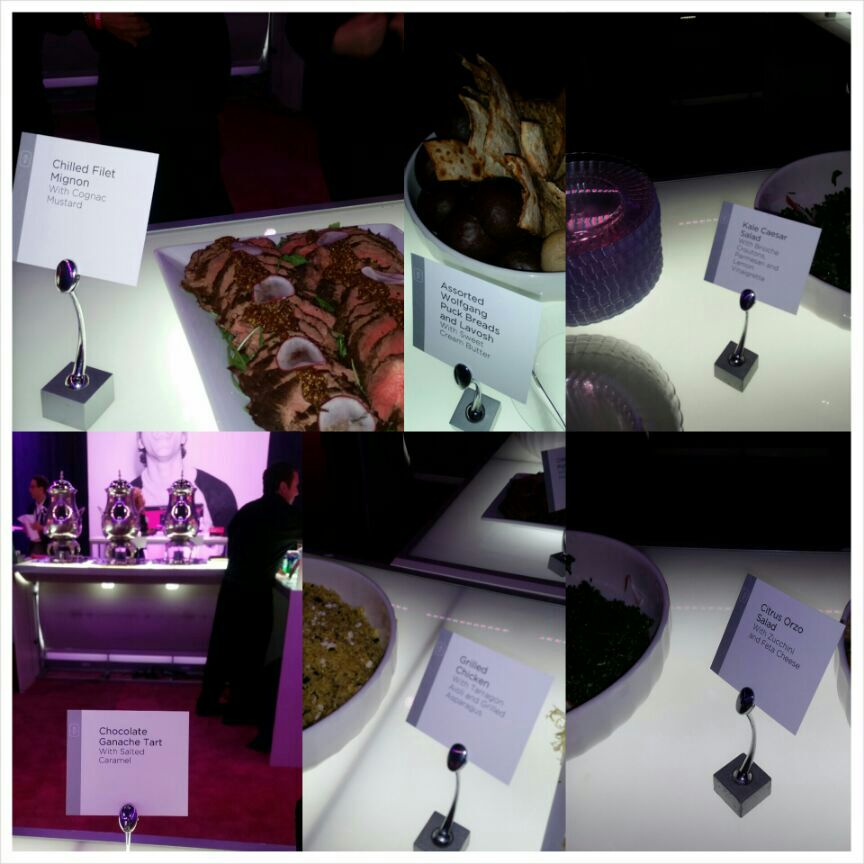 Chilled fillet mignon with cognac mustard, assorted Wolfgang Puck bread and lavoch with sweet cream butter, Grilled chicken with Tarragon aioli and grilled asparagus, citrus orzo salad with zucchini and feta, kale ceaser salad with brioche croutons parmesan and lemon vinaigrette and chocolate ganache tart with salted caramel
I was in food coma heaven and clearly my new friend Chris was too!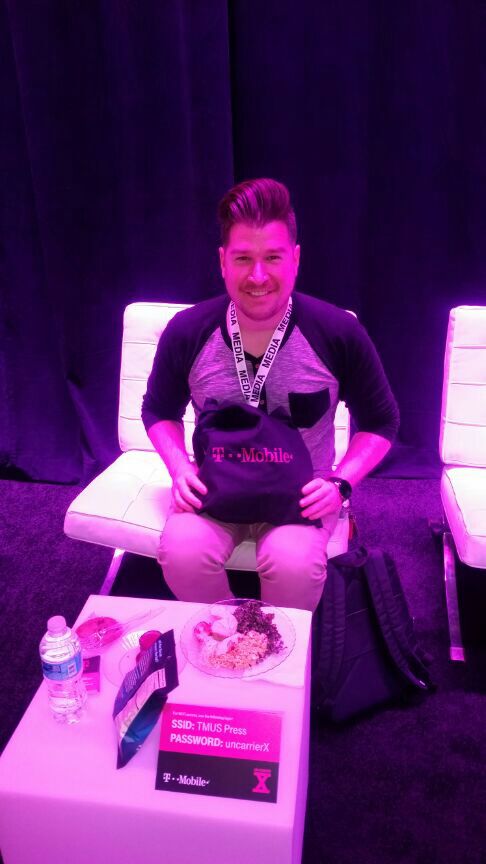 This room  was to make us feel as comfortable as possible just as long as we went soaring through the social media news channels. This was completely out of my element even though I made a few of these guys laugh here and there with my giddiness, but I just couldn't function properly. From the food to the technology and even the turn up music in the background preparing us for the free Bruno Mars concert, my work was to be spent at home with my Criminal Minds and Law and Order.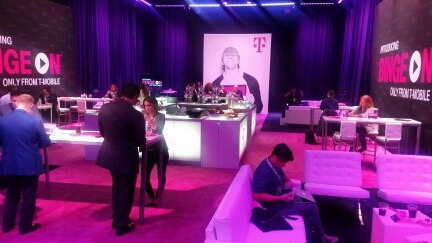 My system of writing just wasn't kicking in and I felt as if I was being that kid sister who wanted to annoy my brothers to play with me. So, I said my goodbyes, threw up a Vulcan Salute and checked out with an extra to go plate in hand.
In all seriousness, I had a blast! Normally, I either shy away or turn my nose up at anything media and press because it takes away from the personality of my blog, but this was completely different. I'm not a journalist and I don't work for anyone, not even myself for that matter. I do this all for the love of being myself as that of Amber Social, the socialite and the Hollywood social butterfly. I made new contacts and new friends that I'll for sure keep in touch with and for Verizon, Sprint and AT&T, they're coming for you, so suit up!
Wait… but I'm with Sprint… FML.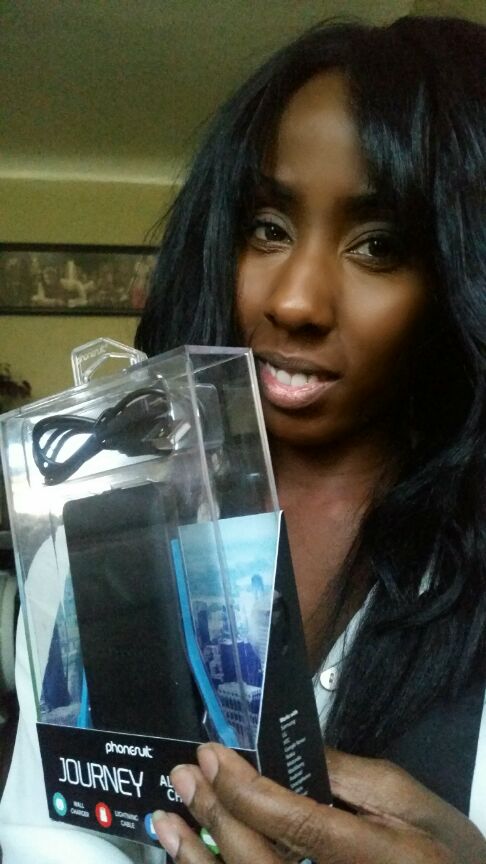 A special thank you to the T-Mobile squad and staff for my free gift bag gear. And another big thanks for all my technology friends who made me feel welcomed and truly myself among our future generation and leaders of phones, gadgets and stuff!
Check out how my night went at the Bruno Mars concert.
Xox