As the famous saying goes, "Life is like a box of chocolates, you never know just what you're gonna to get" and Forest Gump's mother was right about that, that is unless you opted in choosing the assortment of chocolates within that box. There's also many phrases with the idea of life throwing us lemons when we least expect it and how we're to see the bright side in making use of those lemons; but for the beginning of this summer, I've decided exactly what to do with all of those lemons and figured that I'd end this weekend with the perfect punch. Mike's Hard Lemonade and DTLA Film Festival  have teamed up to bring a weekend of fun and happiness for  lucky Downtown locals, celebrities and influencers; a collection of activities, in all yellow to represent the Mike's brand, were strategically spread out within the venue that allowed guest to feel the euphoria of everything lemon.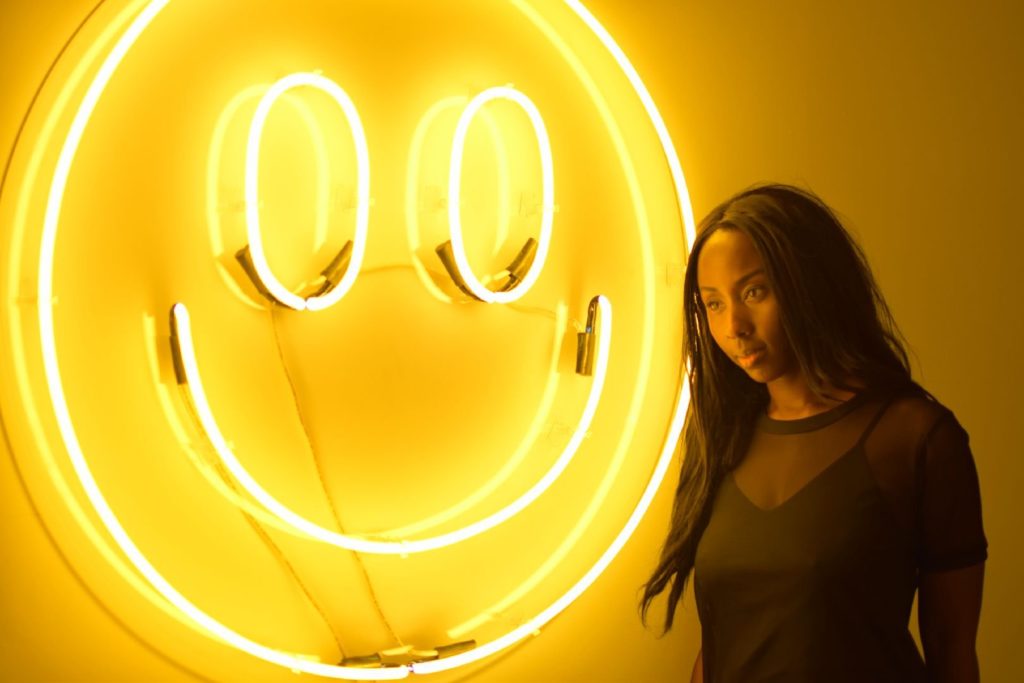 I received an invite in my email where I needed to RSVP and verify my age with the popular malt beverage brand while  given a three day time period of when I wanted to attend.  Since I had taken a hiatus with blogging due to personal seclusion, I decided to contact my favorite partner in crime and friend Lauren with The Leaux Project. In order to make sure we were guaranteed entrance, I left my sanctuary and made my way for a two hour drive in the dead of heat. The event was held in at the Hudson Loft not that far from the Staples Center in one of the trendiest cities. We were able to find parking right in front of the building and only a few people had already lined up waiting for the doors to open. Shortly after, the line extended further down the sidewalk to the next street over and at 5 o'clock sharp, we were let in. Upon entering, we were asked to donate $1 in support of the Los Angeles film festival that also supports minority groups.  We were given two free drink tickets as well as a raffle ticket for a drawing that would take place allowing us to be a part of the festival and all its screenings and parties. After receiving a wrist band, we made our way into the elevator to the second floor where each guest was met with a yellow world of happiness. The bright side hashtag said it all contributing with the statistical facts that can show how the color yellow and specific activities, we do on a regular basis, creates a jubilant experience in our everyday lives. An enlarged map of the venue numbered each area where we had the chance to experience exactly what creates a balance to our happiness.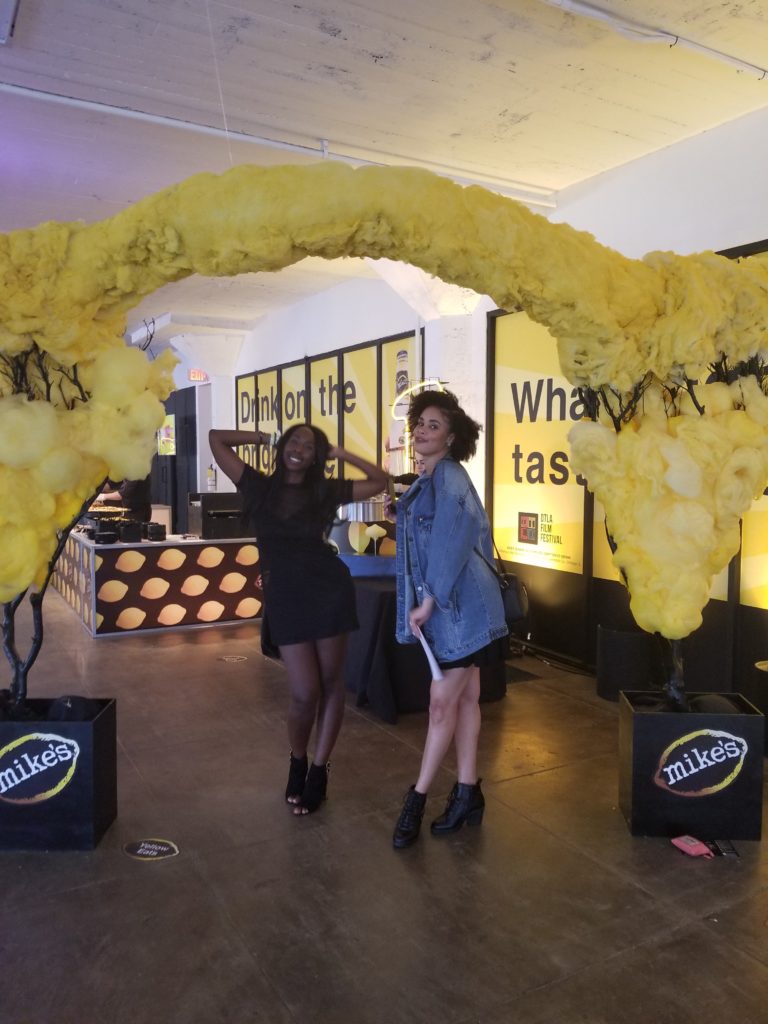 An edible tree made out of cotton candy set the mood as soon as we walked into the room. Immediately, I wanted to make this into a perfect photo-op and be one of the first few to try it out before too many hands would touch it. A woman with a lanyard badge was kind enough to jump right in and take our photo taking just enough for us to find more than what we could have asked for. I've had plenty of cotton candy before, but never with a lemon flavor. For those who would have preferred their cotton candy the old fashioned way on a stick, a woman was using the machine right behind the tree in order to make individual cotton candies that you could take with you on the go while we walked around the rest of the room. Bite sized food was being served as a buffet with delicious options of mini chicken and waffles, savory pork and green chili quesadillas, small cups of baked mac and cheese, shredded pork sandwiches and mini street hot dogs. We were being spoiled to the max and this wasn't even the half of it, but unlike most events that I've attended, I chose to take my time so that I wouldn't spark an anxiety attack of excitement. As Lauren and I sat down to enjoy our food, we noticed the bar area where they were serving the drinks that we would be able to use our free drink tickets for. Earlier in the day, I had spotted a gorgeous red head in the line and gave her a compliment, because of that casual conversation, she decided to approach me when she was leaving and handed me her extra drink card. With that being said, I went to go look at the menu of drinks.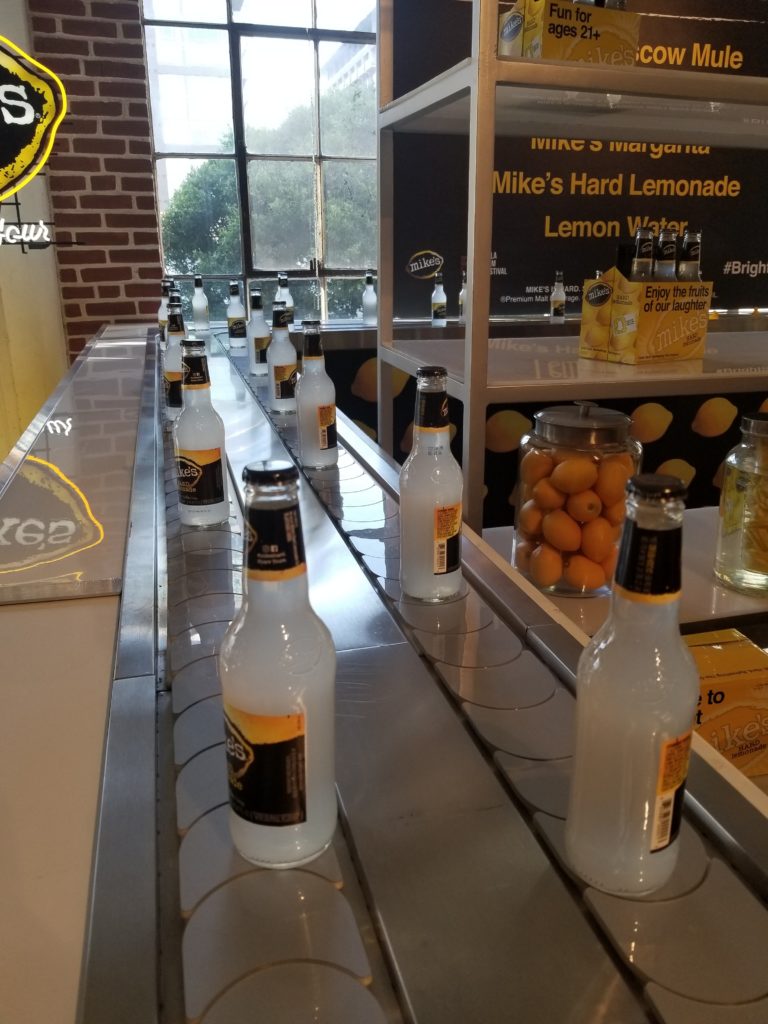 Mike's glass bottles were rotating around the bar area where the bartenders were serving a selected menu of Moscow Mule, Old Fashion, Margarita, lemon water and Mike's by itself; every drink added a little bit of Mikes Lemonade and they were all delicious enough to reinvent your next drink order when you go to a bar. Mistakenly, I had thought that we were allowed to grab a bottle right off of the rotating bar when I saw other guest carrying their bottles, but good thing I asked first so it wouldn't appear that I was being careless in not having better judgement. After finishing our food we ordered the first round of drinks, a margarita for myself and a Mike's lemonade for Lauren, and went to check out all the activities that we could involve ourselves in. More guests continued arriving filling up the venue and we knew that it wouldn't take long before lines started impacting the wait time of being able to fully enjoy everything going on. We walked towards a car where we had noticed a duo or groups of friends that were able to do a karaoke session to a playlist of songs that were listed on a side board. We decided to take a back seat, no pun intended, and wait to enjoy that towards the end of the evening. Right next to it was a hang out room where we found people playing ping pong and relaxing on the couches.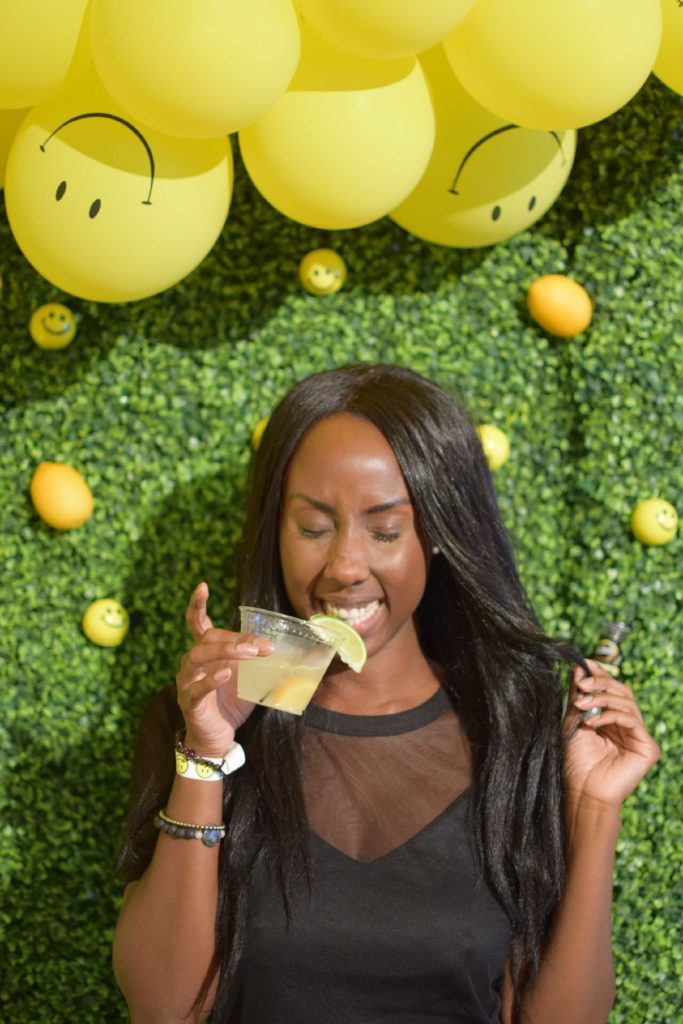 We found a lemon wall where we took turns taking photos in front of lemon props but not until I accidentally tripped on Lauren's full bottle of Mikes Lemonade which spilled all on the floor. Embarrassed by my sheer clumsiness, I quickly grabbed a stack of napkins and alerted one of the organizers praying that he didn't assume me to having too much to drink on my first drink ticket of the day. I'm sure I wasn't the only person who had a hiccup, but I surely didn't want to be the first. We decided to leave the scene for a bit in order to find something that might make me feel better for feeling like such a lush before having the chance to actually be one. We had seen a few people throwing darts on a map made up of yellow balloons and decided to let off some energy there. There were only a couple of people which was unlike all the other stations and stood right behind those that were next up. With only one shot at popping a yellow balloon, we were given a chance at winning a prize by picking a strip of paper out of a jar. Lauren had gone ahead of me so I could do a boomerang and missed, but once I was up, I targeted a balloon on my one and only try. I was given the option of taking home a towel or picking out of the jar. I figured I'd have an even chance of winning either way, but once I picked my strip of paper, it stated that while I didn't win anything, I was still amazing. Well I already knew that.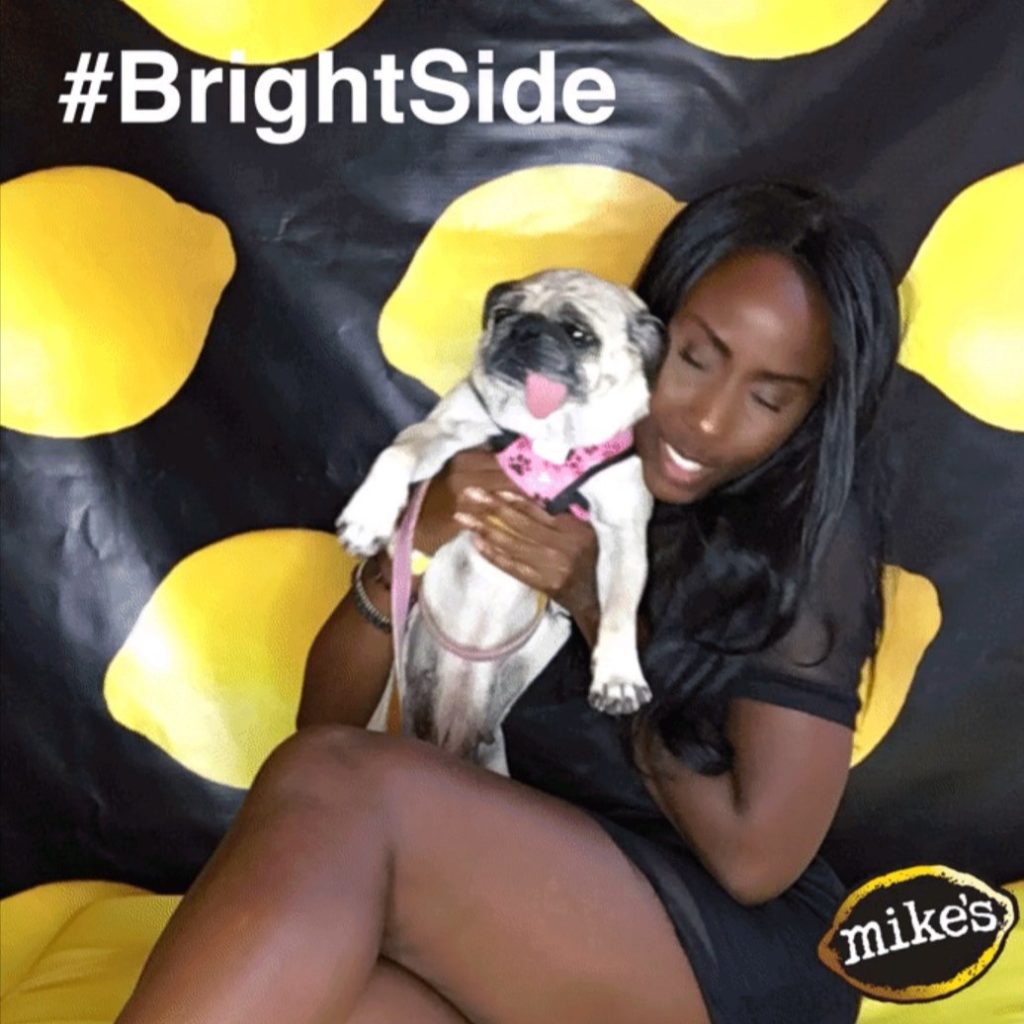 Losing didn't get my hopes up and like the hashtag for the day stated, I continued looking on the bright side and therefore, I walked over to where the puppies were;  pugs ranging in different ages and personalities including a six month year old pup. For anyone who knows me will know that I will fall in love with any fur baby no matter the place or time. It wasn't just any puppy playground, but one that advocated for adoption which was all the more reason to support. Unbeknownst to me, I wasn't aware that I would have been able to go inside of the play pin where they were for us to pet them, but it was probably best that I didn't because I would not have left. Unlike any other photo booth I've done, we were given the chance to take a GIF with one of the lucky pups.
We went back to the karaoke line which evidently grew longer but we figured we still had a couple more hours and would fit that in for last, so back to the ping pong room we frolicked to, which happened to be where the trinity mirrors were set up. One of the Mikes event staff was letting a group of people at a time into a separated room where they spent enough time until the next group was let in. As an observation while waiting, I had noticed a group of five girls going into another room that was being watched by a young woman with a paper in hand. I had a strong feeling that it was going to be something that I needed us to be a part of and I asked the guy what the entrance of that room was for. He explained that it was for VIP only and specifically for influencers who were on a list. Challenge accepted.
Although Lauren and I try to make it a habit by not stamping the words blogger or content creators  onto our foreheads for reasons of not giving off the wrong impressions, we prefer modesty and humility, but I was intrigued by the way the guy had stated the room was VIP only and with that I told Lauren I would be right back. Earlier, I was directed to a young woman who was able to explain to me the background of the event; Alexis is a trendsetter and the events director who you could spot from a mile away in the sea of people. She had orchestrated the visuals to the event and Lauren and I were fans of her work so I went to ask Alexis if there was a possibility for an access approval. Alexis kindly walked me over to the young woman monitoring the door to the room, and expressed that Lauren and I could gain access.
Now, if I had of seen this room on social media and missed it, a piece of my heart probably would've been broken, and for many reasons.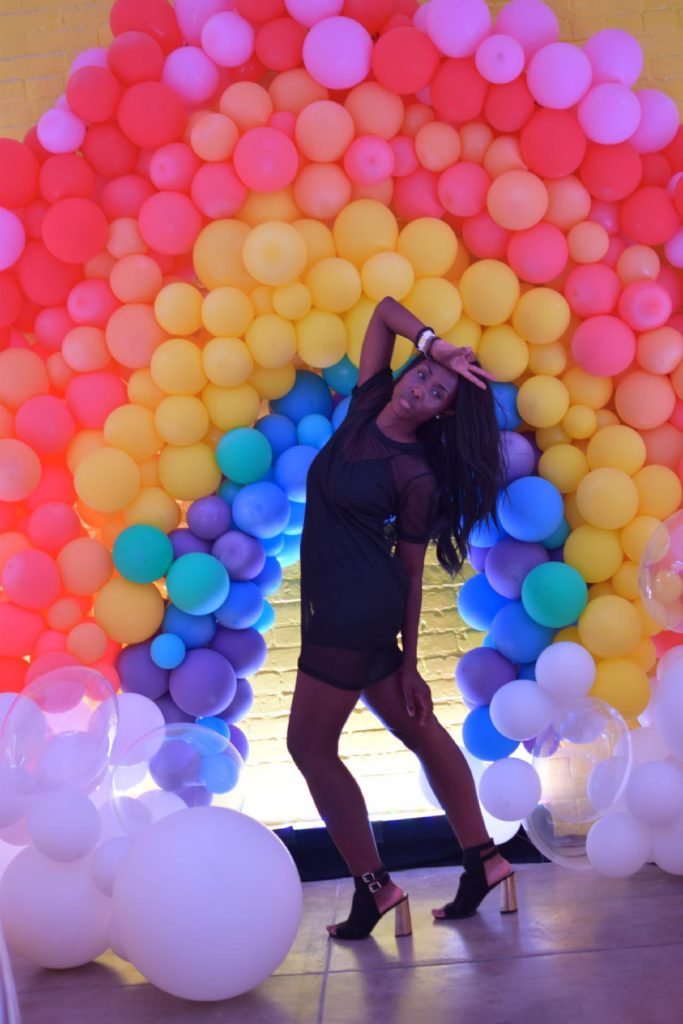 The room was like a private area for those with an imaginative mind. Lauren and I definitely made good use of our time and photo shoot by first swinging in the bubble chairs that hanged from the ceiling. Luckily, with all the posing I did, I didn't break the ceiling, but I managed to get a boomerang shot on my phone. We wanted to take advantage of the rainbow balloons in support of Pride month which was perfect to make a colorful statement. Because we had the room all to ourselves, we lost track of time until the young woman came back in to check up on us and she found me on the floor with a professional camera in hand photographing Lauren in the right lighting. It was all too perfect.
Now that our curiosity was checked off the list, we went back to the original line for the trinity room. I haven't seen Henry, the founder of the DTLA film festival, for four years from the time that I was working fashion week as an event coordinator, and I saw him walking around the room filming people on his phone as footage. Once he spotted Lauren and I in the line, he asked if he could record our first time expressions when seeing ourselves in every reflection. There were already a number of people who had been waiting to go in, but we were able to skip the line and enter after a few minutes behind him. Now, if I thought the bubble room was sheer happiness, the trinity room was joy and positive vanity all in one room. Lemons were hanging from the ceiling with a florescent glow that just added an amount of brightness. It didn't take much for us to get excited and yet again, we started with another photo shoot entertaining an audience behind a phone.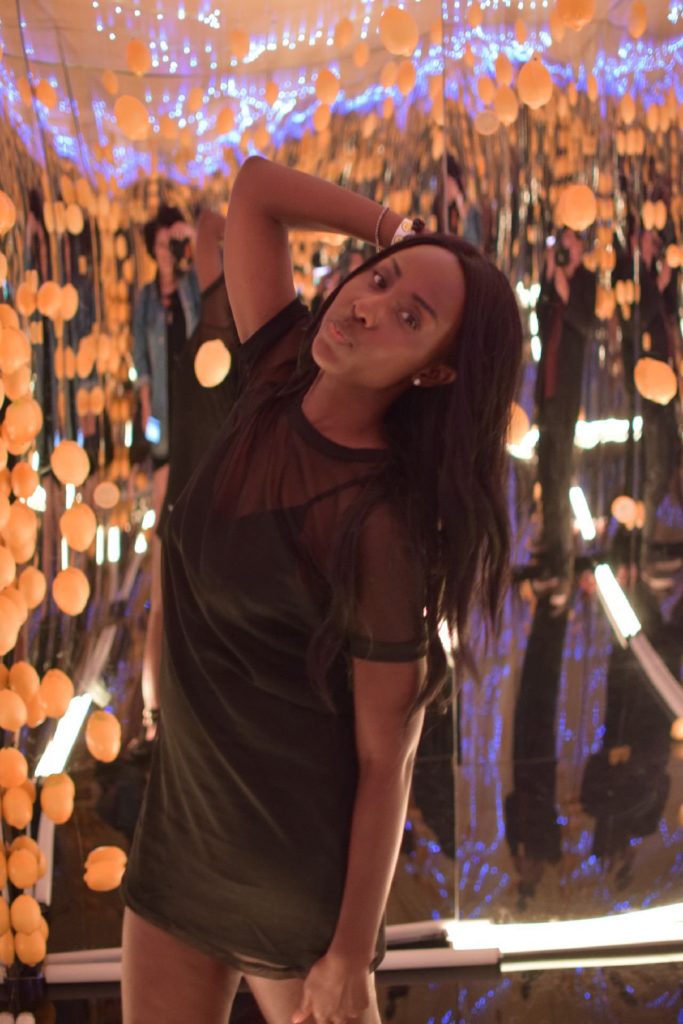 Everything just seemed to get better and joyous with each station we went to and we hadn't even seen everything. There was still the swimming pool of balls that we hadn't jumped inside; the only thing was that we were also wearing dresses. We decided to pass up on jumping into a pile of happy faces, but we thoroughly enjoyed watching everyone else doing it. Instead, we made use of the large printed snap chat logo on the wall where if you told the funniest joke through the app, you could win a trip and or vacation to wherever you wanted. I tend to have a pretty witty sarcastic sense of humor, but I just couldn't think of a funny joke right off the top of my head. With the help of a cute staffer, I even went as far as trying to Google some punch lines, but none of them cracked a smile on my face. Womp womp!  Where we didn't come thru with the jokes we came with another perfect photo where another one of the other staffers, Brian Perales, who had been working the ball pit, saw that we were a bit empty with a photo prop and decided to hand us a happy ball to add more color to what we didn't have and that's all that I really needed.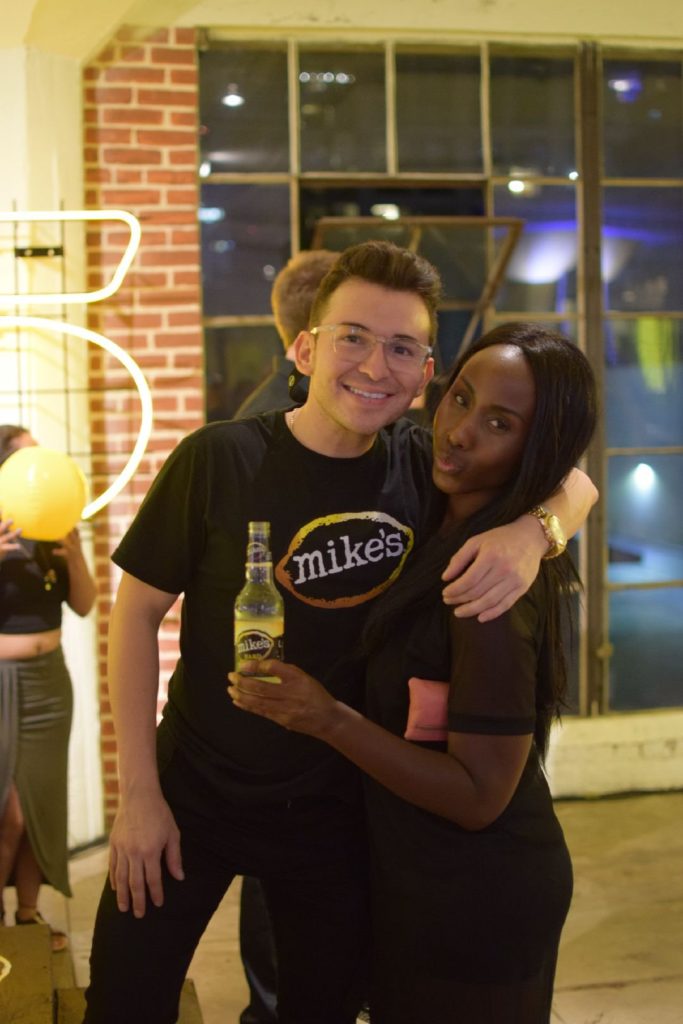 After having waited for the line for the car karaoke to become shorter, we unfortunately missed the last call to do a duet. A comedic act was about to begin towards the front of the venue where couches and seats were set up for an audience to make themselves comfortable and end the happiest week with jokes and laughter. Now it is a proven fact from many Health Studies that certain things can increase your overall health, and laughter is one of the many benefits in sustaining a healthy balance in your life; and while I enjoy laughter, I wouldn't say I'm a fan of stand-up comedy because you don't necessarily know what you're going to get. Shows such as The Office and Modern Family are pretty much my entertainment when hitting the funny bone, but as directed by some of the staff members, we were kindly asked to head over to the front. Before taking a few shots of the crowd, we found a close up spot to get a front row performance.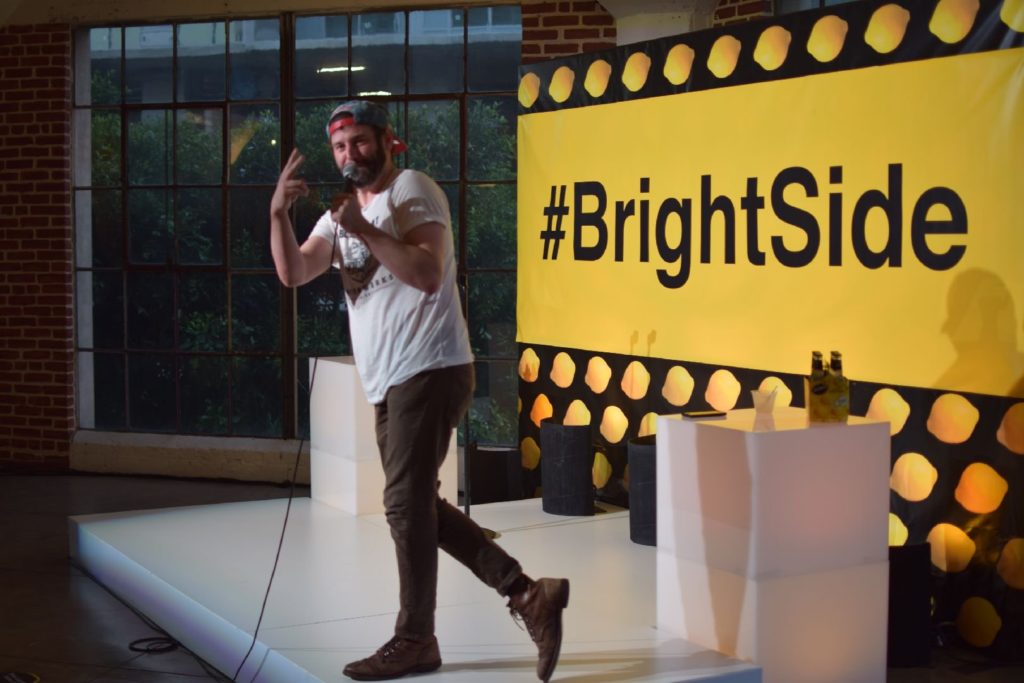 Brent Morin, a stand-up comedian featured on the popular Netflix series, The Standups, brought his A-game talking about everything from his sense of humor after having a break-up, and his hilariously interesting relationships with his brothers. Where I didn't laugh at his performance, I found an ironic talent in his Broadway vocals, which made up most of his act. Brian's performance was just enough to completely unwind with a great crowd of people and enjoy the event with the feeling of utter yellow bliss and with that we ended our evening feeling happier than ever!
Until next time, when life throws you a ton of lemon's, enjoy it with Mike's Hard Lemonade! Responsibly!