Some will say that confidence is found by how you ultimately love yourself while others might view confidence as a healthy mindset that repels any ill notion of living up to other people's beauty standards. It's inevitable that regardless to what levels we might take in order acquire our confidence through different ways of beauty products, body procedures or an overall maintenance of keeping up a social appearance, nothing seems to be limited to a consumers personal desire. It's more often assumed that women primarily make up for the beauty industries financial gain; where in fact men are, if not equally, using the same methods in order to enhance their looks. However, it puts into perspective in how double standards may play a part in how we might judge and perceive an illusion that's not much different from our very own and Rounderbum  puts that perspective to the test.
Contouring, hair extensions, waist shapers and even body injections are some of the very few things out of many that women use in order to create a false image, but would it be all that receptive when men do it as well?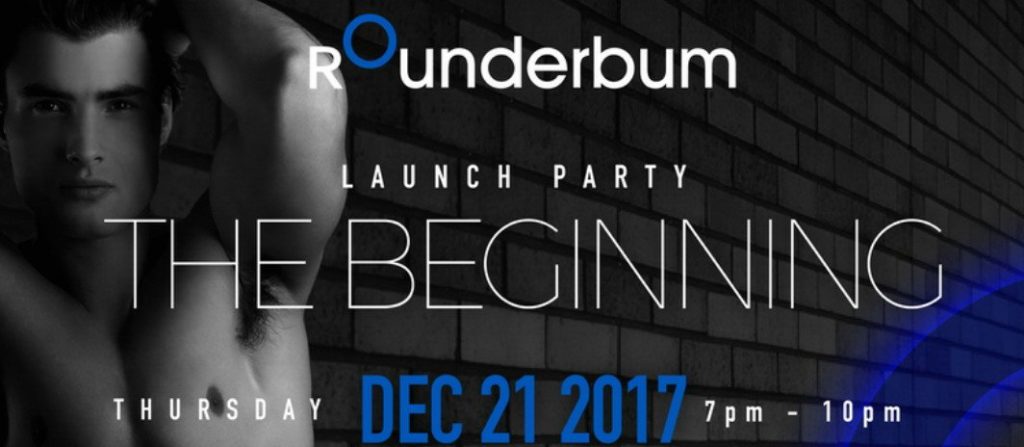 I received an invite to the launch party event for the Rounderbum men's under line in West Hollywood. I was expecting to find fit model types promoting a selection of underwear for guest to appreciate, and to be my unattainable eye candy, but little did I know that I would leave with a whole new understanding and appreciation of the male anatomy. The event started at 7 p.m in the popular area of "Boys Town" Santa Monica Blvd which is known for it's vivacious nightlife. Here you'll find an open acceptance for a large community that expresses their freedom of life and by far the most bona fide place I go in order to have a good time without the pretentiousness of the city. I wanted  to leave my house early to find parking, and when driving by, I saw the bright blue step and repeat land-marking the location which replaced the dearly departed American Apparel. I had a friend meeting me a little bit later into the evening, so after parking a block up, I decided to walk over.
On the invite, it had stated that the event would be introduced as a showroom, but unlike your traditional showrooms, this space had a bit more edge and personality. The moment I walked up to the door, I was greeted by a hospitable gentleman who looked like a VIP host for an exclusive club. The space was quite small but enough to engage with other guest in a more personable tone. Being that I was able to observe the room through one walk around within a second of arriving, I immediately went into introvert mode where I backed myself in the darkest corner I could find. My friends wouldn't be arriving until an hour and a half or so and I was already too socially awkward to make small talk, but the moment that a kind young guy greeted me with a warm smile, I eventually let my guard down.
Danny Richmond, head of the retail department for Rounderbum, was like the shining moment to relieve me of any potential anxiety that would begin to pursue. The irony that I, a social blogger, just so happens to be an Ambivert leaning more towards an introvert if I feel out of my element. Danny broke the ice by engaging me with light conversation until I found the opportunity in asking questions about the brand revealing myself as a blogger. Although I wasn't Life N Style, to which he had asked with curiosity, he was just as intrigued to personally offer a formal introduction with the founder of the Rounderbum brand and I was excited to meet him. As he walked me to the other side of the room, I remembered exactly why I loved this part of the town. The overall friendliness made me feel happy to be here.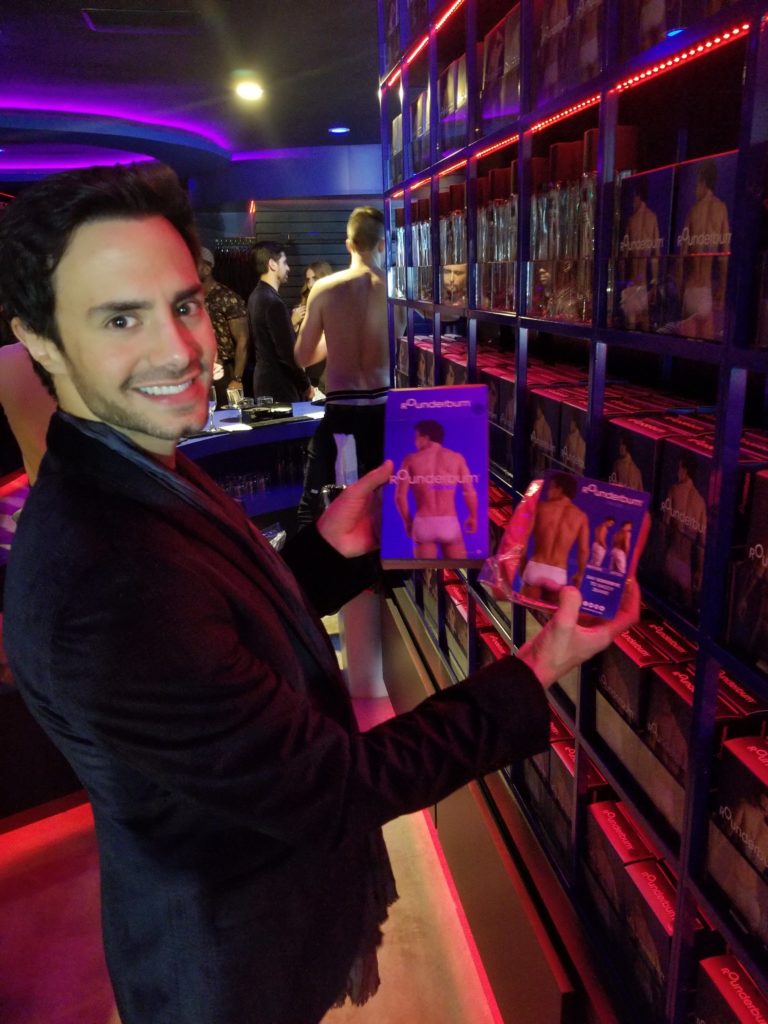 A group of guest were standing near a wall of boxed underwear where I was then introduced to Jamil Nacif, the clever mind behind the textile innovation of Rounderbum and the new hot technology that creates a unique enhancement of the male physique.
As I mentioned a few paragraphs up, there does tend to be a double standard, which there shouldn't be, when we think that only women look for ways to alter their appearance; whether it be temporarily or long lasting results, we forget the men too have the same thought process as us when it comes to appealing a certain type of look. So really, there is not that much of a difference when it pertains to individuals wants and needs to feeling and looking great about themselves.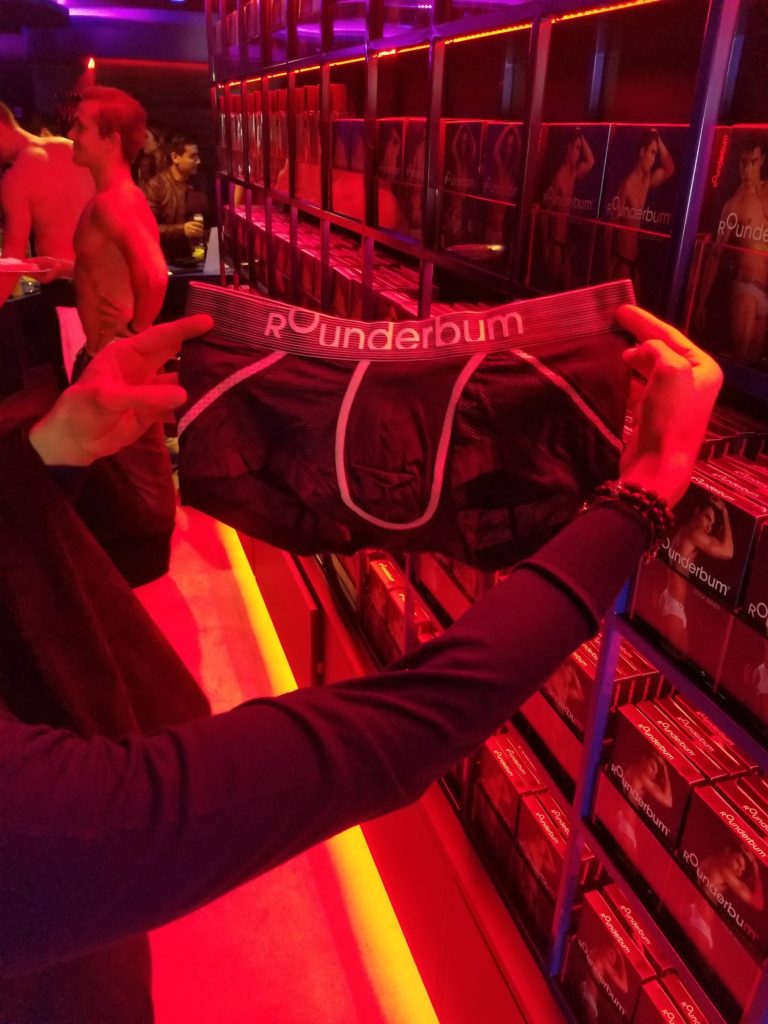 Jamil took the time to break down the technology behind his brand explaining every bit of detail in the stitching and material that gives his male customers that extra boost of confidence and comfort. A company that started just a little under six years ago in Mexico City, has now become a flourishing business that gives better comfort for a mans personal area. When I think of wearing a bra, it's not all that far-fetched as we have padding or add "chicken cutlets" to allude the idea that gravity is our forever best friend, but little did I know that gravity isn't all that kind to men either. I never thought about parts of the male jewels that lose their mojo overtime as subtle jokes regarding older men just didn't click. Men too look for ways to add a little bit of plumpness to their figures and to possibly prevent from any type of discomfort. While Rounderbum has done great in one of Mexico City's Beverly Hills version of a high end department store, Liverpool, most of their product has been geared to the online audience with prices ranging from $20-$25. Which is an absolute great deal for the extensive amount of quality the brand offer. Though now, Rounderbum has made its way into the United States and soon to be hitting the most perfect shelves here in West Hollywood.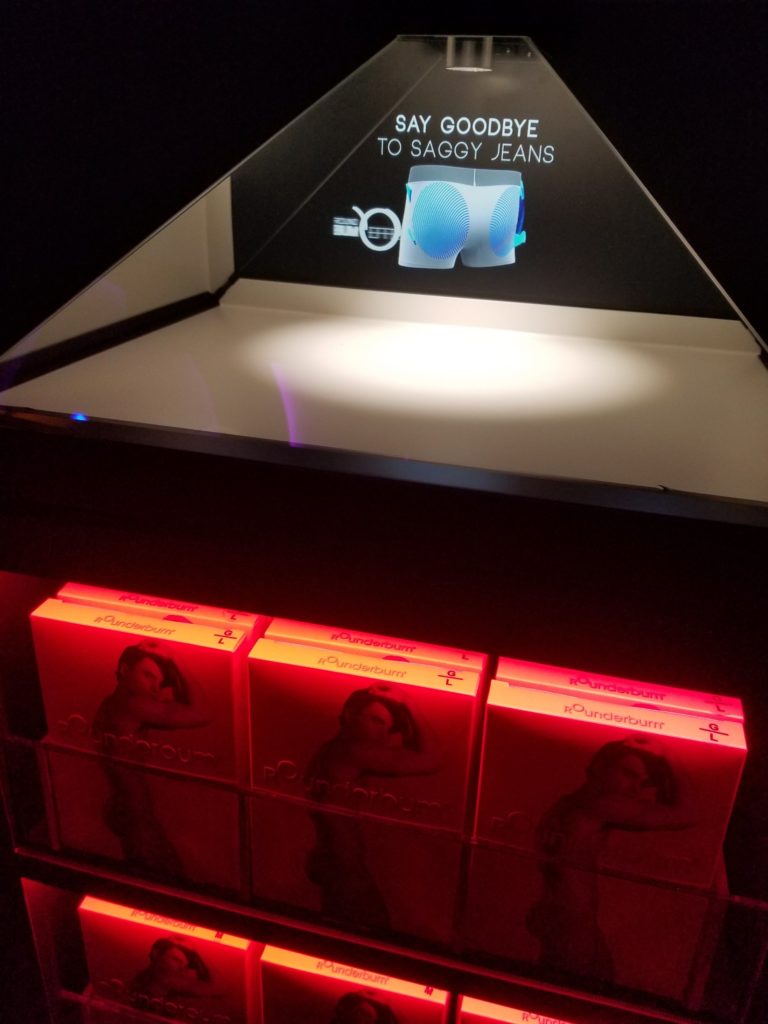 I could tell Jamil's distinctive amount of passion by how he took each product out of its box in order for me to thoroughly understand the product aside from me being a female; but it actually made a lot of sense to me. Each product is made with quality cotton with the feel of Rayon and lycra fabric that gives you that stretch and assuring feel to hold you in place. Primarily in the fitted muscle tops is where you would find more of the stretch while the underwear are not only extremely soft but adjustable for a man of any size. The stitching is specifically designed for the male body parts in order to stay true to its promise. What isn't fair is how a male line of underwear can create such a straight forward shopping experience whereas with women, that shit can be an anxiety overload of long agonizing hours trying to find the right fit of too many options, styles and colors. Now that's where you'll find the double standard.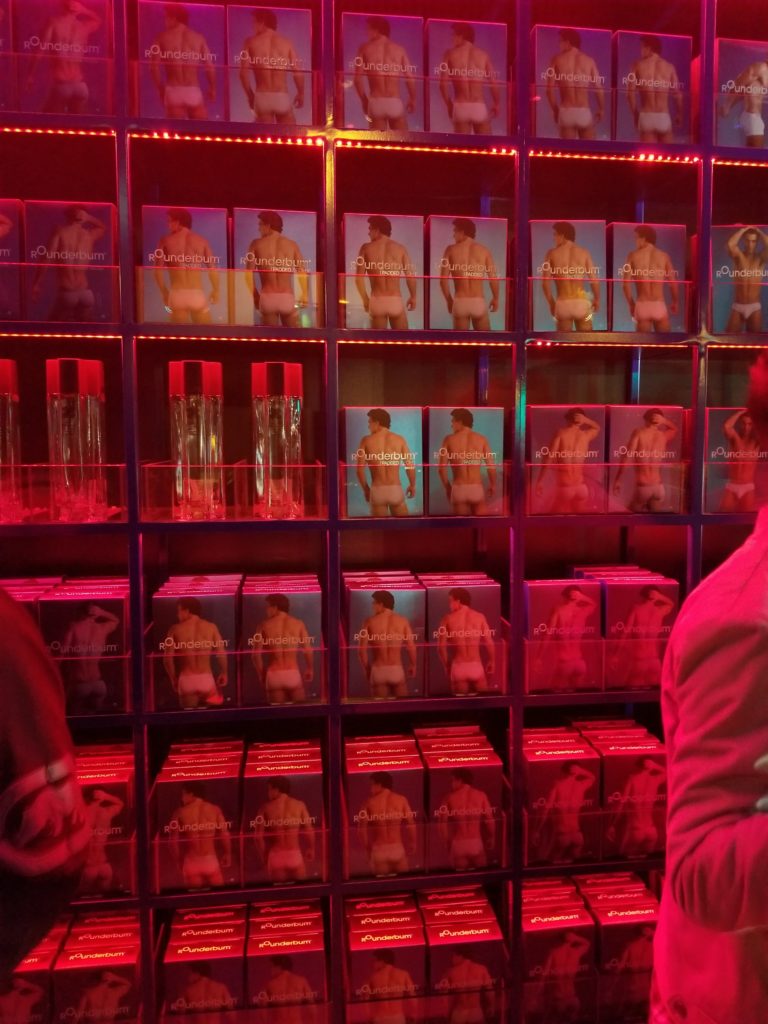 Jamil was not only an intelligent businessman, but also a very down to earth success who allowed me to even get up close and personal as I poked and squeezed the product he happened to be wearing. It was like admiring my girl-friends for having better looking breast than me, and wanting to know their secrets. It was very apparent that Jamil and the Rounderbum family had already created a rapport with the WeHo community and had been shown a great deal of respect which spoke a lot to me and the success of his business in the near future here in the city. I didn't want to keep Jamil for too long away from his guest and admirers, so I graciously thanked him for his time and humility and grabbed a drink at the bar.
It wasn't long until my friends would be arriving and so I ran back to my car to add more time onto my meter so that I could continue with my flow of the evening. What was only suppose to be a 3 hour long event seemed like it was never going to end as more and more guest continued to make their way inside. I didn't mind it because by this time, I was looking forward to mingling with other guest over champagne and food. The blonde bombshell celebrity Queen DJ Rhea Litre, pumped up the crowd with her spinning talents while everyone was gearing up for a festive night even after the party would end.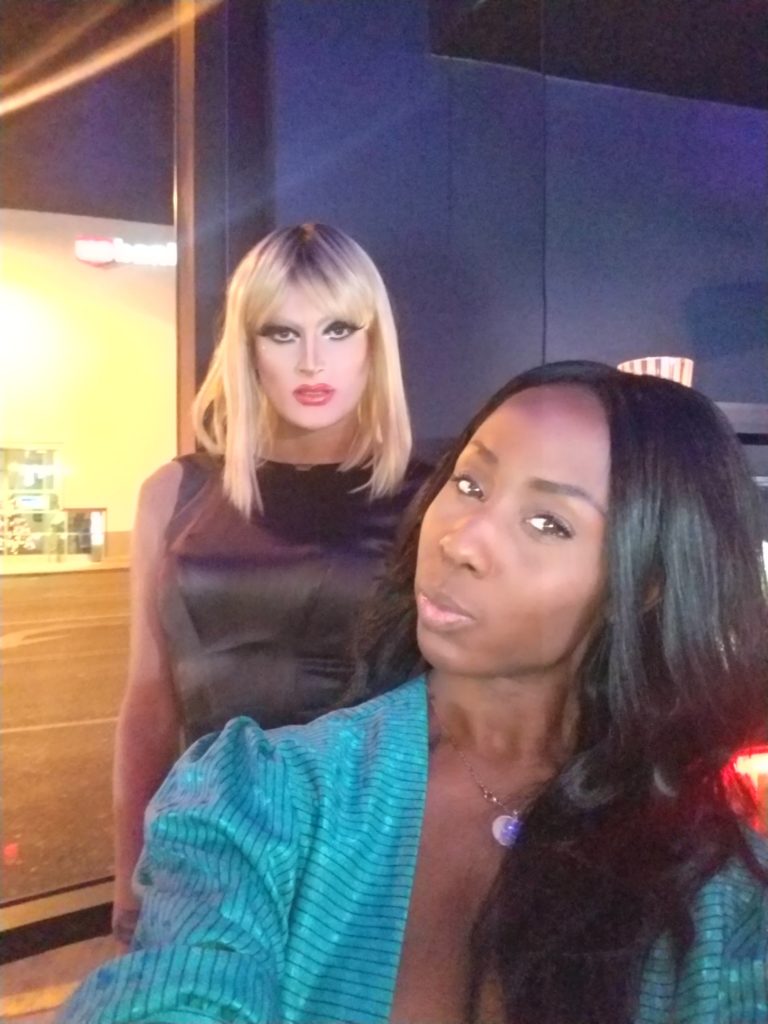 My friend and quadruple threat entrepreneur, Shaka Smith, had finally shown up to host the event where celebrities and guest alike eagerly greeted his arrival. As I made my over to him way to him, we were able to catch up when not long after, my other friend Megan had arrived. It was absolutely perfect where now, I was the  Amber Social LA that people typically know me as. I made sure that food and drinks were coming our way knowing that the countdown to when we would have to leave was getting too close from me wanting it to end. We were able to meet other great individuals, who I shared the same teeny bopper interest I had as a boy band loving fan back in the day. By the end of the evening I had a great time and found out more interesting things about some of the men in this city and their beauty and buff regimes. I'm absolutely impressed with how this even turned out and the amount of detail they put into, not only the brand, but also the image they want to portray in order to let everyone know that they are here!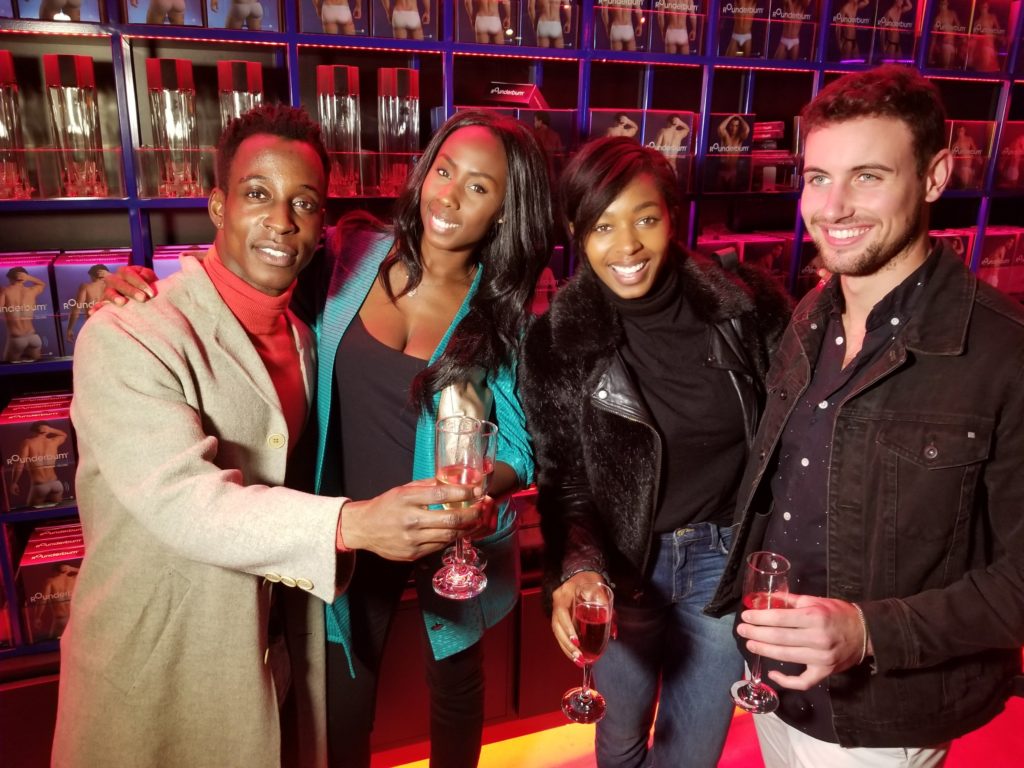 I wish Rounderbum all the success they can ever ask for and a Happy New Year to newer business riches & endeavors!
xox
Rounderbum is located in West Hollywood at 802 North San Vicente Boulevard,West Hollywood, Ca 90069