E3, an international event that happens yearly, brings out some of the most innovative, creative and gaming insane individuals. As a kid growing up, my parents spoiled me with the newest gadgets that technology had to offer for the playground mind of a child. Then, it wasn't pushed that you could manipulate the idea of playing video games and actually getting paid for it. Nowadays, it's ideal.
During E3 weekend, I chose to work the festive streets of animated posters, billboards and booths. Knowing this crowd, I'd make enough money to pay all my bills a week early and still have money left over, but the idea of being able to join in the exclusive fun of E3 still had me feeling a bit discouraged for being an undercover gaming nerd. On the contrary, I was surprised to find groups of suited gents with accents that could swoon any girl into their virtual realities.
For a couple of months, Samsung collaborated with the Imax movie The Avengers and any sponsors leading up to the release of the movie. In another building on the other side of The Grove, was the Samsung experience. So, it only made sense to throw a private party for the E3 crowd in this venue. Considering that many had traveled from different parts of the world, they could get a little taste of the Hollywood nightlife that wouldn't discourage them from getting into any type of bar, club or lounge that would typically  discriminate those that didn't fit the cliché attractiveness that is highly sought after.
Right after work, I received a text from my friend Dave stating that there was a last minute event and he needed to add my name to the list. Girls only of course. Without thinking, I subconsciously added myself and my best friend to the guest list, although I had my bags packed to leave town after a grueling week of work. I had previously missed the Tinder event two nights before, and I wasn't too pleased that I didn't attend, so I felt I could make it up to myself. After practically begging Lauren to join in yet another one of our adventures, I picked her up and we made our way to the party. The line was naturally long outside the door with a mixture of those that spent a living testing and playing video games, and those in the social scene. Surprisingly, the entrance wasn't all that exclusive, as they checked our I.Ds, placed a wristband on our wrist and walked us in.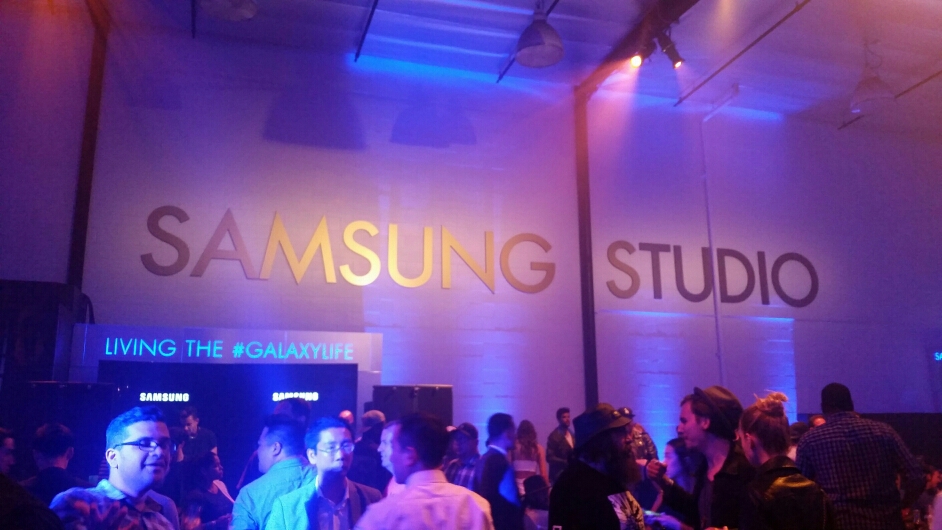 Two months prior,  Samsung had another event at this exact location, so I was curious of how this set up would be. It was a creative atmosphere that would appeal to just about anyone who had a love for technology mixed with a lounge environment. The venue was sectioned off in separate areas that allowed the guest to sit in a comfortable social area with multiple charging outlets surrounded with different gifts and gadgets on high top tables. Many activities with flat screen Notebooks and miniature computers were being occupied by guest playing featured games. And anything that contributed to the future of Samsung was spread out in the room. Funny enough, there was even a reserved bottle service area for the Los Angeles finest douchebags. Even at an event that is solely for a limited group of people being invited, there just had to be an even bigger exclusion. Aside from that, forget the sales stores from where you can test everything before purchasing your next upgrade. This was the perfect toy store.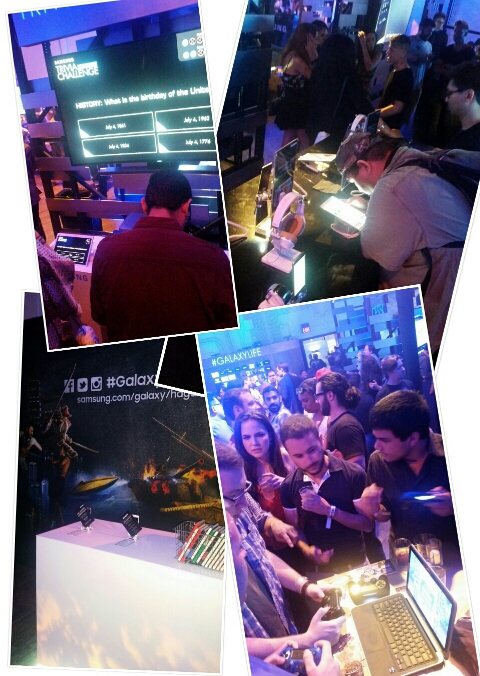 Immediately, as we walked into the main venue, staffs of young attractive male and female models were walking around with trays of food and wine in hand. Two bars were present, and enough gaming and technology to keep everyone entertained to occupy their attention. The female models wore black sleeveless fitted dresses and heels, while the men wore black button downs with ties.
Yeah this was legit.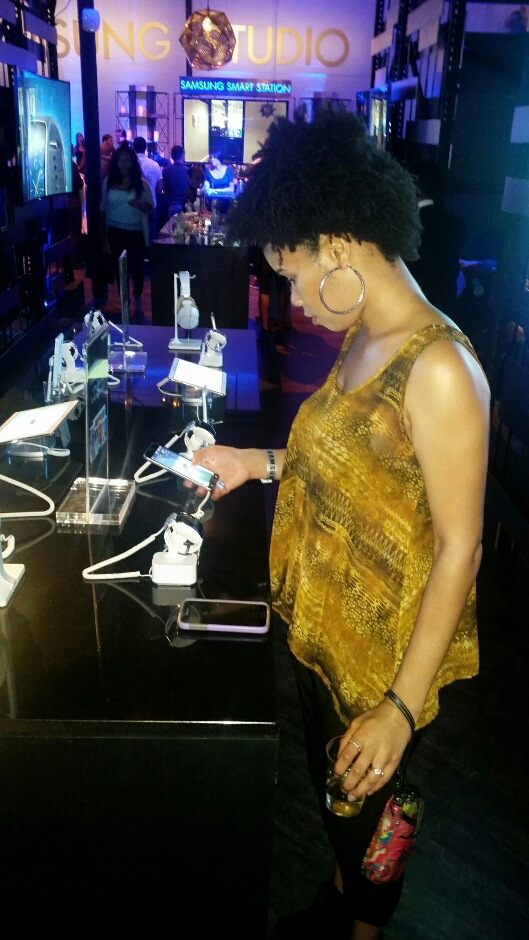 Typically, this Samsung venue is open to the public during the days, but for this particular night, it was open for us. Normally, as anyone knows, I'm all about the food and drinks, but this was on the level of food coma. While we were trying to pay our attention to the new and inventive ideas for Samsung and all their products, there was always someone walking around with a tray of food.
They knew my face after the first hour
Double beef sliders, crab cakes, cheese and onion tarts, shredded pork tacos, Ahi Tuna, rabbit food, mac and cheese balls, quesadillas, and don't get me started on the rounds of desert trays.
I'm still struggling from my coma.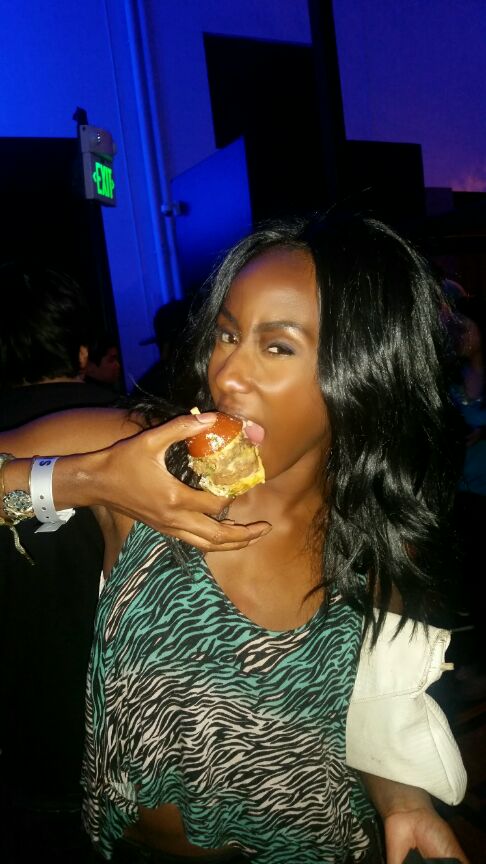 So, with the majority of the events I go to, there always seems to be a interesting twist, and this was the cherry, the whip cream and the sprinkles to my sundae.  I noticed that one of the models looked awfully familiar, and it took that extra X-ray stare to realize that she was the ex- girlfriend of a former flame. I didn't formally know her, but I knew of her due to our connection and by what appeared to be her constant obsession with having to be in my surroundings, It was obvious that she had a few choice misconceptions of me. So here's the back story to lay it out on the table.
FLASHBACK
About three to four years ago, I had associated myself with a new group of Hollywood socialites. One male I would see occasionally roaming the clubs that I frequented. At the time, he was affiliated with my former promoter, and knowing his prema donna demeanor when it came to his male models and actors, I kept my distance to defuse  any unnecessary drama. Somehow, the guy and I casually met at a hotel party with mutual friends. That's where I also met her, though she was a lot more homely looking and our comparisons were far from similar. The guy and I hit it off initially, but I should have seen the red flags that revealed him as the true player that he was. We of course started as friends even though he addressed his interest in me from jump.
Clearly, he had a thing for black girls and with his tall stature, blue eyes and swooning appearance, girls flocked to him in numbers. It wasn't long until I found myself in many love triangles caught in my feelings for him where he tried to portray himself as the modern day Hugh Hefner. Knowing about my past relationship with a previous heartbreak, he still had a grasp on my heart and every beat of it. As fragile as I was, I was too naive to fully see past the white lies he told just to have his full filling of his cake and added toppings. It was easier said than done to abruptly walk away from the situation knowing that he was off and on in a relationship with her, but just like the lyrics, Why do fools fall in love scenario, I was that fool, as I'm sure any of the other girls would agree. After an intervention with some of his many other side pieces that intertwined with our social circle of friends, I kept my distance and departed ways from him and anyone else that I found to be a culprit.
Before officially cutting all ties, I found out some extremely traumatizing  details about her and her relationship with him that ultimately sealed the coffin from a mutual friend of ours during a lunch outing. Not sure if the "friend" understands the meaning of confiding and confidential, but that alone gave a red flag of his character.
Sad to say that I now am carrying the weight of secrets that have yet to unfold amongst this supposed group of friends.
So, while she continuously made it a point to entertain me, I just couldn't humor her. I have absolutely nothing against her, but I couldn't look her in the eye with all that I knew. Lauren on the other hand was more than entertained and found every opportunity to subliminally seize the moment of glory to patronize and make her job less than pleasing.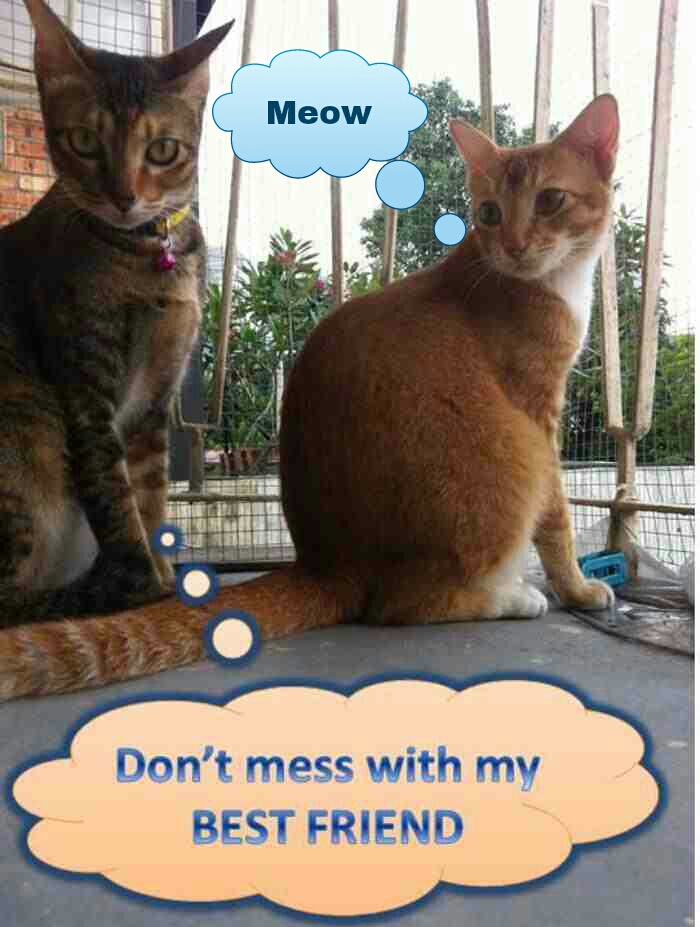 Throughout the evening of deliberately ignoring her glances, Lauren and I acquainted ourselves with other guest and some of the games. One guy grabbed my attention with his mechanical google glasses eye wear.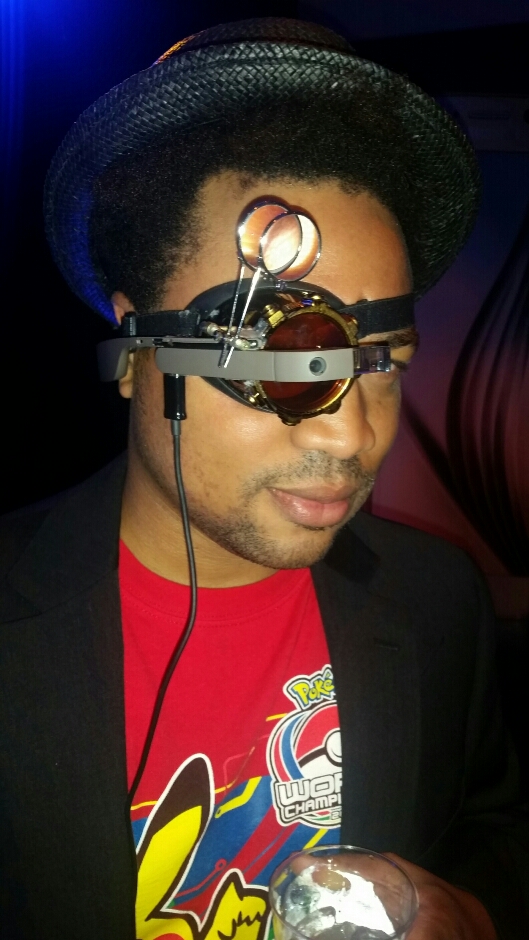 Not sure if he altered the look of his inspector gadget design, but I'd assume he was going for something that fit the look of all the comic book action heroes that seem to be the popularity this year. I can't say that I would want to walk around with that thing on my eye. I understand it being the thing of the future and all, but I'll just stick to my phone. The Dj had the crowd going when he spinned creating a circle of off beat and seizuring dancers alike. I found myself moving a bit to the sounds of his spins and Lauren and I  repeatedly thot popped our shoulder lean in the midst of our conversation. Party goers could've easily assumed me to be a bit of a lush while I was trying to balance food and drinks in both hands and still manage to do the Bernie. Once Lauren and I realized that we were smack dab in the middle of a nerd dance off with sour hygiene burning our nostrils, we had to take off into other territories of amusement.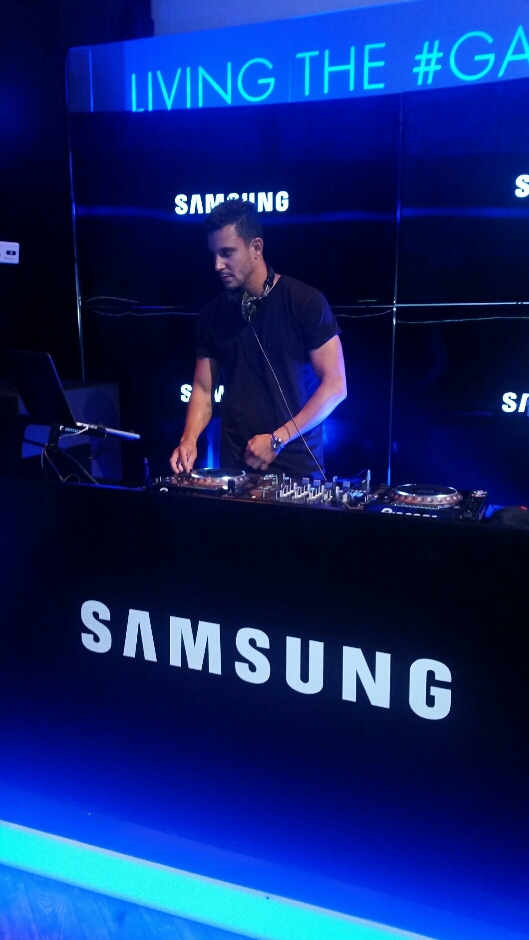 Three separate lines had attracted many of the guest and we made sure to include ourselves all in the fun.
One line was for free Samsung printed gear of hats, totes and shirts. We chose the perfect shirts that said it all in one nutshell.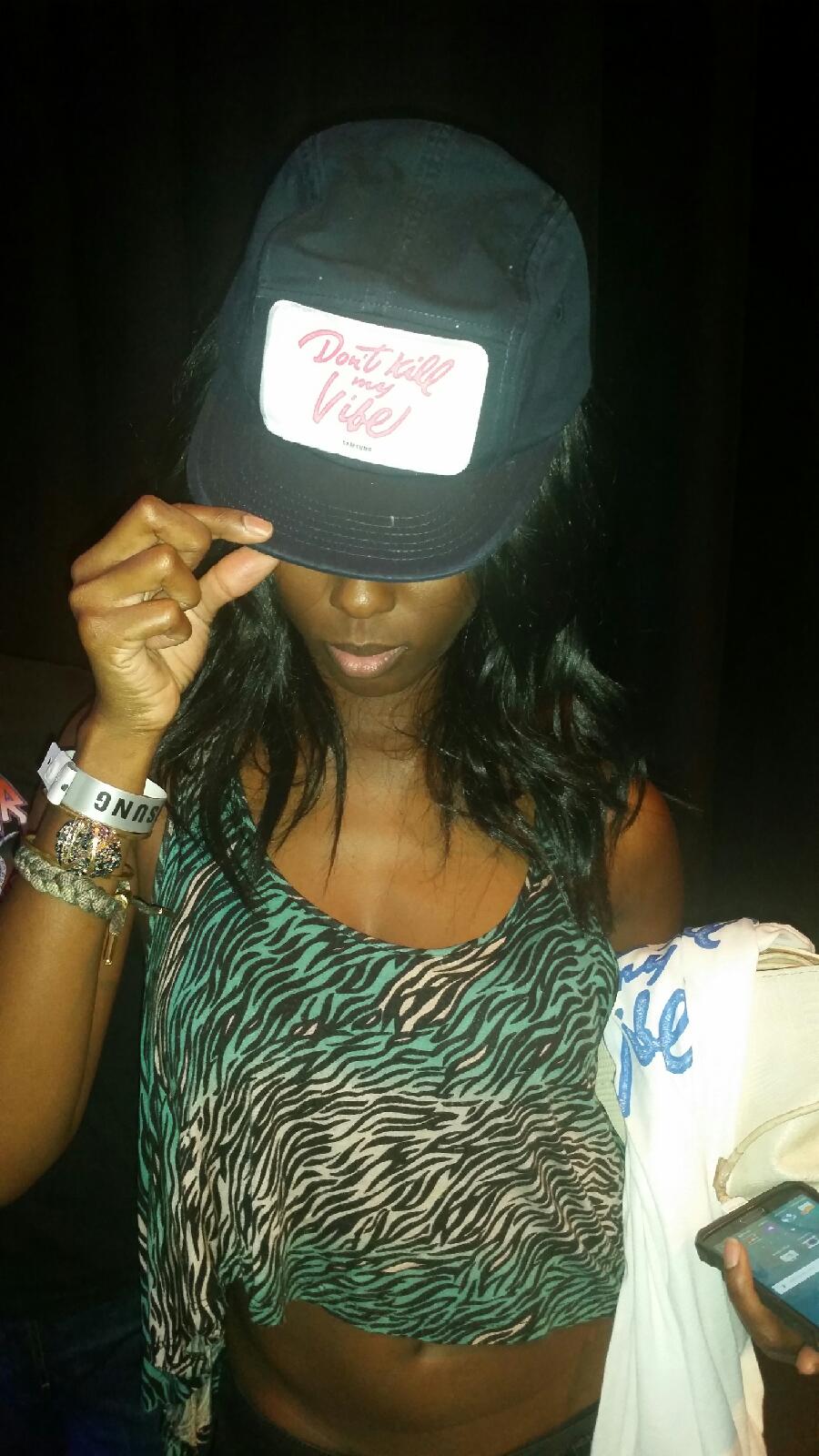 The second line was a gaming race competition between four competitors in order to be placed and win the main prize up until the finals. I would've never thought I'd place first in my group with all the bogarting I did within the game of knocking my competitors off the road. My sportsmanship was deplorable to say the least, as I jumped up to challenge my male competition to another dual. Unfortunately, I would've preferred the ultimate prize of winning a new phone. I couldn't loose my dignity in flirting with the winner just to bribe him out of it.
The third line was similar to what I tested at The Grove Samsung experience. A virtual reality where you picked your options between several  3D games that connected with your phone. I had my sanitizer in hand until I saw that the head gear was already being wiped down. Thankfully they considered that, because it was hot as hell in that room and I could only imagine the amount of sweat that could've been transferred from face to face. Proactive yes please!  On the other hand, the 3D effect was a seller in my book.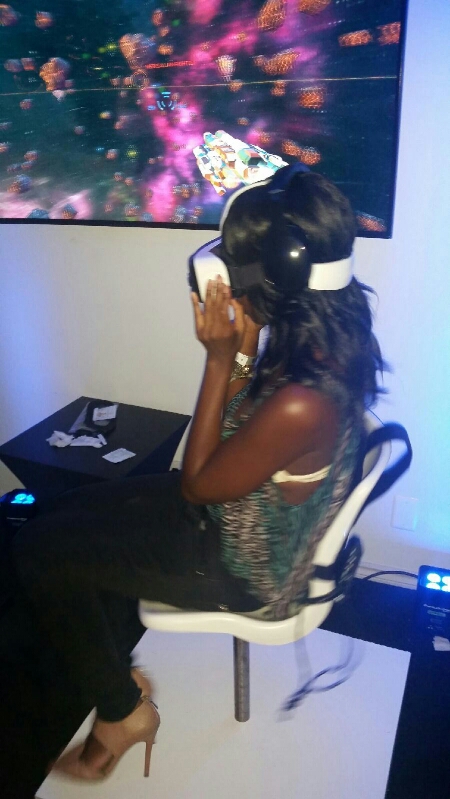 Towards the end of the night, our stomachs were stuffed, we had a little buzz from what our bartender made us and I had a bag full of goodies. Again, I proved Lauren wrong that it was worth getting out of the house and me pushing my plans several hours back to leaving town in the same night.  I kind of wish I ran into some of the eligible bachelors that I met at my job rather than the creeper that kept trying to make a dead end love connection.  Next year, I hope to actually be able to attend E3 instead of being a spectator, and hopefully we can leave the petty run ins at the door or in a Throwback Thursday. Can't say we didn't have a blast even with all the twist and turns yet, it wouldn't be much of a story with out them.
Galaxy Life… yeah, I'd say we're about that life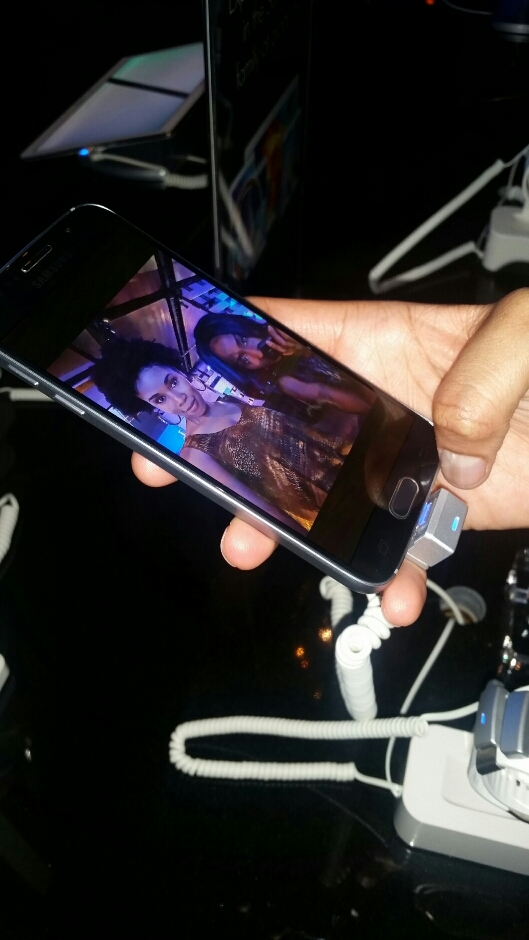 Xox