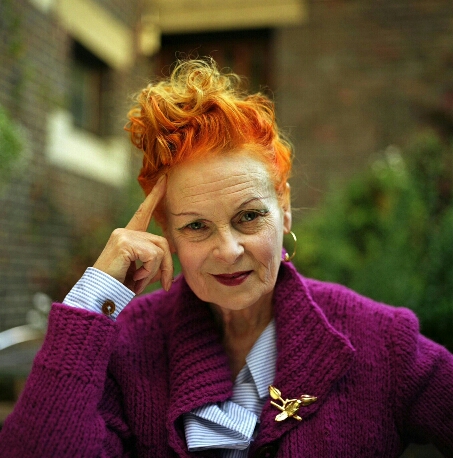 Vivienne Westwood, is undoubtedly one of the most influential female designers of our generation. Being famously known for adding a different spin on many eras during her early 60's and 70's reign of modern punk fashion, at which she ambitiously blended, she's proven herself a self made brand till this day.
The London Hotel, has been known to holding exclusive events bringing out many of Hollywood's socialites and celebrities.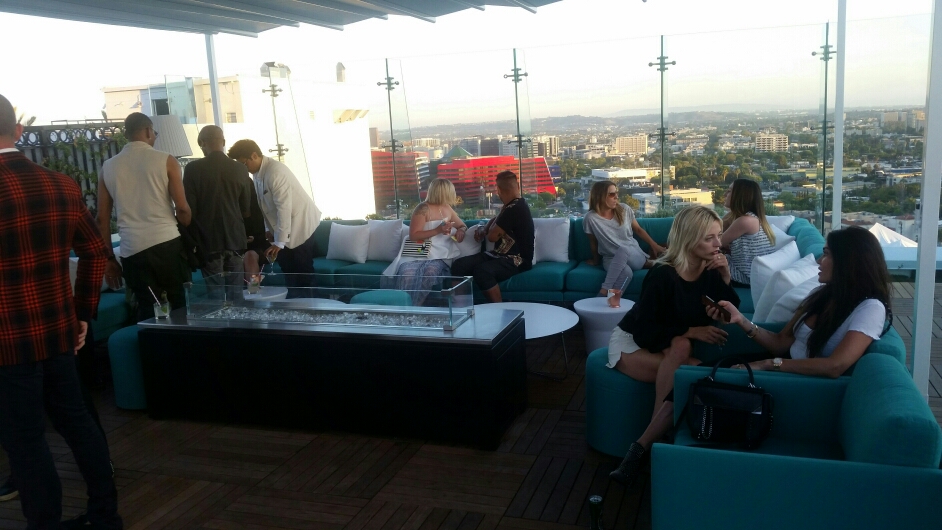 Normally, a social gathering would be set up on the rooftop overlooking the city and all its highlights, but during this particular event, it raised the bar to what many would expect from a showcase of a well respected artist herself. Vivienne Westwood, held a medium sized event in the penthouse of the London hotel, where every inch of space was occupied by guest. From the entertainment room to the bedroom, from the outside patio to the dining room and of course the private rooftop.
Many of the current fashion worlds leaders, imitators, students and models, who all shed a different light within their own creative fields, bonded together to get a first sneak peek in what's to come for the next Westwood trend. This was a fashion show within a fashion preview, showcasing some of her newest designs while models walked around the room.
My best friend Efrem and his mother were running a little behind, and knowing this type of event, I really didn't want to be in a room full of fashion critic snobs. Nothing personal, but at times, it just starts becoming a little bit exasperating trying to appease observers that reflect their own fashion taste buds onto others and forget each persons fashion sense is an original piece of who they are. Hence, why  I have my Fashion Fridays, are more geared to those who just don't give two crap about the fashion police who feel that they wrote the bible on fashion. Even though I have a strong history in the fashion world, contrary to belief, it's just not something I find myself consistently thriving off of. I might even be the rare breed of female who doesn't enjoy shopping. I find grocery shopping more therapeutic than clothes shopping. I've also found that half the time people don't even dress for themselves. They dress to get an appraisal from those who truly don't even matter at the end of the day. But, because this was Efrem's thing, and his mother was in town, I figured, why not just have a stylish night with an open bar at the palms of our hands.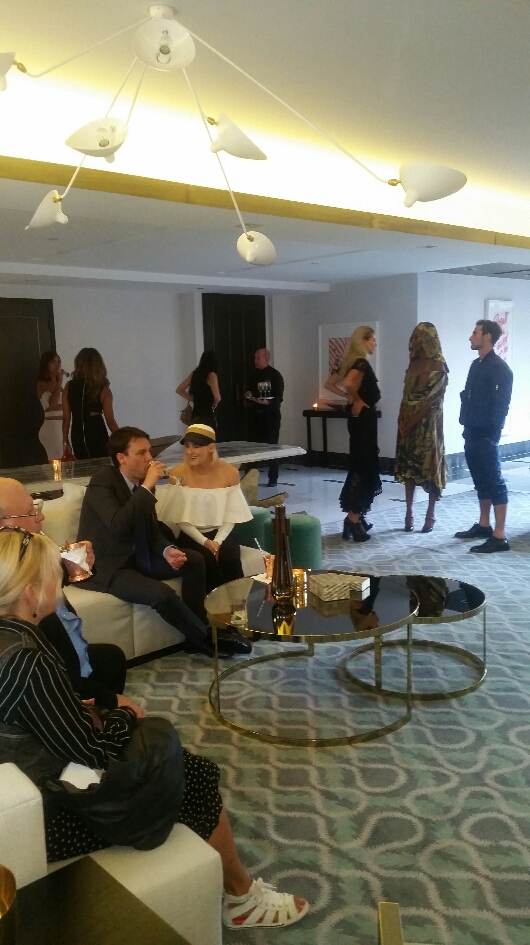 After a while of sitting in the dreaded heat, I decided to make my way into the party. It was exactly how I imagined it. Facades of royalty, where those that played the part of being some of the fashions worlds biggest names while embodying a normal persons identity, sauntered from room to room while their noses reached the ceiling. Stuffy and smug… for the most part.
I'm sure I didn't reflect too much of being the social butterfly, while I walked around in a reserved attitude not knowing what to make of the people around me. Surprisingly enough, I was outside of my element. The conversations I'd find interesting to talk about wouldn't be deemed fashion fit or status worthy. I dare not mention the amount I'd reasonably spend on a bag or how I enjoy vintage shopping at the flea market or consignment stores.
Thankfully, an older gentleman who looked as if he could've been sitting in the comfort of his own home with his loving family, was catering flute glasses filled with champagne, which I quickly grabbed to ease the pain of discomfort. Yes, of course, I ran into people that I knew; some I couldn't quite put my finger on where and how I've met them, and then others I probably would've gotten a kick out of throwing over the balcony.
I've never really held back from expressing my expressions. So when one tried to make small talk introducing me to a friend, I just wasn't interested. Just a casual hi and bye would've been just enough.
Four models were standing around wearing the designers up and coming designs, and the men, you couldn't really tell if they were some of the best looking people amongst everyone else or if they just took this job to pay their next bit of rent without a care in the world of the job they had the opportunity of doing. The women on the other hand, gracefully chatted up potential future job opportunities with their elegance and poise.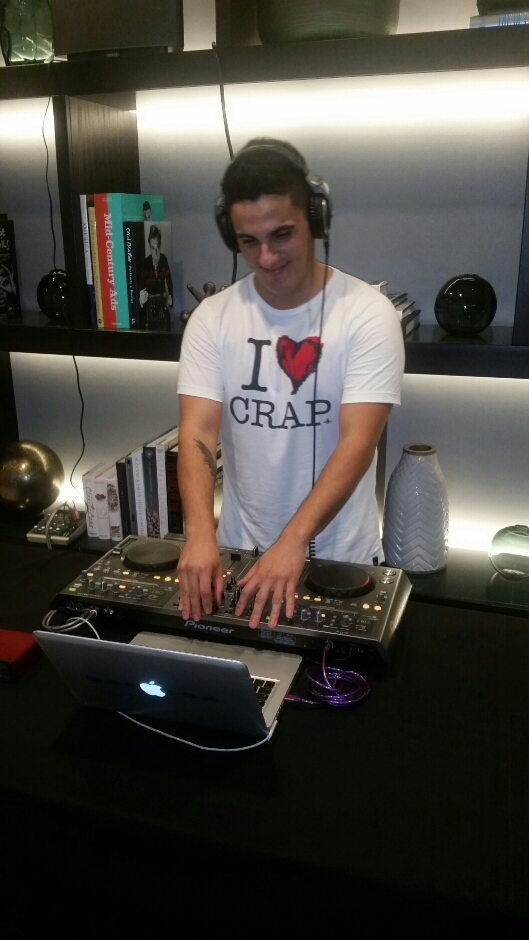 The dj played in order to liven up the group of people sitting around hobnobbing, but not one foot tapped nor even a head bob, so as any dj would, he just kept on jamming to his very own world of beats.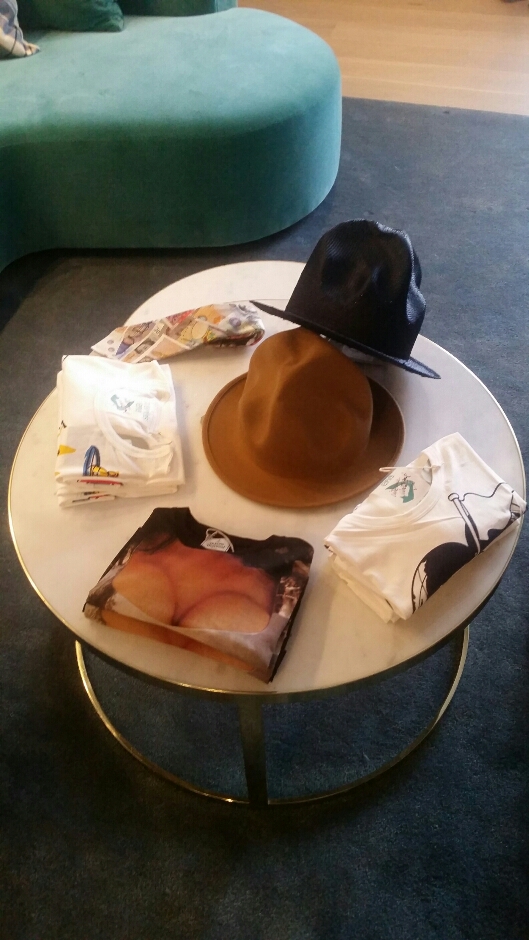 In the bedroom, was a display of hats that replicated from the ridiculously famous Pharrell Hat which was actually noted for being an original vintage Westwood hat. There were more, and in many different designs and colors with the original hat having its very own twitter account; now I guess it's going to become a part of a fad.
Still waiting for Efrem and wanting to trip a certain someone a few times, I made my way up the stairs where the majority of the party was. Maybe it was from being inside, but after going up the stairs a total change of energy shifted gears. People were much more open and lively, and the styles were a knock out of the park.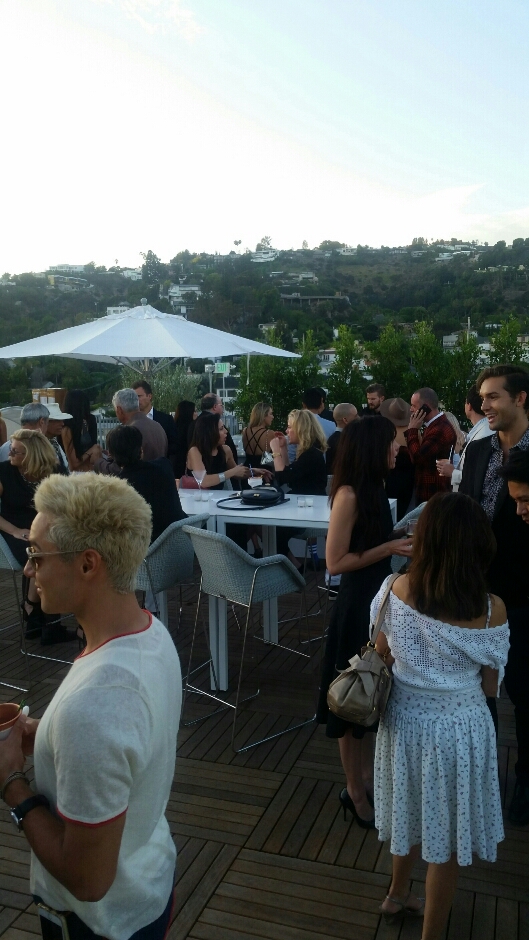 A different degree in a fashion lovers dream. I was long done with my champagne, so I decided to make my way to the open bar. Not like your average open bars, but this one had just the right dose of the designers flair. Lavish and decorative; three signature drinks that represented the Westwood movement.
I started socializing with a handsome stud, but didn't hold my breath in which way he swung his bat; so I left it as a casual conversation. Between my short attention span and our conversation, I kept moving further away from getting my drink. One minute I'm next in line and next I'm taking photos of my surroundings and everyone in it. The guy even disappeared in the midst of me moving around so much. Finally, I decided to just stay still and get my drink behind everyone else.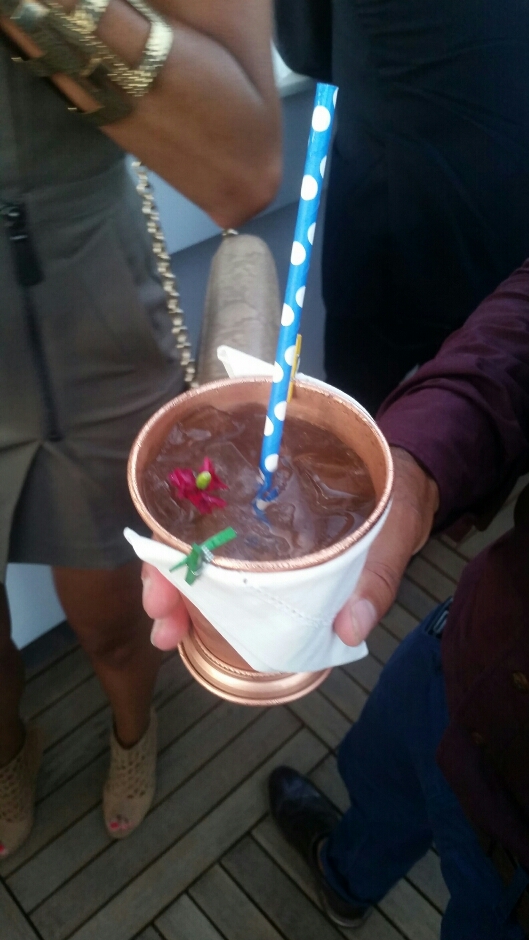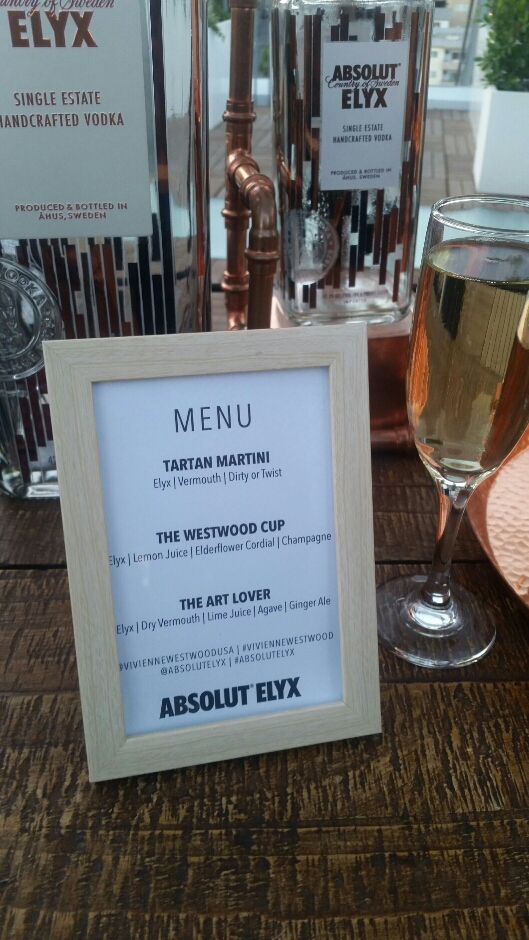 I started off with The Art Lover, which seemed to have the ingredients that appealed to my senses. No surprise though, but I didn't particularly like it even though I had only asked for 2% alcohol, Dry Vermouth Vodka. The bartender was great though and funny enough understood the ridiculousness in my random request.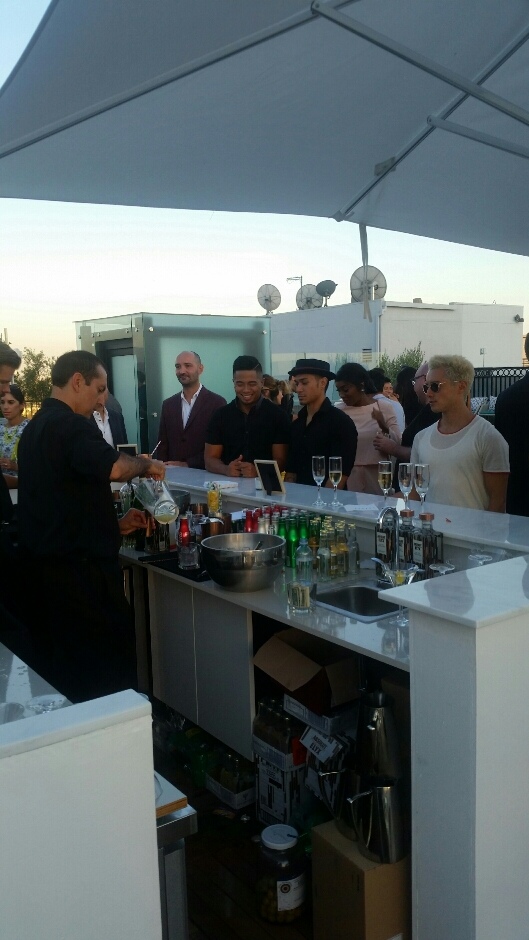 Well hello there two men in all black.
The bar started to build up with a crowd of many stylish guest. Amongst  everyone were a few recognizable and well established designers such as Ashton Michael as well as socialite celebrity Rumer Willis, who is stunning in person.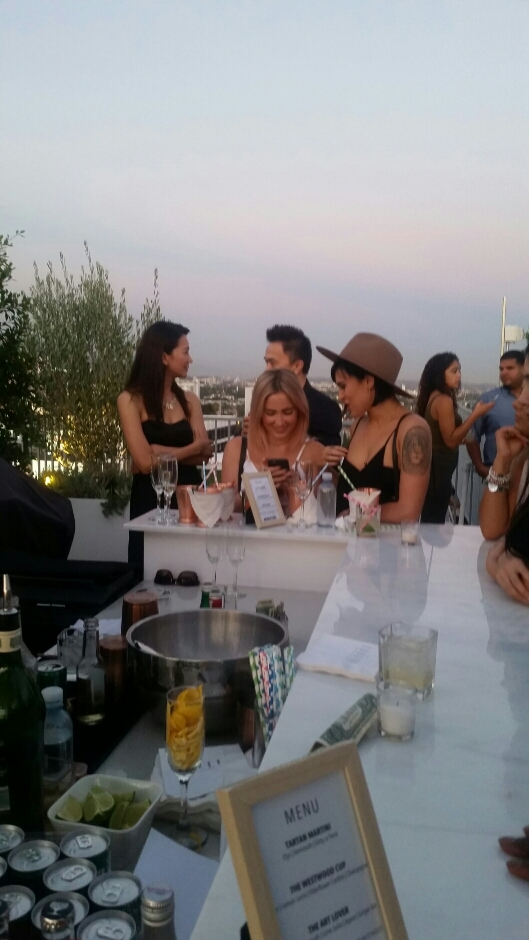 I've seen her out plenty of times, but she just had an amazing soft glow to her. Not reserved at all especially when she smiled showing her unique beauty.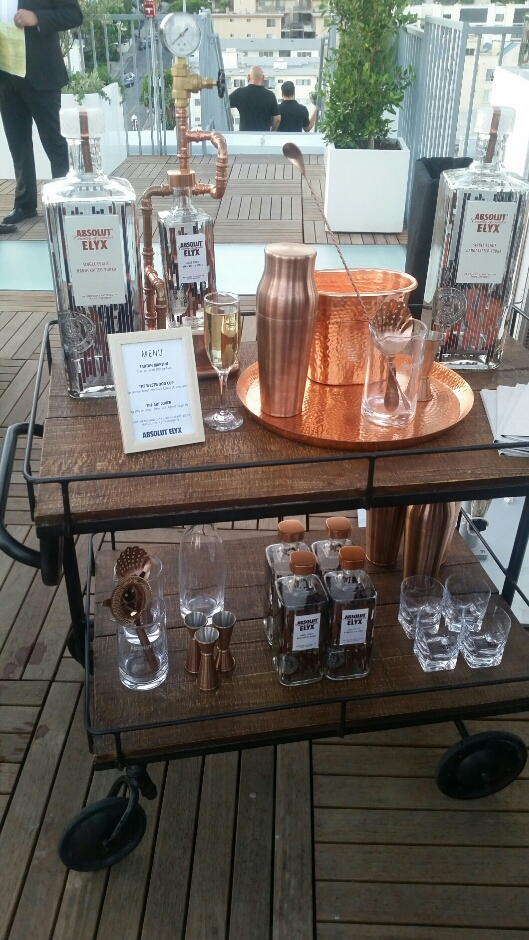 This bar was swank! And the set up was really nice with bar tables sitting near by. The easiest way to make casual conversation without having to stand around.
Well, lo and behold, someone actually purchased one of those Arby's hats and fair enough, it looked pretty stylish on him. Whether it complimented the color coordination of his entire outfit or either the green just worked for his skin complexion, but it looked good.
I didn't think you could actually purchase what was on the coffee table downstairs, but hell, why not if it has a price tag. I sat with the couple not knowing which direction to go and made small talk.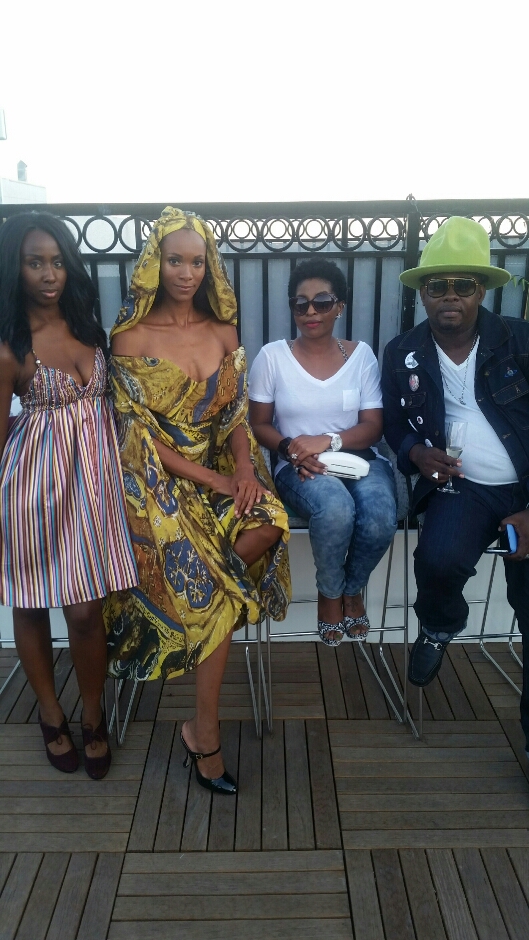 I'd like to assume that our small group was attractive enough for one of the lovely models to ask to take a photo with us. Actually, I was kind of honored. We were just casually sitting there watching everyone else and she asked  to take a photo with us for her own personal usage. Normally it's the guest that ask for the photos, so I was taken aback.
Its been awhile since I've been in the presence of gorgeous male models. Okay, I'm lying, but there once was a time when I use to have a social clique full of them and I might have possibly had a few flings and relationships, so I was definitely within my comfort when getting a sweet tooth for the eye candy that was just casually getting paid to hang out. The only problem was, these guys were as bland as flavorless tofu. Still waiting for Efrem, I wanted to take a photo with the two of them. They were too attractive to pass up and this time around I wasn't shy at all. When I was more involved with my clique years ago, I was younger, carefree and a bit of a wild child, but now that I'm older, my maturity took a toll on me. I probably would've been more entertained with swatting a bunch of fruit flies than trying to hold a conversation with these guys. It was like trying to drain blood out of a turnip and there's no blood in turnips. The women on the other hand, were engaging and warm. Interpersonal skills isn't a skill everyone can obtain I guest.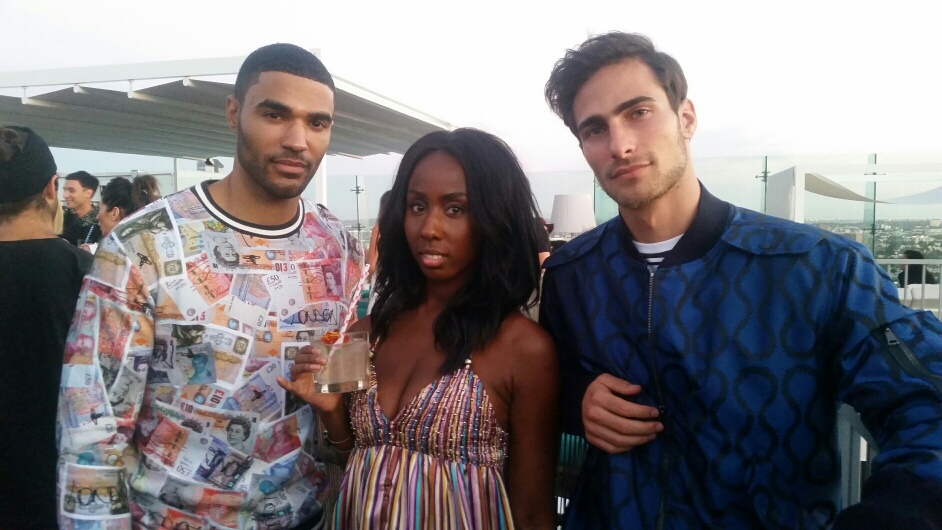 Ugh… why
At first, I just figured that they were European and there was a language barrier. Then I just though that they're accustomed to girls throwing themselves at them in order for them to play it cool, but who am I kidding? They were just a walking flat line. What a waste of a partial package and all I ask was for a little conversation.
Finally Efrem and his mother showed up just as the lights started to dim. So dim that I started to disappear into the night. A few lanters would've been fairly nice being that I could barely see anyone none the less myself. Immediately, I took Efrem and his mother to the bar.  This time, I got two drinks. I got The Westwood Cup, which tasted like it came from a flower garden showered by champagne sprinklers. It was refreshing and hit the spot. Once we sat down, I felt more like myself. Another familiar face who I was more than happy to see, brought even more energy to our group once we started cracking inside black jokes. Dre, use to body guard for another friend of mine and now Dre was involved in his very own projects.
In the middle of all our ish and giggles, a feeling of excitement came over me. One of the most unique and handsome men walked through the crowd and I froze. Shaun Ross, the model was here in the flesh walking to the bar with his crew.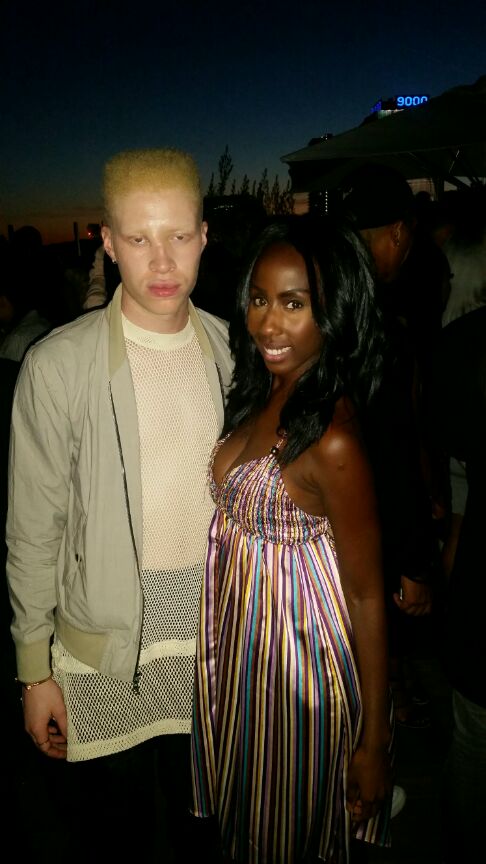 Ross is known for his triumph as being the first albino male model. While many might find him odd or strange looking, I find him being extraordinary. With my disappointment in the last two models, I became a little apprehensive in asking for a photo, but I wanted one and I was going to get one; so I asked my big body guard friend Dre, in doing me the honors of a formal introduction. Right as Shaun and I met, I became giddy and started rambling on about my admiration of him. I was so thrilled to meet him that I started to anxiously introduce myself to the rest of his friends. He was calm, sweet and absolutely pleasant when obliging to take a photo of the two of us. Being a model, he of course posed like one and when I asked him if the photo was good enough to post, he gave me the option of approving it myself which of course I did.
After that exclusive moment, I tried not to cling onto his every whereabouts.
You know that awkwardness when you keep bumping into the same person anx after a while, you're not sure if it's a sign or if the room is too small.
I wanted to make sure that I made my way to the photo setup downstairs before it shut down with the rest of the party. I kept urging Efrem and the rest of our group to come downstairs with me, but they were more involved in the conversations they were having. I grew impatient and went down by myself. Before making my way onto the patio, I ran into a tray of bite sized food. I'm not sure what I ate, but they tasted horrible. Filet mignon on some type of potato crisp, and tuna tar tar on a stale rice cake. I didn't stick around for the other options and jumped in line to have my photo taken.  Props were laid out on a table and I took on multiple personalities. Moments after, Efrem decided to finally join me and we got our fill of vanity shots.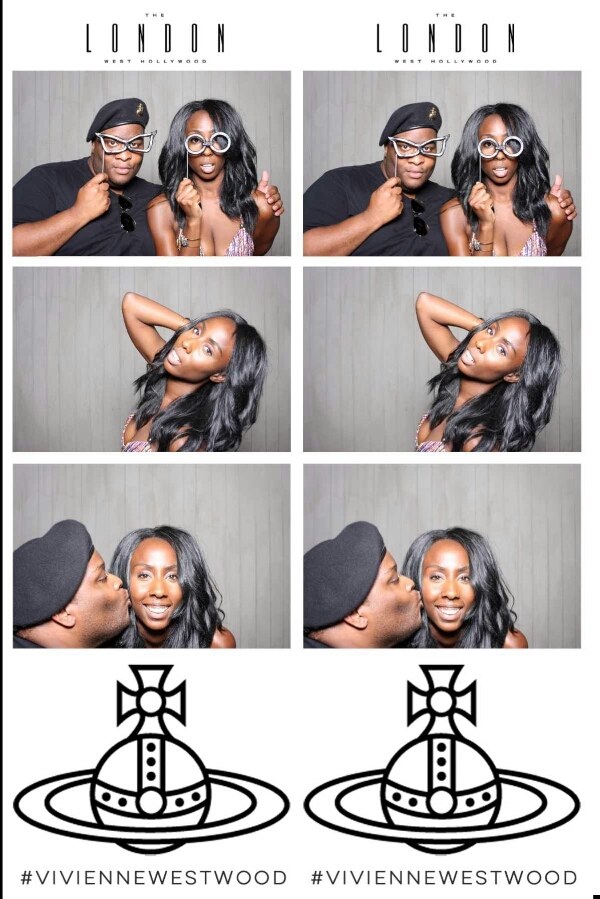 As the party started to wrap up, we finished off our drinks and took a few more photos. I would've liked the evening to have included my friend for the most part, but towards the end, I really can't say I didn't have a great time.
Xox
Make sure to check out my Vivienne Westwood Fashion on my Fashion Fridays. Just click and it'll send you right there!