Saturday was a special Saturday and very dear to my friends heart.
While most of Los Angeles locals were either laying out by a poolside or spending their day in the midst of summer festivities, I chose to put my energy into a charitable awareness event with a mix of fun. I had received a group text message from a friend that I hadn't seen in some time; actually, I hadn't spoken to her since another event a few months back, so it was nice to be included in something for a good cause.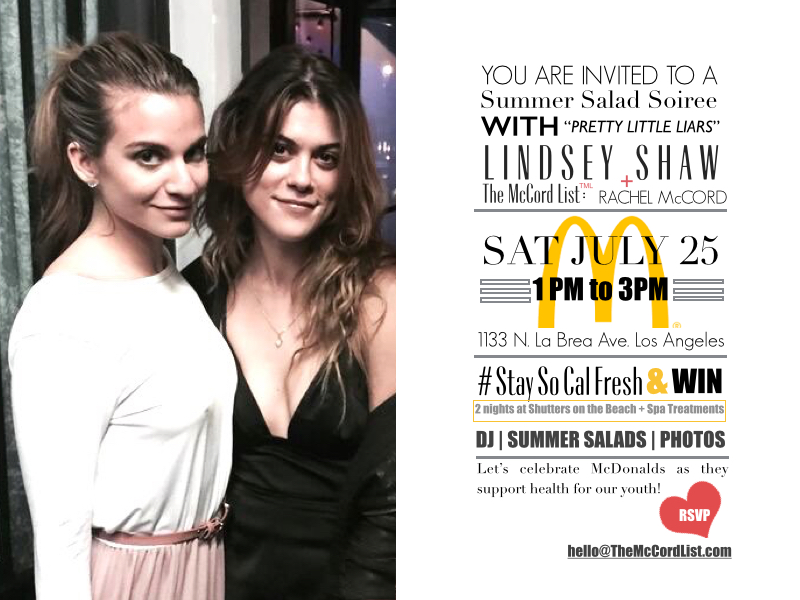 Rachel, the founder of The McCord List  used this perfect opportunity in collaborating with McDonald's in order to share awareness for an organization she has been supporting for some time; the Covenant House non-profit organization for the homeless youth. McDonald's, who's also familiar with giving back, reached out to Rachel in order to do a duo partnership in promoting their new Chinese Chicken salad from their healthier menu.
Lately, McDonald's has been making a crucial change and effort in promoting their more healthier options while spreading awareness to health and fitness all within moderation from being a fast food chain. With a decline in sales and consumer preferences from all the immediate competition across the globe, McDonald's has yet to give up their title to the throne. In one of my previous blogs, I attended the ImLovinIt24 worldwide tour with Ne-yo  as the face for their worldly campaign in spreading love in the most meaningful way.
Numerous artist gave their time in support of this campaign and doing their part in spreading the word. More can get done while being able to multiply a contribution of giving back to a community, so when The McCord List and McDonald's came together in sharing their ideas and common interest, magic was formed. The Summer Salad Soiree and The Covenant House together as one.
The event, to my surprise, was being held at the actual McDonalds location off of La Brea and Santa Monica Blvd. I don't typically find myself at any destination spots unless I have a strong craving for their fries with sweet and sour sauce or their Mc flurry. So, when I found myself amongst an interesting crowd to say the least, I questioned how the whole set up would be.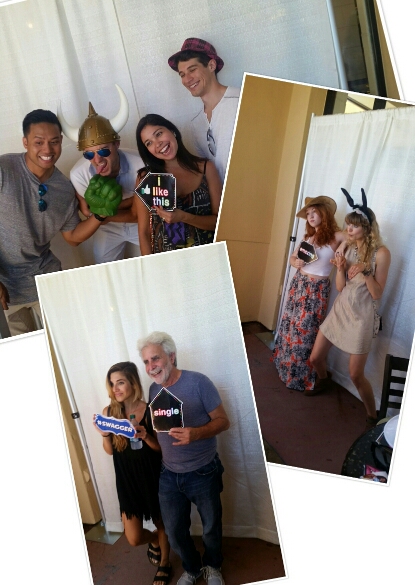 Towards the back, was a patio area set up for a group of people to casually gather in private; and with enough room for no more than 15-25 guest versus the open to the public intent. A Dj booth was near the entrance with a photo booth towards the back that left room for guest to sit and socialize and enough treats to feed those with hunger signs in the vicinity of the building. The event not only allowed us to get a better idea of how to help reach out to our youth in need, but also meet and make new friends with like minded interest.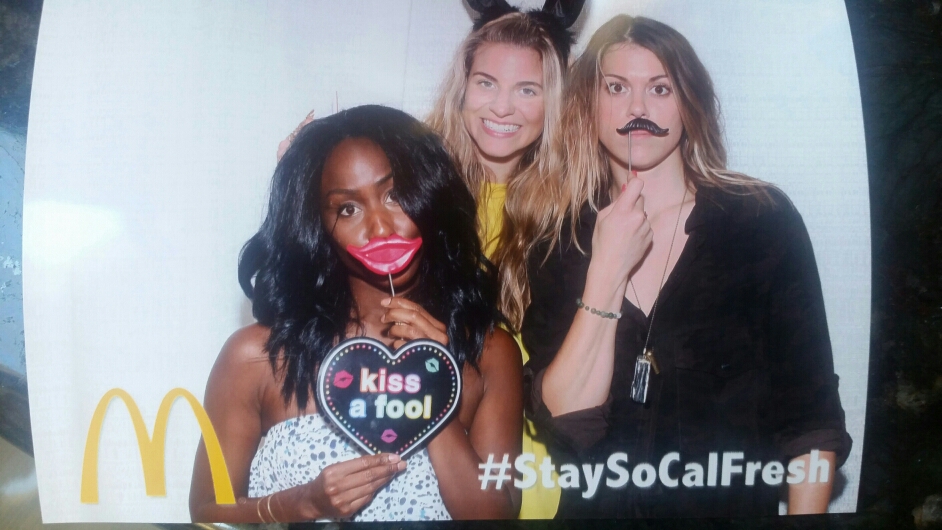 Another great addition was one of Rachel's good friends, actress, Lindsey Shaw from Pretty Little Liars. I've not watched the show, but Lindsey was an absolute delight. The moment she and Rachel walked into the room, you just felt this warmth of positive energy that burst like a bubble of glitter. Both ladies immediately greeted each and every guest with the utmost sincerity which then opened the doors to allow each guest to greet each other. As they raced over to the photo booth to take group photos with a mass amount of creative props, the ease of relaxation paved the way for everyone to enjoy their time. Rachel became the host with the most, but what separates her apart from other party host is that she's on going up until the party is completely over. Another familiar face walked into the room. An old dear friend Chelsea whom I also haven't seen in some time other than communicating through social media.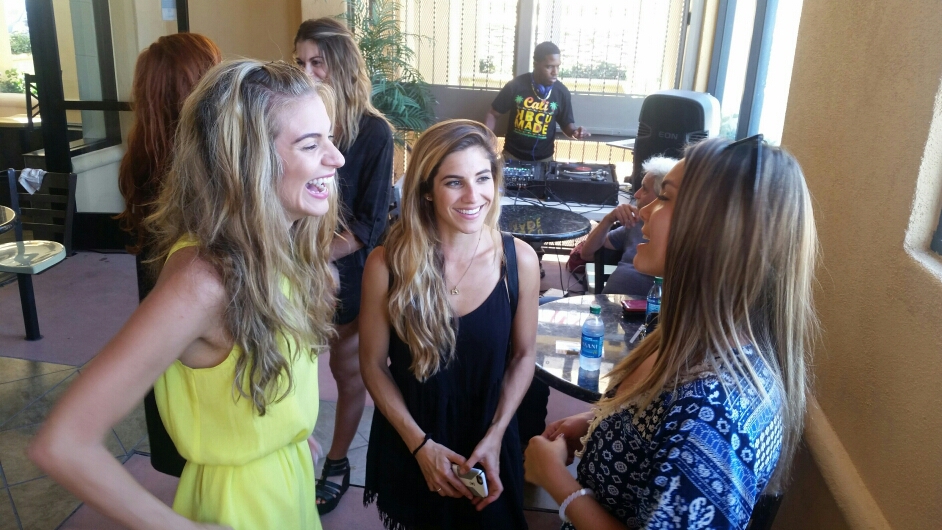 One thing I can say about living in this city is that it's a smaller world than just being neighborly. Everyone in some way shape or form knows one another or is associated by mutual friendships or contacts. I knew she would be attending from our previous phone call, but I didn't know that she and Rachel have met before.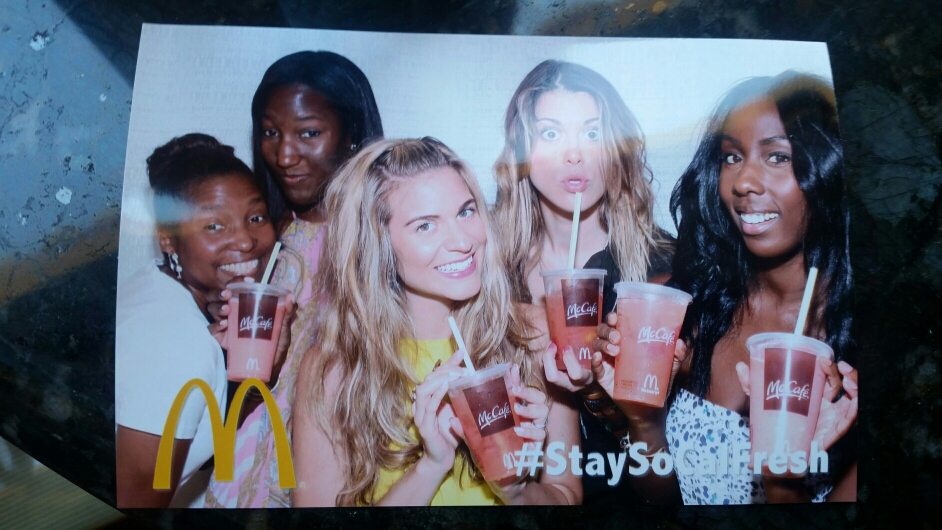 Shortly after a clear amount of people had arrived, the McDonald's staff brought out two of their new summer drink options. Their non- artificial strawberry lemonades and smoothies that came with a punch of tart and sweet goodness. I couldn't slurp that stuff down without an eye twitch,  but it was so refreshing all at the same time.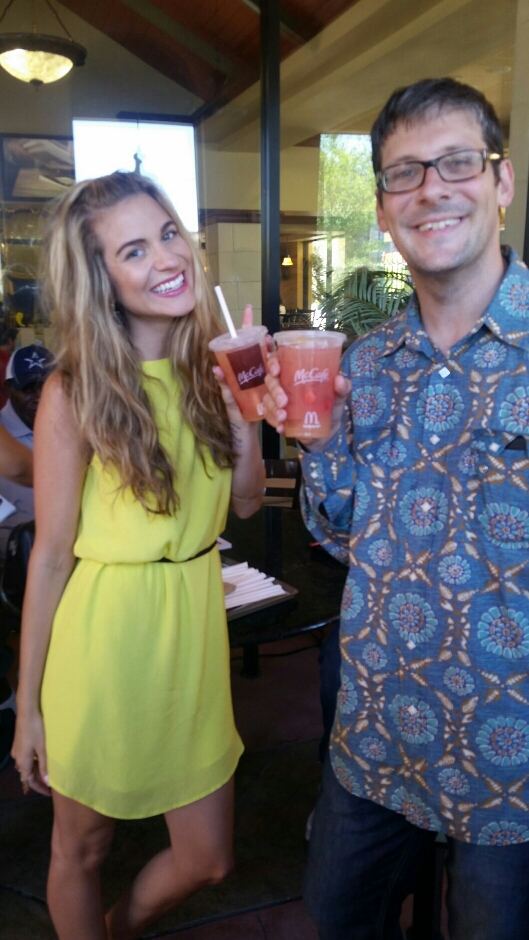 After that round, then came the food. Initially, I thought we'd be tasting their new and improved summer salads, but they catered an entire four course meal; and I took everything that was in arms reach. Their famous fries, chicken nuggets, quarter pounders and two options of Chinese chicken salads, one grilled and one fried that was topped with edamame, green beans, mandarin oranges and a spicy balsamic dressing.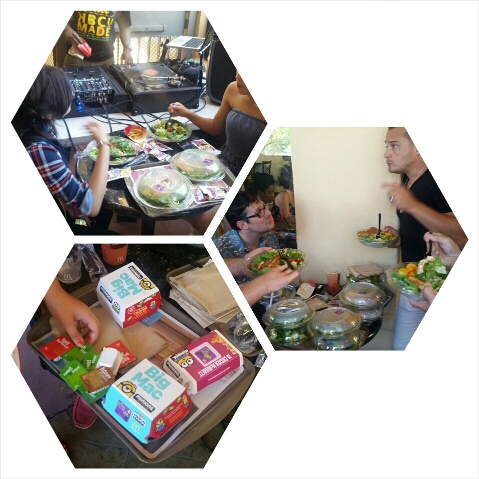 I'm not a fan of any type of Chinese chicken salads as I hate the taste of sweet dressings, but it was really good. The chicken by itself was very flavorable which probably could've been left with just a squeeze of lemon over the dressing.
Of course they ended the catered event with their popping hot and fresh chocolate chip and sugar cookies or you had a choice of their chocolate bundt cake drizzled with chocolate icing. I took them all.
When I had the chance to sit Rachel down after people started to leave, I wanted to get a clear understanding of how she and McDonald's joined forces and came together. Unfortunately, with all the mingling she had been doing, she didn't make a speech or an announcement for the days purpose even though her direct text message gave a small summary. One attendee even went as far as to bringing a personal check as a donation; whereas I brought cash. Amongst the guest of avid supporters, some much smaller guest also arrived. At risk kids from Olive Crest.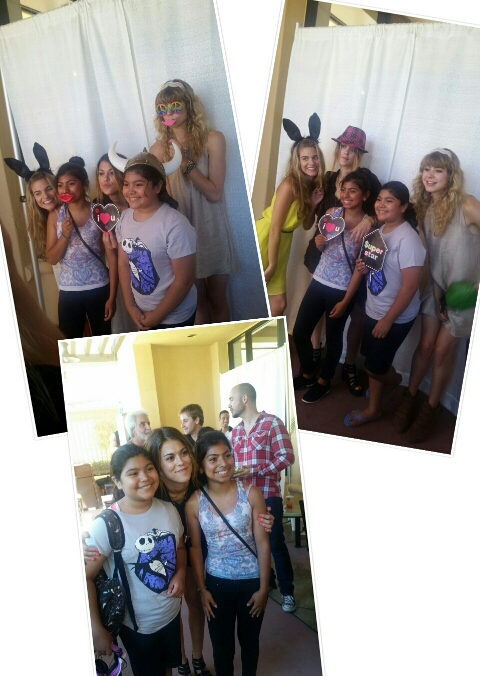 These children were adorable and as much as I wish there could've  been an introduction as to how we could all put our best foot forward in making sure that their future and well being was set in full force, they still shyly looked as if they were grateful to just have been there with those who wanted nothing more but the best for them.
Towards the end, after I spent my time in many conversations over love, life and happiness, I said my good byes and headed out the door for another obligated event. Once I drove out of the parking lot, I noticed a homeless couple sitting in the grass area outside the building. It took a little while for me to re-track my steps and think of the sole purpose of this event. I would've been a hypocrite spending all that time with good moral support for one cause, but to have not supported one right before my eyes would've been an even bigger defeat. So I did an illegal u-turn and went right back to the party as it was being wrapped up. As I walked in, the set up was being cleaned up after everyone had just cleared out. I'd never want to take advantage of a great opportunity,  but I saw it fit to approach one of the PR members, Cacera, and explain to her my obligation which she gleefully obliged to. With the help of a male guest, I took what was left of the food that had not been tossed out and gave it to the couple as well as another homeless gentleman with a small dog.
I could never say no to a helpless animal.
I also took some food home with me and a dessert for another unfortunate couple that lives around my block. That is why I chose to give up a day at work and attend this party, just so I could live, reflect and pay it forward all while have a good time. During the course of the event, Rachel's husband handed out flyers for another charitable bbq in support of the Covenant House California next month which I plan on attending.
All in all I had a great time and with a great time I made new contacts and became more aware of what little things I can continue doing in order to make a bigger difference.
With Rachel's big heart and leading the way, we all can appreciate all that she does.
If you would like to learn more and volunteer your time in helping our youth in need or to get caught up on more information on how McDonald's is doing their part, please click on the following links.
And for a full unfiltered version of this day, check out my post on Social Saturday,  this coming Saturday!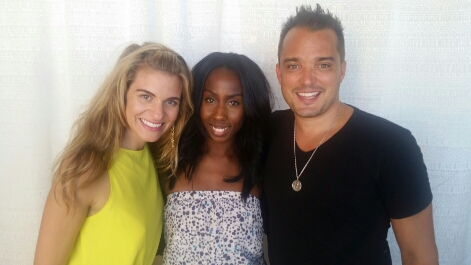 Xox