When thinking of major airlines, most people think of travel. It's less likely a person who is more accustomed to just taking destination trips would think of an airlines coordinating a huge event for a music artist or to promote themselves and their business. In most cases, you'll find them promoting themselves through commercials and ads, but in order to reach a broader audience, American Airlines thought of the perfect pitch, literally, that would create a relationship with more flying members. A sponsored promotion in order to throw an event to celebrate American Airlines employees and their guest.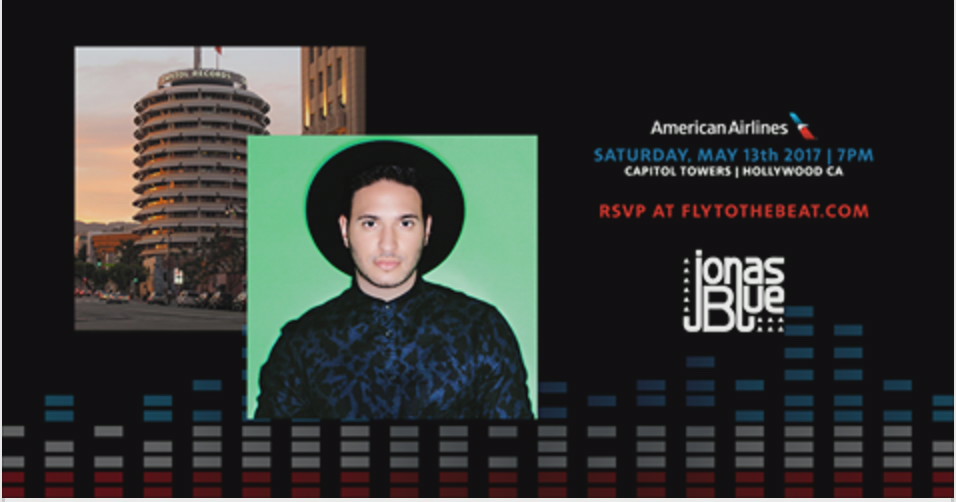 FlyToTheBeat established a concept that went straight to one of the largest music buildings here in Los Angeles, Capitol Records, who then collaborated with one of UK's leading music artist and DJ's Jonas Blue. There they gave access to lucky fans by creating social media outreach for those to rsvp.
Lauren, TheLeauxProject, and I decided to attend just to see all the buzz that was going on through a popular site that list all the events occurring in LA. Of course the site preferred to give the false illusion that it was "Invite Only", and although most events are, this was one that we had a breeze getting the information for. That and the rsvp link was mistakenly on the flyer that they had posted.
We received conformation right after we requested our access for the event and awaited our night that would be packed with food, music and creatives alike. The event started at 7pm and naturally, there was a line wrapped around the building. Parking wasn't the most generous, so I asked Lauren to hold our spots as I went to drive the block a few times. Just my luck, I found an open spot down the street and made my way to meet up with Lauren as I had seen her getting closer to the entrance. I walked up just in time and was able to dodge the events hype man that encouraged those standing in the line to cheer as though we were teeny boppers. We were given badge access and a stamp to approve our legal age where we then made our way inside. We bypassed the step and repeat as most of you all know, I have my opinions with seeing one as a free for all, then again, so was this event.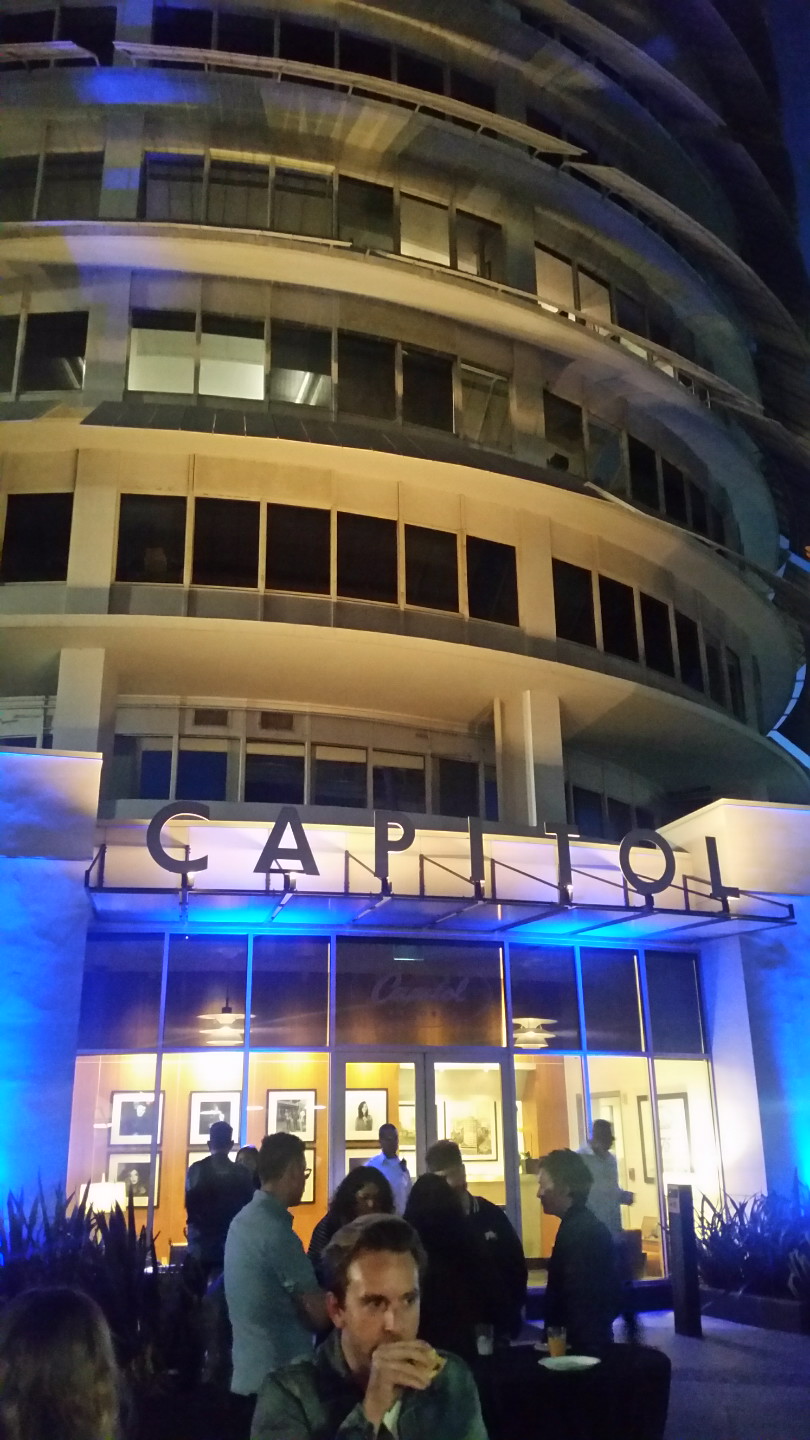 Lauren made a good point that for those not necessarily from the Los Angeles area or just about anyone who has yet to experience the social life of Hollywood, were probably on cloud 9 just by being on the the grounds of this famous lot; not to mention those who are trying to make a mark for themselves in the music industry. This isn't the first time Lauren and I have been acquainted with the Capitol Records lot from past events , so we were definitely expecting a huge turnout. As expected, the lot was packed with guest, open bars and food trucks. Capitol Records knows how to put on an event that will have everyone talking. Before Jonas Blue hit the stage for a performance, Lauren and I made sure to do our routine tackle that we've made into a social habit. Lines were everywhere, but we started with the shortest one, that being the t-shirt printing station where guest were given a free t-shirt with three different options of screen prints promoting Jonas Blue. Our next destination was the bar. Of course those were the longest lines, but with a specific menu that gave guest an easier option to choose from, we went with their selections that listed clever names.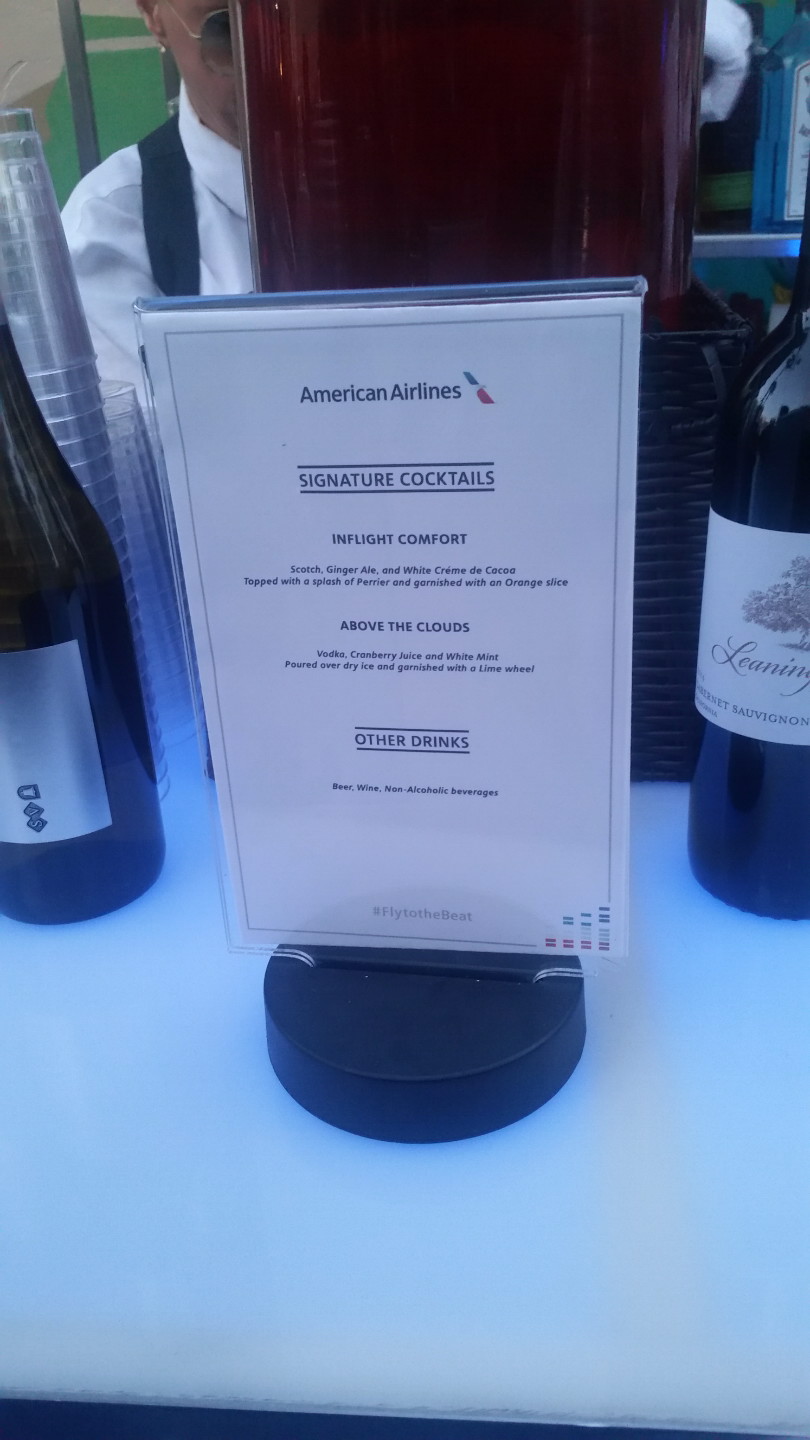 Lauren chose the Inflight Comfort while I chose Above the Clouds. Both were strong and not particularly the best, but it did the job. I am a whiskey girl, so I was able to drink mine with ease.
Next to that came the photo booth, which was the first thing I was in search for the minute we entered the lot. I'm not one to shy away from an audience, but for some reason the position in how the booth was set up definitely put us in the spot light with blinding lights for the brightness of the shots. It's an odd feeling when you want to take your time with the photos, but you have a rather large group of people starring at you waiting for their turn. Typically when no one is around, I'll take up as much time as I want, but considering all eyes were on us and there were two photo booth attendants, we chose just to take two retakes. It wasn't until after we claimed our printed photos that Lauren had noticed that they had accidentally erased our first shots, but I think the second one turned out just fine.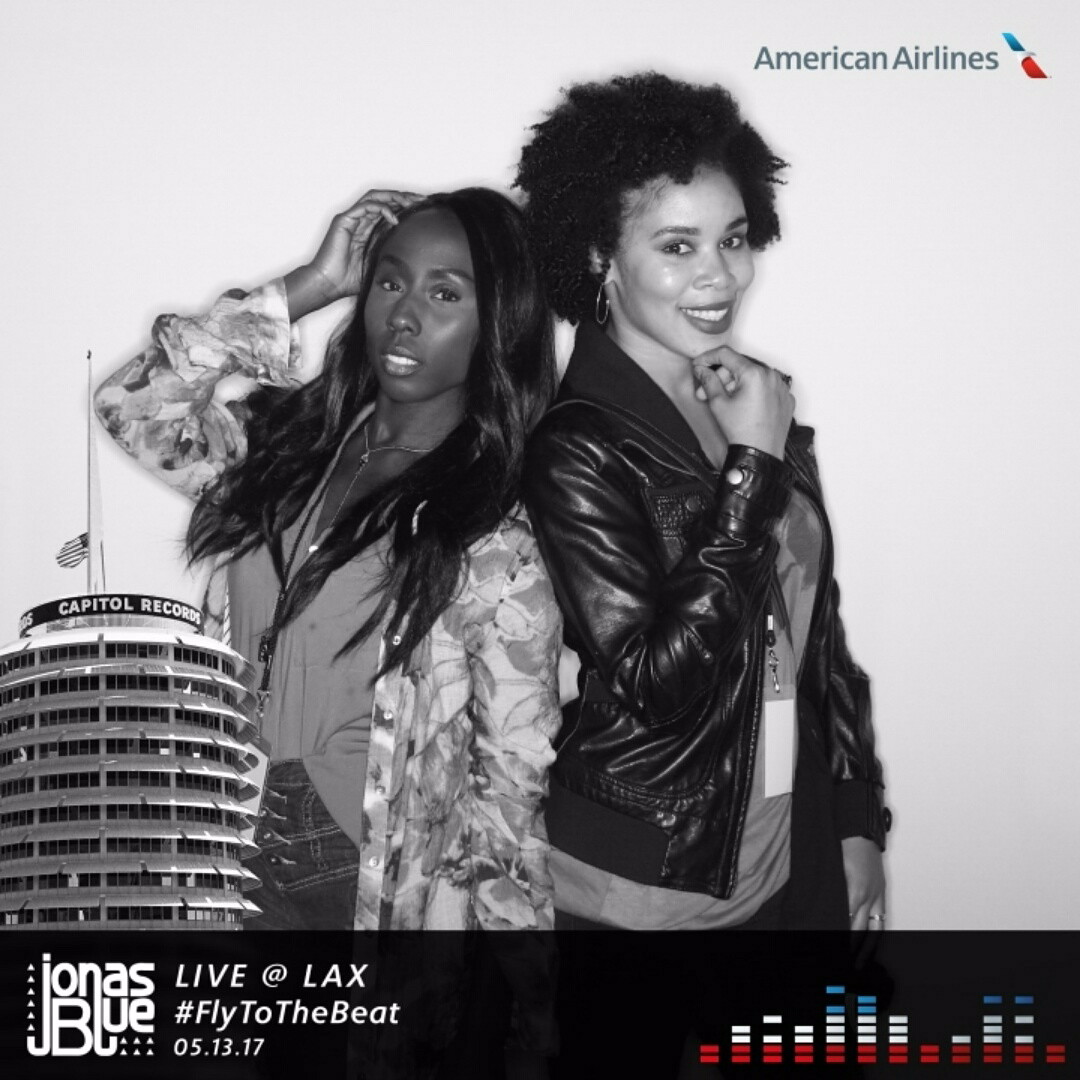 Last stop was the food trucks. I wasn't necessarily hungry but I also never turn down food. There was a Crepe truck, In and Out truck and a Thai food truck. We recognized a familiar face from a past event we had attended and immediately grabbed his attention. An Asian version of Justin Timberlake with all the swag. I nearly forgot to order my own food while in the midst of talking until I diverted his attention over to Lauren who had already found us a top table to eat at. He kindly introduced us to a friend of his who also happened to work for Capitol Records. I took the opportunity in getting a short sum up of the nights expectations and surprisingly, there wasn't much to note. Just simply that Jonas Blue and American Airlines is promoting his flight from Los Angeles to Asia. That's Hollywood for you.
Being that Lauren and I are still in the place of our blogging careers where networking is imperative, we observed the crowd of people in hopes that we'd come across people who were like minded past the facade that many tend to put on. As it started to get brisk, I suggested that we go towards the stage where most guess where making their way to in order to find more heat. A performance by Calum Scott from Britain's got talent, was the first opening act, but we had been in line the majority of his singing. The crowd had definitely grown by the time Jonas made his way on the stage and we were in the perfect viewing spot.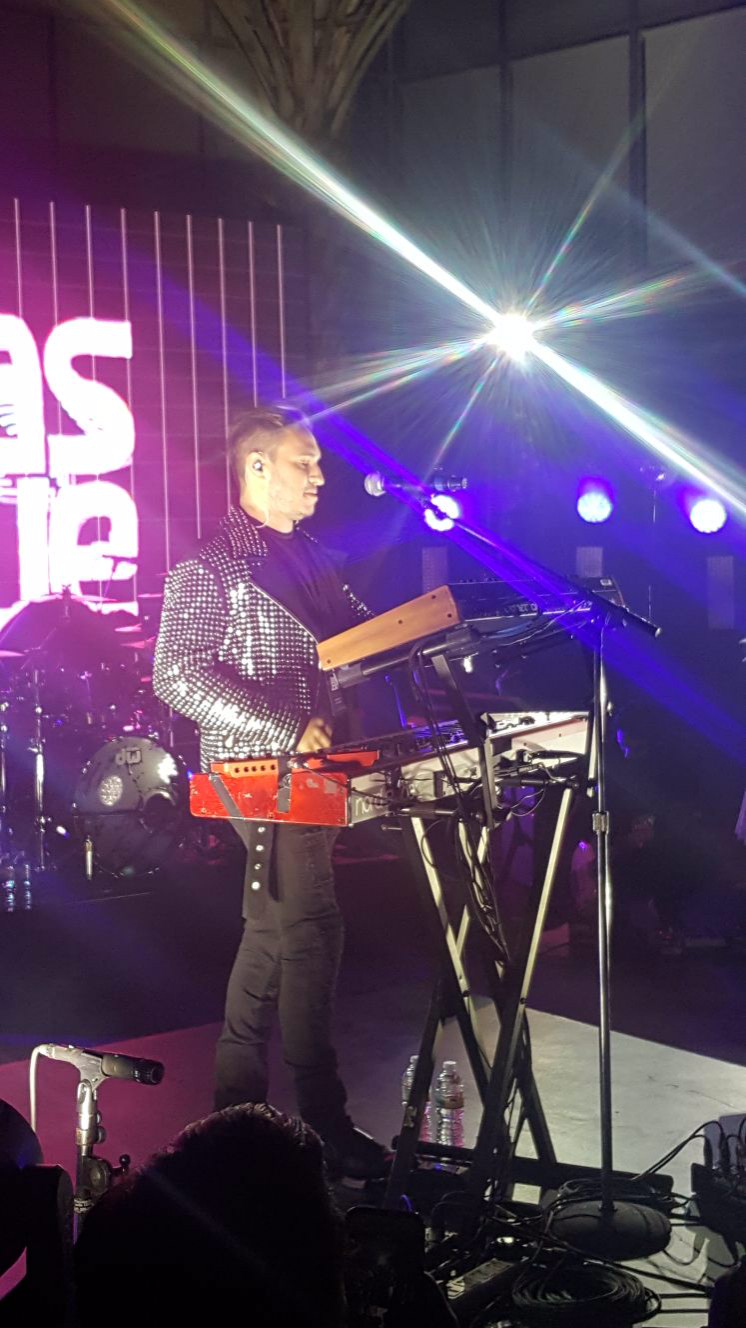 Little did I know that he was an actual DJ being that his guest vocalist, who I failed to find the names of, were the ones singing the chorus to his songs. Either way, it was a good time. Whomever the female artist was who seems to be a magical unicorn given that she's nowhere to be found on the internet when researching this event, had an incredible voice that made me more interested in her talents.
The evening got even more interesting and better when the specific spot that I had chosen to stand was right next to the founder and owner of the popular app Surkus . I damn near fell off the step I was standing on when my excitement took me off balance. One of the most humbled individuals I could've come across that evening.
Though we did enjoy our night, would this make me fly with American Airlines, well probably not considering I'm not much of a flyer, but I can say a lot more for their efforts than we can all say for United.